Republican Tax Plan: Mitch McConnell Said No Bills Should Pass Without Bipartisan Support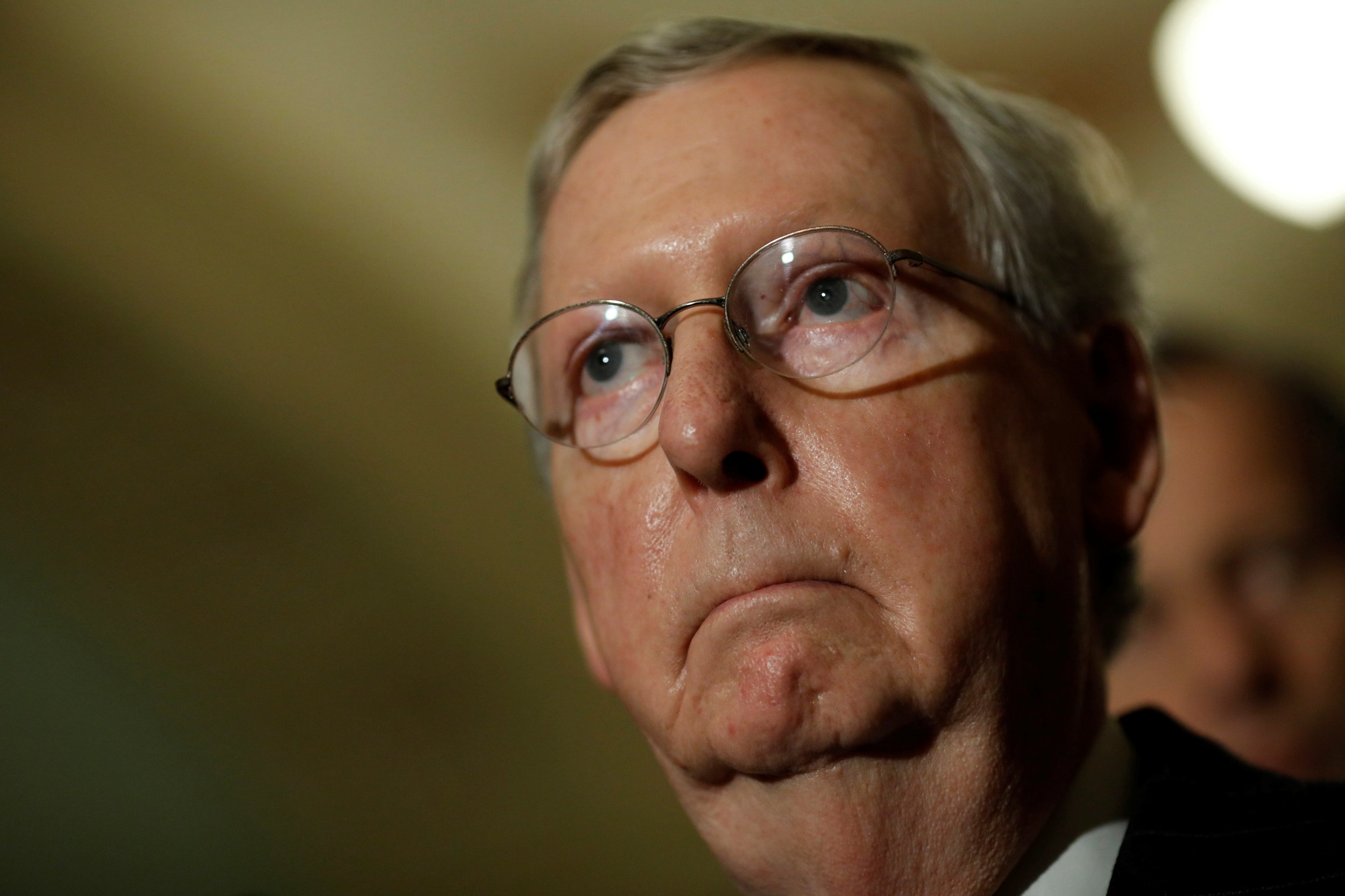 The Republican tax cut bill expected to pass on Tuesday "isn't such a great idea"—at least according to the Republican who is spearheading its passage.
Senate Majority Leader Mitch McConnell said three years ago that any bill that lacks true bipartisan support does not reflect "the will of the country" and should not be passed.
Of course, he was talking about Obamacare, not the $1.5-trillion GOP tax cut bill moving at full speed towards passage this week with not a single "yea" vote from the 193 Democrats in the House or 46 Democrats in the Senate. In 2014, years after President Obama's Affordable Care Act was signed, McConnell wrote some words that could be taken as a condemnation of his own party's actions this week:
The chaos [Obamacare] has visited on our country isn't just deeply tragic, it was entirely predictable. And that will always be the case if you approach legislation without regard for the views of the other side. Without some meaningful buy-in, you guarantee a food fight. You guarantee instability and strife. It may very well have been the case that on Obamacare, the will of the country was not to pass the bill at all. That's what I would have concluded if Republicans couldn't get a single Democrat vote for legislation of this magnitude. I'd have thought, maybe this isn't such a great idea.
Democrats have repeatedly said that they've been left out of the crafting and debate over the tax bill, which was largely written in private. "This Congress doesn't work for working families. It works for corporate lobbyists and campaign donors in backroom deals and 1:30 AM votes," wrote Senator Elizabeth Warren (D-Mass.).
"In 1986, under President Reagan, accomplishing tax reform in Congress took years of public hearings and bipartisan negotiations," added Senator Tom Carper of Delaware. "That open process and fastidious work reaped bipartisan agreement and long-lasting policy. It stands in stark contrast to what we've witnessed today."
The details of the 1,000-plus page final bill were revealed on Friday evening, days before the vote. The Congressional Budget Office, which analyzes the financial impact of a bill before it is voted on, will not be able to release its findings before the final Senate vote this week. The House passed the tax cut along party lines on Tuesday.
In a new CNN poll, 55 percent of Americans oppose the tax bill and 66 percent believe that it favors the wealthy over the middle class.
McConnell's office did not reply to requests for comment. Story will be updated if it does.