Republican Tax Bill Is Good For Students—If They Die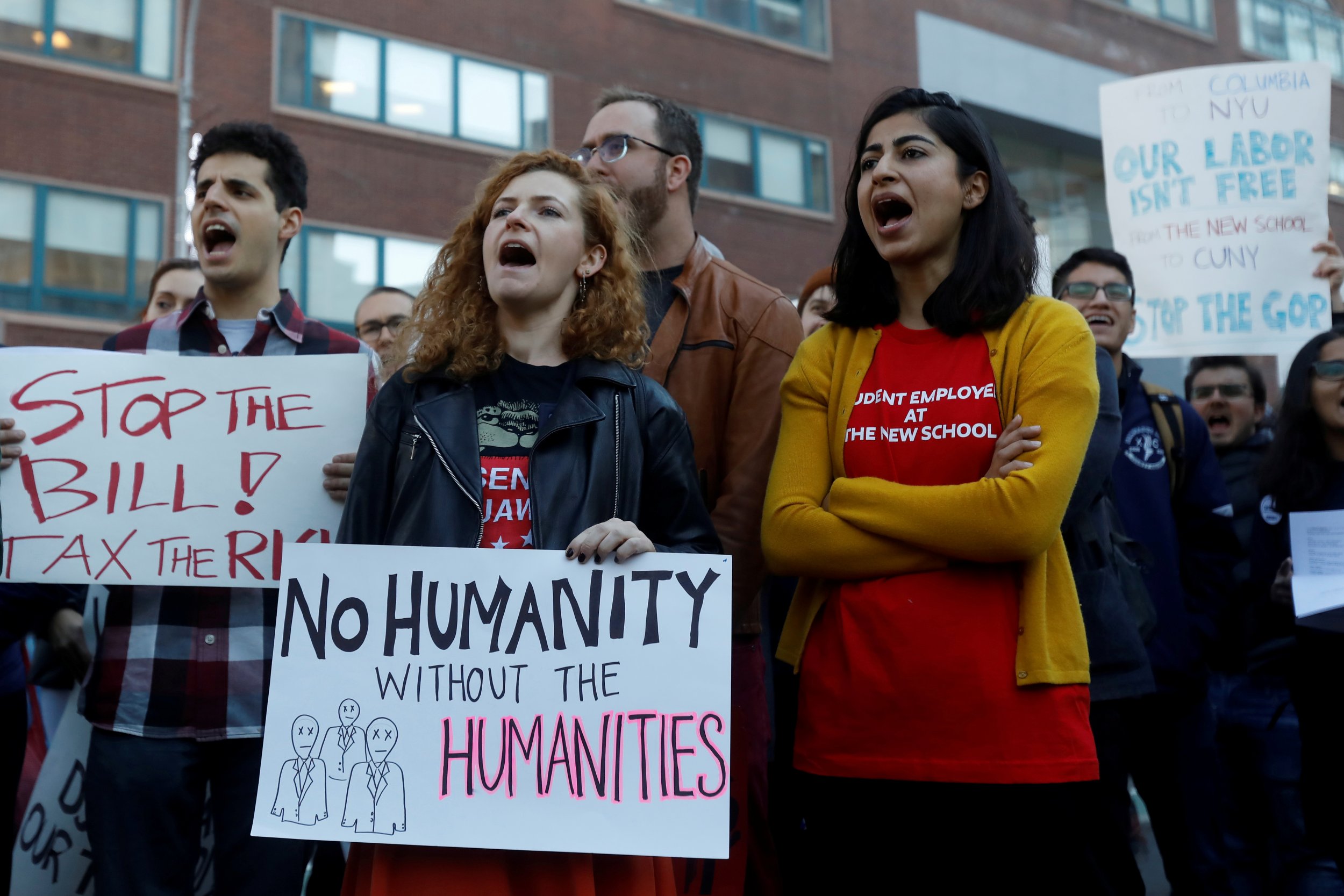 The Republican tax plan will likely hit most college students with new and significant financial burdens, but two key demographics will benefit from the bill—the dead and severely disabled.
Government-backed student debt is forgiven for graduates who pass away or become too disabled to work, but the IRS currently treats the amount of the forgiven loan as taxable income. This means that parents dealing with the death of a child are saddled with a large tax bill and that young adults—often military veterans—with severe disabilities must pay a levy that they often can't afford.
Both the Senate and House tax bill will now exclude student loan forgiveness from taxation in these cases. Under this provision, someone with $78,000 in outstanding loans could save more than $33,000.
Nearly all other college students and graduates will see an increase in their taxes.
Graduate students who go to school tuition-free because they teach or do research at their university will be required to pay income tax on the waived tuition under the House bill. The student loan interest deduction, which allows borrowers to lower their taxable income by as much as $2,500, is also eliminated by the House version of the bill.
The Senate tax bill limits the deductibility of state and local taxes, and public college administrators fear that this provision will put strains on state budgets and their funding.
"We are deeply concerned that at a time when postsecondary degrees and credentials have never been more important to individuals, the economy, and our society, the tax reform proposal approved by the Senate could make college more expensive and undermine the financial stability of higher education institutions," Ted Mitchell, president of the American Council on Education, said in a statement.
The Senate dropped a number of provisions included in the House plan that would hurt universities, like taxing income for business activities unrelated to a college's core academic mission, such as laboratory rentals. But as the two bodies of the legislative branch begin the conference process on their bill, any of these proposals could return.
House Republicans proposed additional changes to higher education this week in their 542-page blueprint to reauthorize the Higher Education Act. The plan would ease regulations on for-profit and online colleges while making it more difficult for graduates to secure loan forgiveness under the "borrower defense to repayment," which students who were misled about loans by schools can use.
More than half of all Republicans believe that colleges have a negative impact on the "way things are going" in the United States, according to a recent Pew study. In November 2016, FiveThirtyEight editor-in-chief Nate Silver wrote that "educational levels are the critical factor in predicting shifts in the vote between 2012 and 2016," meaning President Donald Trump attracted more votes from Americans without college degrees than Mitt Romney.