Taxi Drivers Protest Uber, Bring European Cities to a Standstill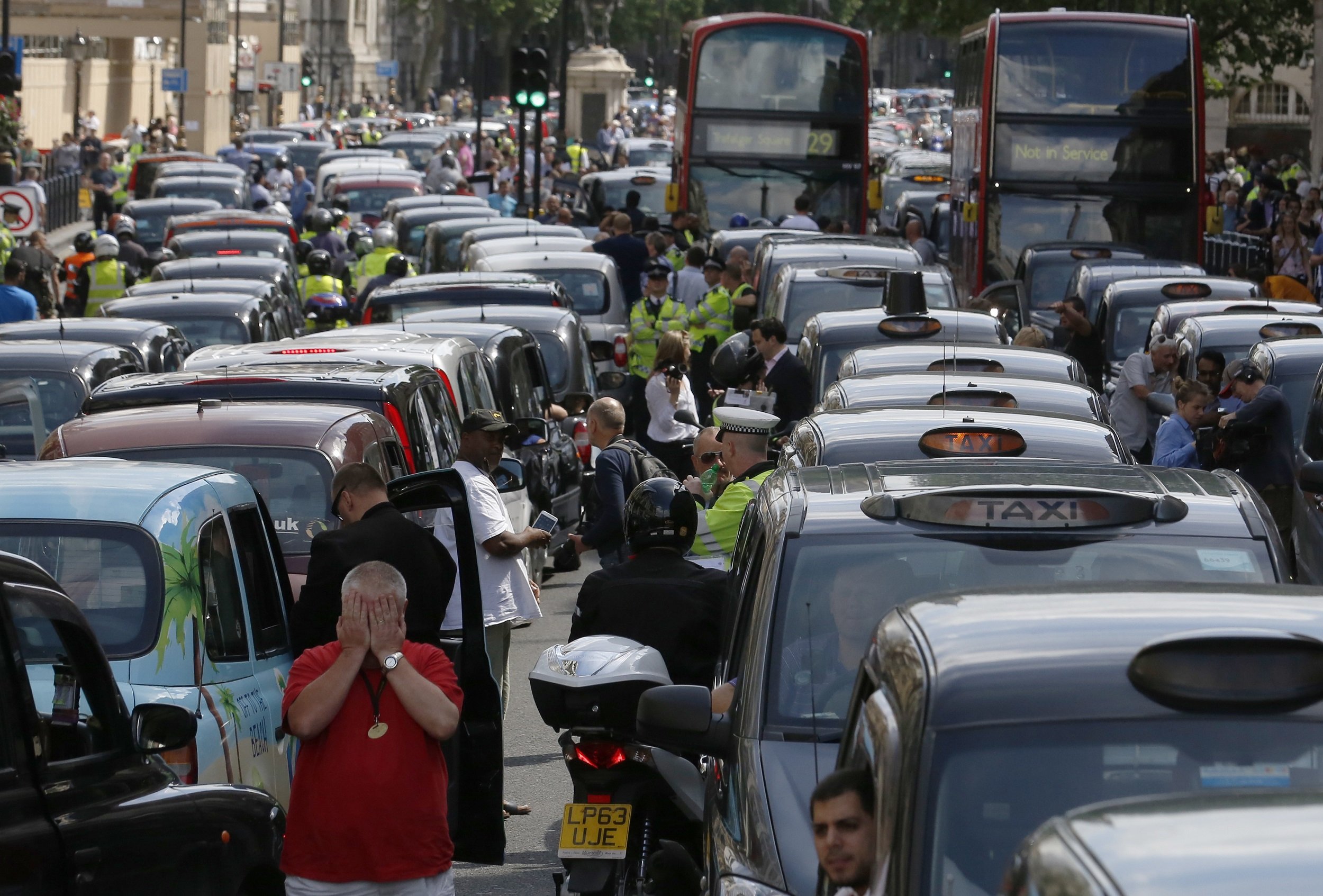 (Reuters) - Taxi drivers sowed traffic chaos in Europe's top cities on Wednesday by mounting one of the biggest ever protests against Uber, a U.S. car service which allows people to summon rides at the touch of a button.
Drivers of hundreds of London's black taxis snarled traffic in the streets around Trafalgar Square, hooting their horns as they passed Downing Street, the home of Prime Minister David Cameron, and the Houses of Parliament.
In Paris, taxi drivers slowed traffic on major arteries into the city centre during the morning commute. In Berlin hundreds choked the main road to the city's historic centre while commuters juggled buses and trains, or simply walked, to get to work in Madrid and Barcelona.
San Francisco-based Uber Technologies Inc., valued last week at $18.2 billion just four years since its 2010 launch, has touched a raw nerve by bringing home the threat of technological advances to one of the world's most visible trades.
"This about an all out assault on our profession, our livelihoods," said Max Small, a driver of one of London's black taxis for 34 years. "These big companies are coming in, not playing by the rules."
Taxi drivers across Europe level a variety of charges against Uber: that its applications break local taxi rules; that its drivers fail to comply with local insurance rules; and that it is therefore in breach of licensing and safety regulations.
Uber, backed by investors such as Goldman Sachs and Google, refute all those allegations, a spokeswoman said. Uber said it, its applications and its drivers comply with local regulations.
"What you are seeing today is an industry that has not faced competition for decades. Now finally we are seeing competition from companies such as Uber which is bringing choice to customers," said Pierre-Dimitri Gore-Coty, Uber Regional General Manager for Europe.
"Across a number of different countries the taxi industry is very similar - an industry which is highly regulated and arranged in a way that is not pro-consumer but just promotes protectionism."
UBER
Uber has expanded rapidly since it was founded by two U.S. technology entrepreneurs, Travis Kalanick and Garrett Camp, and now operates in 128 cities across 37 countries.
Uber Chief Executive Officer Kalanick last week announced $1.2 billion in new funding, valuing the company at $18.2 billion, one of the highest valuations ever for a Silicon Valley startup. But it has faced a series of hurdles from the beaches of Miami to the piazzas of Rome. Ordinances keep it out of cities such as Las Vegas and Miami while in Chicago, San Francisco and Washington, D.C., Uber and similar companies have faced lawsuits from taxi companies hoping to keep the new competition out.
In London, the European Union's biggest city by population, police helicopters monitored the traffic snarl around the seat of the British government as mopeds and cyclists tried to navigate the chaos and crowds of bemused tourists looked on.
Uber says its fares are cheaper than black taxis in London. Other taxi drivers allege Uber's technology is effectively a taximeter and thus contravenes a 1998 British law reserving the right to use a meter for licensed black taxis.
They say the city's transport regulator, Transport for London, is failing to enforce the rules. The regulator says its provisional view is that smart phone applications do not constitute a taximeter but has asked the High Court for a view.
After the disruptions, Uber hit back in Germany by emailing its clients offering a 50 percent discount on all shared rides for the duration of the day. In London the company offered new customers 20 pounds ($33.58) off their first journey.
In Spain, the Ministry of Public Works has warned that companies or individuals offering Uber-type services faced fines of up to 6,000 euros, while users could be fined up to 600 euros. The ministry has not specifically named Uber.
Neelie Kroes, the European Union commissioner in charge of digital and telecoms policy, said responding to companies like Uber with strikes was pointless. "We cannot address these challenges by ignoring them, by going on strike, or by trying to ban these innovations out of existence," she said in a blog published on Wednesday.
It was an argument that failed to sway taxi drivers around Europe, however.
"Yes this is chaos, its causing havoc in the very centre of London, but what other choice have we got?" said Ian Hay, a taxi driver with 14 years experience.
($1 = 0.5956 British Pounds)