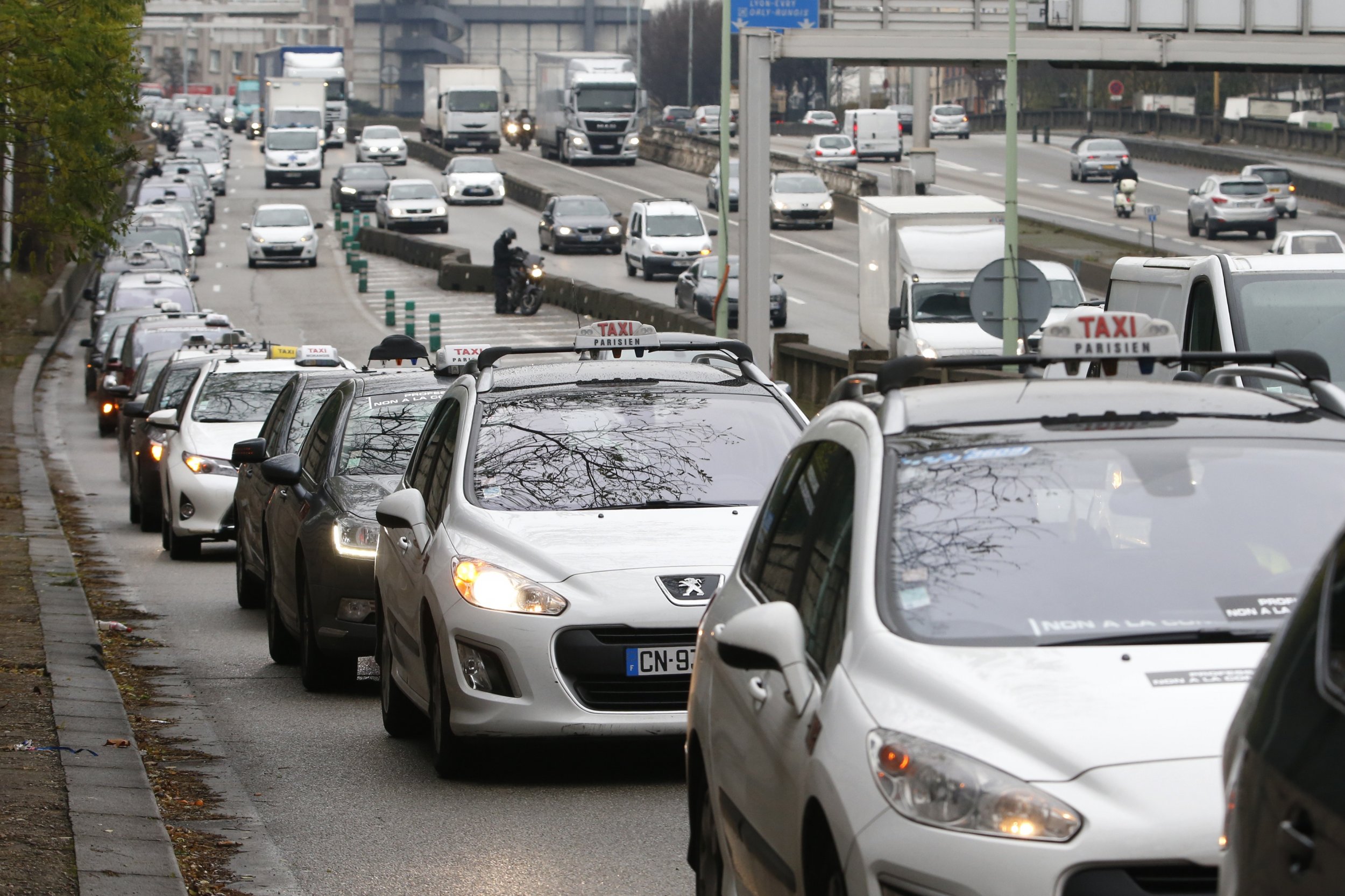 PARIS (Reuters) - The UberPop transport service will be banned in France from Jan. 1 to avoid unfair competition, the Interior Ministry said on Monday as taxi drivers impeded morning traffic into Paris in a protest against the U.S.-based online cab-hailing firm.
Uber allows users to summon taxi services with smartphones while its UberPop arm links private drivers to passengers. It has gained popularity around the world since its 2010 launch but drawn controversy over its aggressive approach to traditional taxi services.
France's highly regulated taxi drivers say Uber has hit their business unfairly as it has expanded rapidly. Authorities have voiced concern that UberPop drivers may not have the required commercial vehicle insurance.
Taxi unions had said they would block 260 km (160 miles) of roads around Paris with slowly moving taxi motorcades during the morning rush hour.
By late morning, traffic was mildly disrupted on the highways leading from Charles de Gaulle and Orly airports into the city center, traffic reporters said. But there were fewer bottlenecks than originally anticipated as some unions did not participate.
Interior Ministry spokesman Pierre-Henry Brandet said a law that takes effect in 2015 and regulates the taxi industry and chauffeured cars "is even more constrictive for these types of businesses", a reference to Uber.
"Not only is it illegal to offer this service but additionally for the consumer there is a real danger," Brandet told iTELE, citing substandard driver insurance.
San Francisco-based Uber said its drivers had proper insurance and contested the French government's decision.
On Friday, a commercial court in Paris refused to hear a lawsuit brought by Uber's competitors that sought to ban UberPop on the grounds of unfair competition. The court said the emergency request was unjustified and said any further actions to ban the service should be examined in a criminal court.
Uber's French subsidiary was fined 100,000 euros ($124,290) in October for fraudulent business practices, with a court finding that it advertised UberPop as a car pool instead of a paid transportation service.
Uber has continued to operate the service pending appeal.
The company has been banned in the Netherlands and in the Indian capital of New Delhi after a female passenger accused an Uber driver of rape.