Broadcaster Blasted for Caving in to Trolls after Removing Picture of Female Athlete That Received Sexist Comments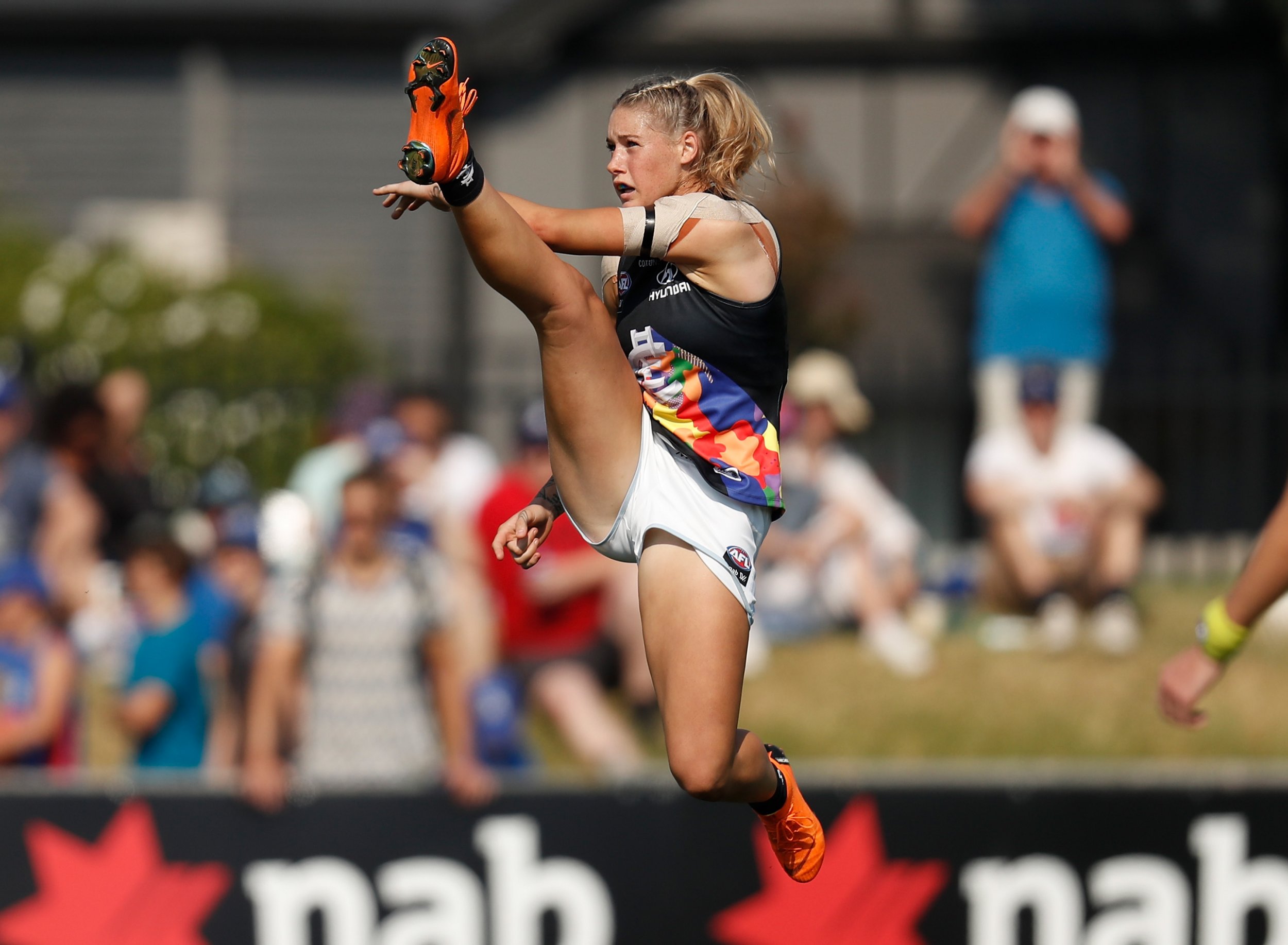 An Australian broadcaster has been criticized for removing a picture of a female athlete from its Twitter account, after it was met with a flood of sexist and misogynist comments from online trolls.
On Monday, Channel Seven posted a picture of Carlton Blues forward Tayla Harris kicking at goal against the Western Bulldogs in the Australian Football League Women's Pride Game.
The picture portrayed Harris's distinctive kicking action, with her right leg outstretched while booting the ball. When the broadcaster posted it on its AFL Facebook page, it was captioned "Photo of the year."
Unfortunately, the post attracted a deluge of sexually inappropriate comments and on Tuesday evening Channel Seven opted to remove the picture, explaining its reason for doing so via a statement on Twitter.
"The original purpose in publishing the image was to celebrate the power, athleticism and skills on show in Carlton's thrilling win over the Western Bulldogs," it said.
"The image attracted a number of comments, some of which were inappropriate and offensive. As a consequence we have removed the image and the comments."
However, while the AFL's official broadcaster aimed to placate a controversy, its decision to remove the picture only served to spark an even greater firestorm of criticism.
Channel Seven was accused of caving in, allowing trolls and haters to continue their campaign, rather than engaging in a campaign to silence them.
"We need to out these trolls," Australia's minister for women Kelly O'Dwyer was quoted as saying by the Associated Press. "We need to out these people who would seek to make misogynist comments about women. I was pretty frankly disgusted by Channel Seven's response in actually taking down her picture rather than dealing with the trolls."
Two-time Olympic gold medallist Anna Meares shared the picture on her Twitter account, indicating she was astounded by the broadcaster's decision to remove the original post.
Former AFLW player Meg Hutchins called the broadcaster's action "absolutely disgusting" and suggested the network should clamp down harder on trolls instead.
Michael Wilson, the AFL chief photographer who took the picture, also joined in the criticism, posting the image on his Twitter account.
Harris also shared the picture, captioning it: "Here's a pic of me at work…think about this before your derogatory comments, animals".
The fallout eventually drew an apology from the broadcaster.
"We're sorry. Removing the photo sent the wrong message," its account tweeted. "Many of the comments made on the post were reprehensible, and we'll work harder to ban trolls from our pages."
Harris, a professional boxer undefeated in five bouts, has called for police to take action against the trolls, suggesting some of the comments were equivalent to sexual abuse.
"The comments I saw were sexual abuse, if you can call it that, because it was repulsive and it made me uncomfortable," she told RSN radio.
"That is what I would consider sexual abuse on social media. If these people are saying things like this to someone they don't know on a public platform, what are they saying behind closed doors, and what are they doing?"
AFL chief executive Gillon McLachlan called out the incident but insisted it was not a problem limited to the sport.
"It's more a challenge with the platform, social media, because this is not an isolated incident," he was quoted as saying by SBS. "But when it's unacceptable commentary, more and more people are calling that out and that is what has happened here."