Thrilled Fans React To Taylor Swift's Latest Album 'Lover'
Taylor Swift's latest album Lover dropped on Friday and fans could not be more thrilled. Her seventh album marks a distinctive change from her polarizing 2017 album, Reputation — a rageful collection in which the 29 year old singer embraced her anger in the form of snake symbolism and refused to speak to the press about it.
Lover, in complete contrast, shows Swift moving past antagonism and searching for deep love instead. Critics, for the most part, have been very impressed despite reservations about the album's length — it has 18 tracks. Fans seem to have no issue with this.
One fan tweeted on Friday, "SO AFTER LISTENING TO LOVER I HAVE CONCLUDED THAT ITS ALBUM OF THE YEAR!. LIKE THIS ALBUM IS AMAZING #Lover." Another said, "Cruel Summer is one of the best songs I've ever heard #Lover."
The album features lead track "ME!" with Panic! at the Disco's Brendon Urie and "You Need To Calm Down," the second single Taylor released from the album.
Speaking with Entertainment Weekly in May, she accentuated the differences between Lover and 2017's Reputation, saying: "This time around I feel more comfortable being brave enough to be vulnerable, because my fans are brave enough to be vulnerable with me. Once people delve into the album, it'll become pretty clear that that's more of the fingerprint of this — that it's much more of a singer-songwriter, personal journey than the last one."
Swift tweeted on Friday, "This album is very much a celebration of love, in all its complexity, coziness, and chaos. It's the first album of mine that I've ever owned, and I couldn't be more proud. I'm so excited that #Lover is out NOW"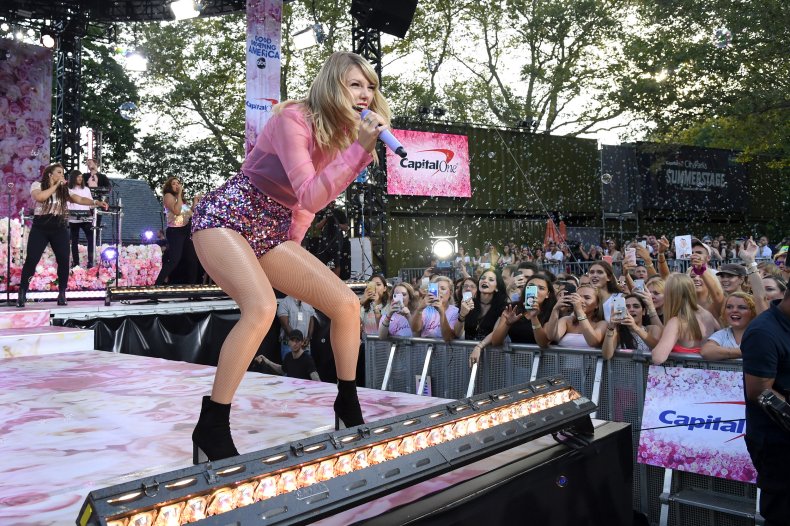 In the liner notes on the album, Swift wrote that "the album is a love letter to love itself - all the captivating, spellbinding, maddening, devastating red, blue, gray, golden aspects of it (that's why there are so many songs)."
"London Boy," the eleventh track on the album, has been particularly noted by Twitter fans — as it is safe to assume the track is inspired by Swift's British boyfriend, Joe Alwyn (she has also dated several other 'London boys.') The popstar sings about her love for the British capital, from Camden Market to Highgate to Brixton.
The song opens with a brief spoken clip, in which an Idris Elba says: "We can go driving on my scooter... you know, just round London."
On Thursday, the singer announced that she intends to record new versions of her hit songs after her back catalogue was bought by pop manager Scooter Braun.
After the album's release, Braun took to Twitter in an attempt to smooth over relations with the superstar.