Is Taylor Swift Releasing New Music on April 26? Hints and Theories For the TS7 Era
Taylor Swift fans have been bombarded with colorful, rainbow photos from the pop star for the better part of 2019 so far, but a cryptic countdown and targeted photos could officially spark a new era. Swift posted a 13-day countdown to April 26, a day the artist hasn't called attention to previously, but there's reason to believe this explosion of color and excitement for TS7 has been in the works for some time.
Along with the countdown, Swift's social media and website demeanor changed dramatically, from the dark colors of the Reputation era to an airy and light rainbow sky. Both Swift's social media profile photos and website background showcase colors of pink, blue and yellow. It seems to tease the idea of a brighter message in her next collection of songs.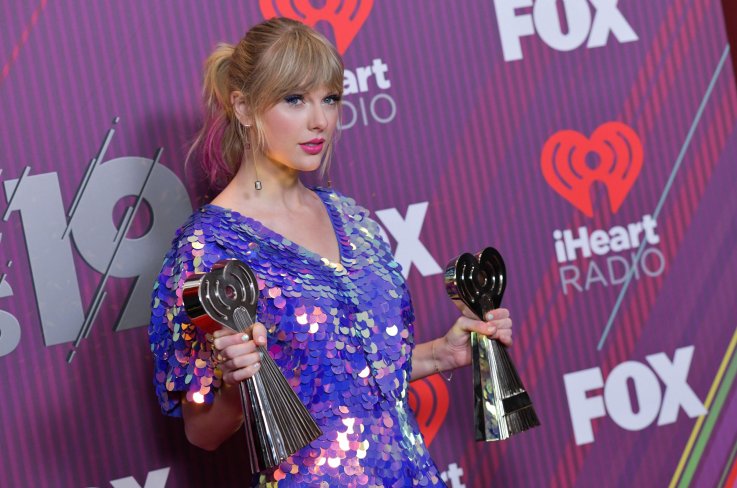 Swift's Instagram posts follow suit. At the time of publishing, Swift had posted three photos, one for each day of the countdown so far. It seems the images, one of a sparkly heart, a yellow suit with pink and blue fingernails and a close-up of what seems to be tool from a pink gown, could be stills from a music video.
So will there really be a Taylor Swift new single on April 26? Fans seem convinced that music is, in fact, coming, and with good reason. Some fans pointed toward the Taylor Swift merchandise calendar from her Reputation tour. The calendar comes ready with printed stamps on certain days in 2019, one of which was April 13, the day Swift started the countdown. While April 26 is not stamped, according to online images of the calendar, dates in May, June, August and September are. If April 13 is the kickoff, it could be a list of dates that correspond to the new era's start, one of which could even be an album release date.
As for what the album will be, fans have no guesses other than from Swift's color scheme. Trends have been spotted throughout the downtime in Swift's Reputation era, including a stealthy move Swift made with a specific fabric choice. Fans noticed Swift's "Look What You Made Me Do" music video had an extra version of herself at the end, one who fans had never seen. The Taylor was wearing a palm tree fabric dress. Swift later stepped out wearing the same fabric when she was apparently leaving the studio, according to Buzzfeed.
Other clues spotted on Swift's Instagram include her butterfly heels, worn at the iHeart Radio Music Awards, as well as her purple, reflective dress. Swift also posted a photo of palm trees at the start of her colorful Instagram change.
While some fans are positive new music is on the way, a select few on Twitter have guessed Swift may be getting married to boyfriend Joe Alwyn, and has issued a countdown for either the ceremony, or to announce her nuptials.
Is Taylor Swift Releasing New Music on April 26? Hints and Theories For the TS7 Era | Culture