Taylor Swift in 'Evermore' Trademark Lawsuit Over Utah Theme Park Name
Taylor Swift is embroiled in a trademark lawsuit over the name of a Utah theme park.
"Evermore" is the star's latest album—but also the name of an immersive-experience theme park in Pleasant Grove, Utah.
The theme park's owner Ken Bretschneider is suing the singer for trademark infringement.
According to federal court documents filed in Utah District Court, the lawsuit alleges that developing and promoting the "Evermore" trademark cost the business nearly $1 million.
In the filing, per local news site ABC4, Bretschneider says the Utah theme park "has invested approximately $37,000,000 into the creation and promotion of Evermore Park and the Evermore trademarks."
This includes funds for advertising and promotion, purchasing the evermore.com domain, and labor costs for advertising and promotion.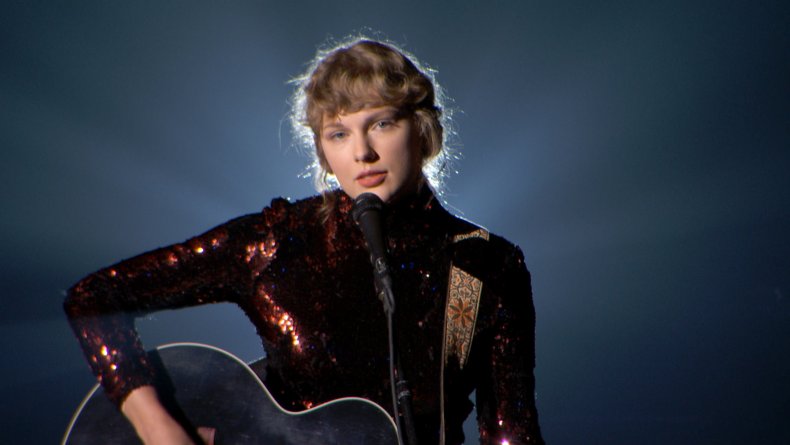 The park, which is close to Salt Lake City, describes itself as "a world of play for all ages, immersed in a fantasy European hamlet of imagination."
Swift's ninth studio album "Evermore" was released in December 2020, with millions of copies sold in the first week. It is a sister record to her July 2020 album "Folklore."
The singer's attorney, J. Douglas Baldridge, disagrees with the claims made by Bretschneider.
"Put simply, the Swift parties have not infringed your client's trademark, and it is inconceivable that there is any likelihood of confusion between your client's theme park and related products and Ms. Swift's music and related products," Baldridge wrote in a letter, reported the Sacramento Bee.
Court documents also allege that "Evermore" branded items on the singer's website are "counterfeit goods."
Swift's legal team disputes this claim on the grounds that the pop star's website sells nothing similar to the park's branded merchandise.
"Ms. Swift's website does not sell small dragon eggs, guild patches or small dragon mounts, and nothing could be remotely characterized as such," Baldridge said.
Bretschneider said there had been confusion among theme park guests who had associated the venue with Swift's album, adding that the business' standing on Google had also been affected by the singer's popularity.
"Evermore (Park) will incur additional marketing and promotional costs as it strives to compete with the torrent of information related to the Evermore album and Taylor Swift," the lawsuit said.
However, Swift's legal team has argued that the album actually increased the theme park's website traffic.
Baldridge has described Bretschneider's lawsuit as "frivolous and irresponsible."
There is no indication that Swift has any intention to change the name of the album.
A spokesperson for Swift called the claim "frivolous" and cited a Utah Business report that as of June 2020, "at least five lawsuits have been filed against Bretschneider and the Evermore group by a number of major construction companies."
"The companies claim they are owed between $28,000 and $400,000,'" Swift's spokesperson added. "The true intent of this lawsuit should be obvious."
Update 2/4/21, 10:30 a.m. ET: This article was updated to include a statement from Swift's publicist.