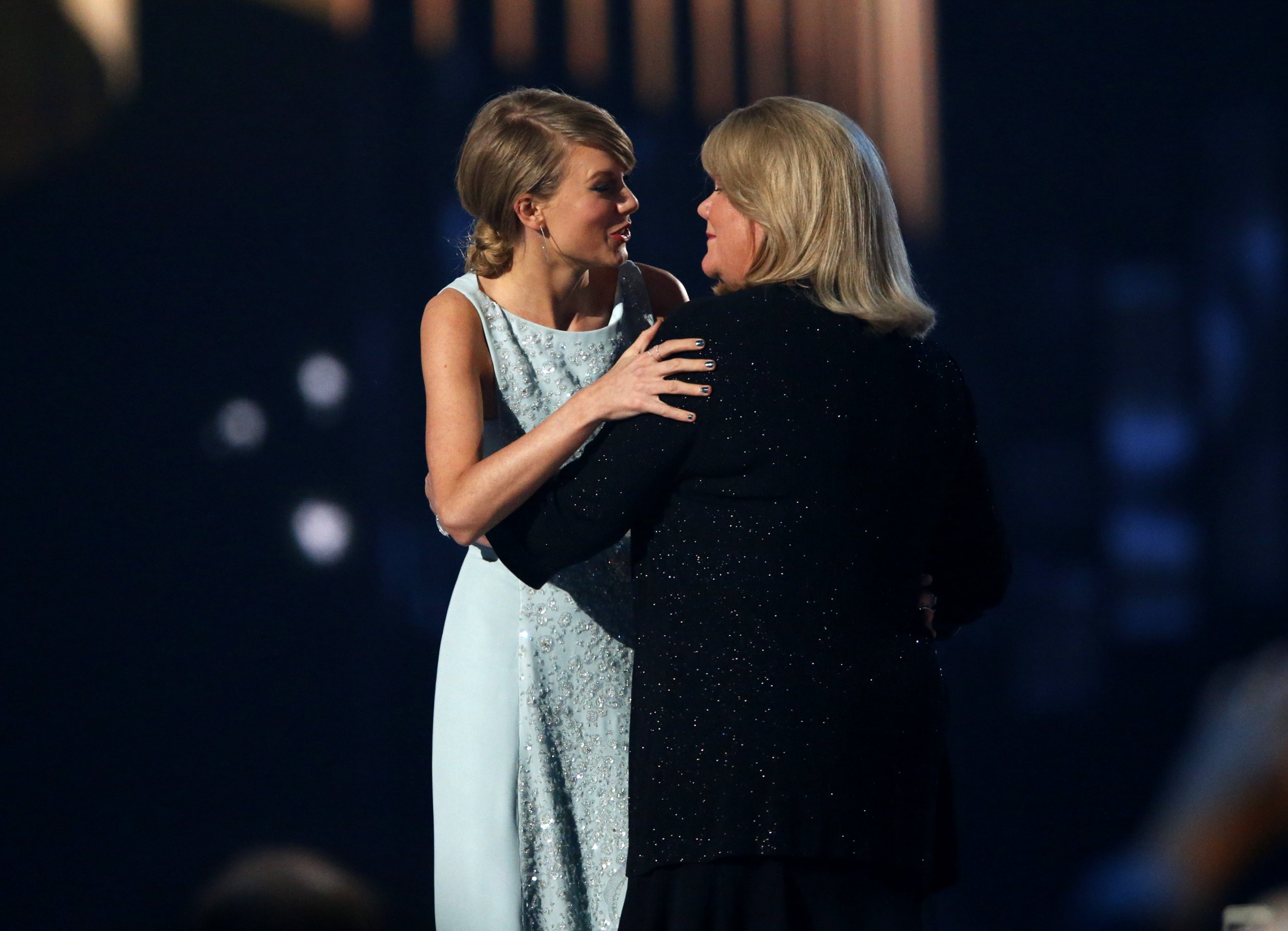 Whether Taylor Swift wins or loses a federal court battle stemming from her allegation that she was groped by a Denver DJ, the incident in question has already made the singer less trustful of the public and less open to fans, her mother testified.
Andrea Swift, who acts as part of her famous daughter's management team, took the witness stand on Wednesday in the trial pitting the Grammy-winning pop star against the man she accuses of sexual assault, radio personality David Mueller.
The U.S. District Court jury is weighing Taylor Swift's accusation that Mueller grabbed her bare buttocks at a pre-concert fan reception in 2013 against Mueller's assertion that he was falsely accused and consequently fired from his job.
"It absolutely shattered our trust," Andrea Swift, 59, said of the alleged incident, adding that meet-and-greet events for fans have since been scaled back, and metal detectors are now in place at all functions where her daughter interacts with the public.
Read more: Why Taylor Swift is taking a stand in her sexual assault trial
According to the 27-year-old recording artist, Mueller slipped his hand under her dress as the two posed, along with Mueller's girlfriend, during a brief picture-taking session.
"It was not an accident. It was completely intentional, and I have never been so sure of anything in my life," Taylor Swift has said in a deposition. She is expected to take the witness stand herself later in the trial.
Mueller, 55, testified on Tuesday that he may have made innocent physical contact with Swift, perhaps brushing her arm or torso. But he denied any inappropriate behavior.
Asked whether he grabbed Swift's backside, Mueller replied, flatly, "No, I did not."
The singer's mother was inexplicably called as a witness by Mueller's lawyer, Gabriel McFarland, the next day, but her testimony was anything but favorable to the former disc jockey for radio station KYGO-FM.
The elder Swift said she "wanted to vomit" when her daughter told her: "'Mom, a guy just grabbed my ass at the meet-and-greet.'"
Asked if she sought out eyewitnesses to verify the account, the mother said she had no reason to doubt her daughter's word.
"He sexually assaulted my daughter, right there, that guy," Andrea Swift said as she pointed at Mueller, sitting 15 feet away. "I heard it from my daughter's mouth. I know that it happened."
A member of Swift's security team later confronted Mueller, and a representative for the singer ultimately lodged a complaint with the radio station. But Swift's mother said the police were not called for fear of publicity.
"I did not want this event to define her life," Andrea Swift testified. One specific worry, she said, was the prospect that the photo taken with Mueller might end up going viral and even being doctored in a lewd way.
The mother said that seeing the photo in retrospect she could tell something was amiss from her daughter's body language and the "look in her eyes." She did not elaborate.
Mueller initiated the litigation, claiming Swift fabricated the groping story and pressured KYGO to fire him. Swift then countersued for assault and battery.