Taylor Swift and Kanye West's Competing Album Drops Is Just The Latest Chapter in Their Feud
On Thursday, Taylor Swift fans rejoiced as the singer announced that she would be releasing her eighth album Folklore at midnight tonight, but the album also falls on the same day that her rival turned friend turned rival again would release his latest album Donda. Both albums dropping the same day is the latest chapter in the artists' complicated history.
West announced that he would release his eleventh album Donda (or Donda With Child, as following tweets have suggested) on Tuesday, and Swift announced her newest album on Thursday.
While Swift didn't mention West or make reference to him in her post, the two have long been entwined, with each artist exchanging shots in recent years since their beef was rekindled in 2016. Swift fans on Twitter pointed out the coinciding release dates.
It's hard to believe that both West and Swift's beef has lasted over a decade with tons of ups and downs, loaded with shade thrown at each other.
Universal Music Group, who owns both Taylor Swift and Kanye West's labels (Republic and Def Jam, respectively), did not respond to Newsweek's emailed request for comment, neither did the artists themselves.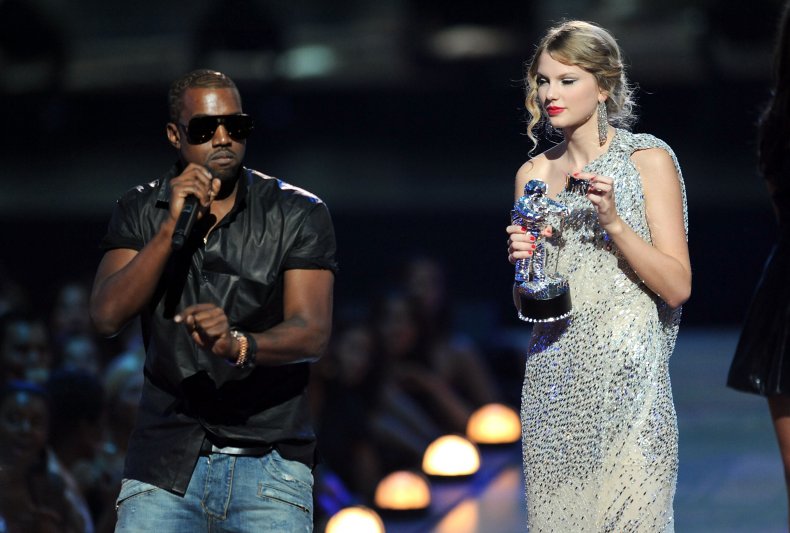 2009: The Award Show Seen 'Round the World
Who could forget the moment that kicked off the infamous rivalry? When Swift was awarded the "Best Female Video" VMA in 2009, Yeezy rushed the stage to voice his disagreement with the young singer beating out Beyoncé's "Single Ladies" music video. "Yo, Taylor, I'm really happy for you, I'mma let you finish, but Beyoncé had one of the best videos of all time," West said before getting booed off stage.
West apologized the next day on The Tonight Show, but Swift told The View nearly a week after the incident that West hadn't reached out to her personally to apologize.
Despite the initial shock, Swift has shown that she has a sense of humor about the incident. She's joked about it over the years, as early as November 2009, when she referenced it in her Saturday Night Live monologue.
2010: VMAs Redux
While the VMA moment lives in infamy, it gave way to some of the most memorable performances from both artists. The following year Swift and West referenced the incident in their respective VMA performances. Swift's "Innocent" performance began with the clip playing. West took the opportunity to debut his single "Runaway" from his album My Beautiful Dark Twisted Fantasy. West later called the album a "backhanded apology" in a New York Times interview.
2015: Peace Time
In a 2015 interview with Ryan Seacrest, Ye said that Swift and him were friends and were discussing working on some music together, according to ABC News. In an August 2015 interview with Vanity Fair, the 1989 singer said she had a little help from West's mentor in sparking the friendship. "It started with both of us really liking Jay [Z] and wanting him to be happy. And then Kanye and I both reached a place where he would say really nice things about my music and what I've accomplished, and I could ask him how his kid's doing," she said.
Taylor even fittingly presented West with the 2015 Video Vanguard Award at the VMAs that year.
2016: "Famous"
All that goodwill was short lived as West undid the friendship the two had with his Life of Pablo track "Famous" in two lines: "I feel like me and Taylor might still have sex/Why? I made that b****h famous."
Even though West said that he called Swift for approval, Swift denied that she gave approval. "Kanye did not call for approval, but to ask Taylor to release his single 'Famous' on her Twitter account. She declined and cautioned him about releasing a song with such a strong misogynistic message. Taylor was never made aware of the actual lyric, "I made that b***h famous,'" a representative told Billboard.
West's wife Kim Kardashian later leaked videos of West calling Swift to ask about the line on Snapchat, although the line Swift objected to is not in the video. This led to many people calling Swift a snake.
2017: reputation.
With 2017's reputation, Swift leaned into the heel turn, embracing snake imagery and writing songs that seemingly were directed at West, like the single "Look What You Made Me Do" or "This is Why We Can't Have Nice Things."
March 2020: The Snapchat Videos Resurface
The video where Ye asked Swift for permission about the line in "Famous" resurfaced, again not showing him ask about the "that b***h" line that the singer objected to.
In an Instagram story, the singer made reference to it, but didn't say too much else, according to Billboard. "Instead of answering those who are asking how I feel about the video footage that leaking, proving that I was telling the truth the whole time about *that call*," she wrote. "(you know, the one that was illegally recorded, that somebody edited and manipulated in order to frame me and put me, my family, and fans through hell for 4 years)..."