Kid Rock Blasts Taylor Swift, Says Singer Only 'Wants to be a Democrat Because She Wants to be in Movies'
Taylor Swift wants to be a movie star and that's why she co-signs the Democratic Party, according to Kid Rock.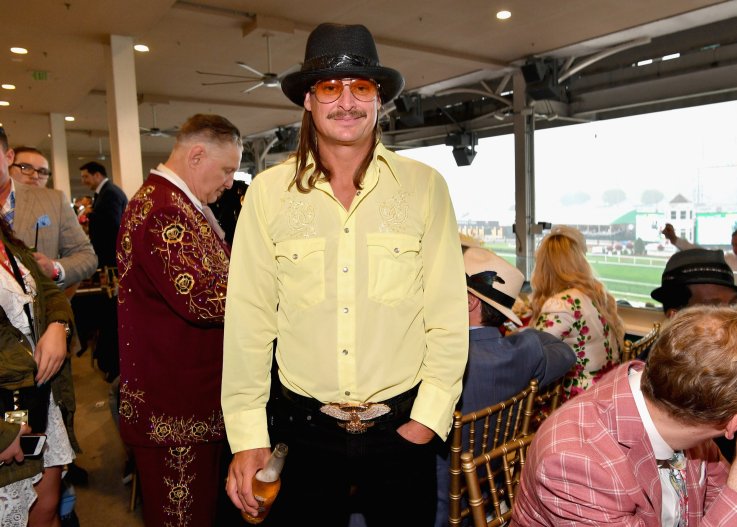 The musician lashed out at Swift in a tweet on Friday, claiming to know the reasons why Swift was affiliating herself with left-wing politics. "Taylor Swift wants to be a democrat because she wants to be in movies....period. And it looks like she will suck the door knob off Hollyweird to get there," Rock wrote on Friday.
He added: "Oldest move in the book. Good luck girl."
It's unclear why Swift, 29, was specifically targeted by the 48-year-old, who formerly teased a Republican campaign for Michigan Senate in 2018. At the time of publishing, Swift had not responded to Kid Rock.
As far as the movie accusation goes, Swift is set to star in the musical film Cats, which has a December 20 release date.
Swift has been more open about her political stance as of late as well.
After spending most of the 2016 presidential election quiet about her political choices, Swift explained why she remained mum during the campaign and said she didn't want her celebrity to have a negative impact on Democratic candidate Hilary Clinton. "Unfortunately in the 2016 election you had a political opponent who was weaponizing the idea of the celebrity endorsement," Swift told Vogue magazine for the publication's September 2019 issue, of which she appears as the cover star.
"He was going around saying, I'm a man of the people. I'm for you. I care about you.' I just knew I wasn't going to help," she continued.
Swift said she was also worried that the perception people had of her during the campaign would have slighted her endorsement of Clinton.
"Also, you know, the summer before that election, all people were saying was, 'She's calculated. She's manipulative. She's not what she seems. She's a snake. She's a liar,'" she said. "These are the same exact insults people were hurling at Hillary. Would I be an endorsement or would I be a liability? 'Look, snakes of a feather flock together. Look, the two lying women. The two nasty women.' Literally millions of people were telling me to disappear. So I disappeared. In many senses."
Swift previously declared she'd be more vocal regarding politics for the upcoming 2020 election. Along with encouraging her loyal fans—dubbed Swifties—to vote in primary and smaller circuit elections in their communities, Swift issued an essay for Elle magazine in March explaining how it was her responsibility to spread awareness against the "disgusting rhetoric" or the current administration.
"Invoking racism and provoking fear through thinly veiled messaging is not what I want from our leaders, and I realized that it actually is my responsibility to use my influence against that disgusting rhetoric," she wrote. "I'm going to do more to help. We have a big race coming up next year."
Kid Rock Blasts Taylor Swift, Says Singer Only 'Wants to be a Democrat Because She Wants to be in Movies' | Culture