Taylor Swift Mural Artist Kelsey Montague Reveals Possible TS7 Clues Ahead Of Pop Star's April 26 Announcement
While some Taylor Swift fans had guessed correctly that a mysterious butterfly mural in Nashville was somehow connected to the pop star, not even the muralist behind the work of art knew of Swift's involvement until the superstar singer surprised everyone by showing up at the mural on Thursday.
Artist Kelsey Montague was commissioned by ABC and ESPN to create the mural. And while Montague had no idea about Swift's involvement in the art, she did follow a strict set of guidelines to create the bright butterfly wings on the wall in Nashville's Gulch neighborhood.
Montague's sister and manager, Courtney Montague, told Newsweek about thes guidelines. "It was interesting because they said butterflies, stars, rainbows and hearts," Courtney explained. "And then it was specific about the number of hearts. And then they said cats, which we thought was interesting. Specifically, two cats and one kitten."
Fans on Twitter pointed out the mural had 13 hearts, which famously followed Swift's favorite number, as well as seven stars. The stars could symbolize Swift's expected, yet unconfirmed, seventh album. For the cats, however, there is an unexplained surprise. Swift is known to have two cats, Olivia and Meredith, so the inclusion of a third kitten is unexpected.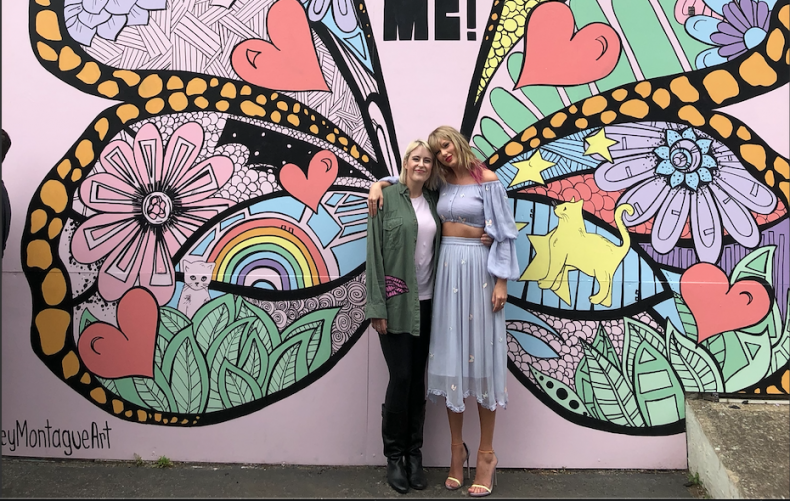 On Thursday morning, Montague was asked to add the text "ME!" to the mural. She arrived to find a crowd of Swift supporters. Still, the artist didn't know what the word is meant to indicate.
"This morning we were told we needed to put up some letters, then we were told these were the two letters," explained Courtney.
Even Swift didn't give the artist a hint to the meaning, though. "She only said, when she was here, to watch ABC tonight. I asked the ABC team 'Well, what does ME! mean?" and they said 'You have to watch ABC tonight.' I honestly don't know anything."
For Montague, interacting with Swift was a dream come true. Five years ago, Montague commissioned her first wing mural in New York City, and Swift shared a photo. This indirectly helped launch Montague's career. Now, she has nearly 90K Instagram followers.
"We never thought we'd get to thank her or meet her, or any of this. To have this, it's the most amazing thing ever," Courtney explained. "I know Kelsey thanked Taylor and said 'You've changed my life,' and Taylor said 'I'm a big fan of yours,' so Kelsey said 'I'm a big fan of yours.'"
Swift has teased an announcement at midnight ET on Friday. Fans expect she'll release a new single.