Taylor Swift Gets Political, Slams Republican and Endorses Democrat Who Backed Brett Kavanaugh Confirmation
Taylor Swift, the Grammy-winning pop star who is known for keeping quiet about her political views, said Sunday night that she would be voting for Tennessee senatorial candidate Phil Bredesen, a Democrat, instead of Republican candidate Marsha Blackburn.
In a lengthy Instagram post, the singer explained that while she was reluctant to speak out about politics, she felt compelled to because of "several events in my life and in the world in the past two years."
"In the past I've been reluctant to publicly voice my political opinions, but due to several events in my life and in the world in the past two years, I feel very differently about that now," she wrote. "I always have and always will cast my vote based on which candidate will protect and fight for the human rights I believe we all deserve in this country. I believe in the fight for LGBTQ rights, and that any form of discrimination based on sexual orientation or gender is WRONG. I believe that the systemic racism we still see in this country towards people of color is terrifying, sickening and prevalent."
Swift, who has spoken out about women supporting women and feminism in the past, said she regretted being unable to campaign on behalf of a female candidate.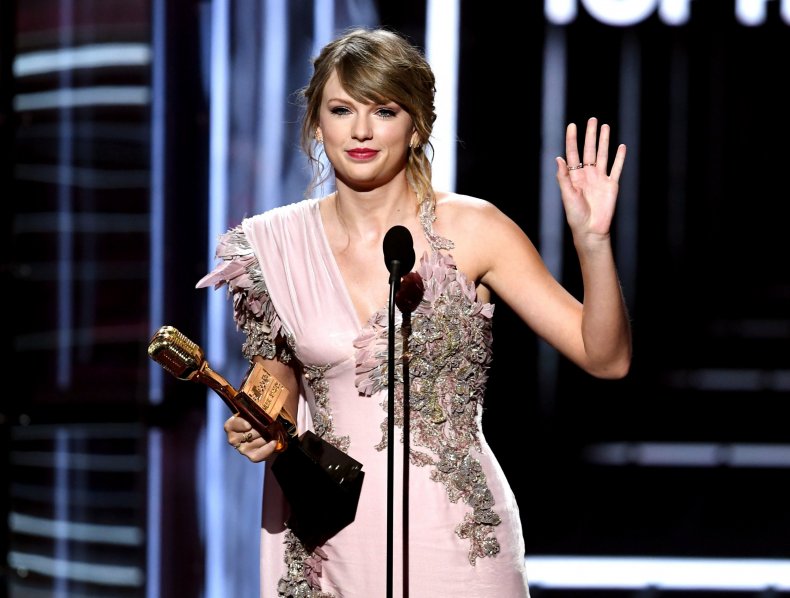 "I cannot vote for someone who will not be willing to fight for dignity for ALL Americans, no matter their skin color, gender or who they love. Running for Senate in the state of Tennessee is a woman named Marsha Blackburn. As much as I have in the past and would like to continue voting for women in office, I cannot support Marsha Blackburn," Swift wrote.
"Her voting record in Congress appalls and terrifies me," she said in her post. "She voted against equal pay for women. She voted against the Reauthorization of the Violence Against Women Act, which attempts to protect women from domestic violence, stalking, and date rape. She believes businesses have a right to refuse service to gay couples. She also believes they should not have the right to marry. These are not MY Tennessee values. I will be voting for Phil Bredesen for Senate and Jim Cooper for House of Representatives."
She then encouraged her fans to educate themselves on the candidates running in their districts and vote in the midterm elections this November.
"For a lot of us, we may never find a candidate or party with whom we agree 100% on every issue, but we have to vote anyway," wrote Swift.
Bredesen, who broke with his party to support Brett Kavanaugh's nomination to the Supreme Court, later thanked Swift for her endorsement in a tweet.
"Thank you for the kind words Taylor Swift," he wrote. "I'm honored to have your support and that of so many Tennesseans who are ready to put aside the partisan shouting and get things done. We're ready for it."
Blackburn is currently leading in the polls by two points, according to an average by RealClearPolitics.
Swift had been criticized in the past for failing to speak out against President Donald Trump. An unsigned editorial in the left-leaning Guardian called Swift out for it last year.
"In the year since Donald Trump was elected, the entertainment world has been largely united in its disdain for his presidency," the paper wrote. "But a notable voice has been missing from the chorus: that of Taylor Swift, the world's biggest pop star. Her silence is striking, highlighting the parallels between the singer and the president: their adept use of social media to foster a diehard support base; their solipsism; their laser focus on the bottom line; their support among the 'alt-right.'"
Prior to Sunday night, Swift often said she would prefer to focus on her music and not her politics. "I try to keep myself as educated and informed as possible. But I don't talk about politics because it might influence other people. And I don't think that I know enough yet in life to be telling people who to vote for," she said in a Time interview.
Because of her reluctance to speak out politically and her blonde-haired, blue-eyed image, Swift was adopted as a celebrity mascot of the alt-right.
In 2017, white supremacists claimed that Swift's music videos and lyrics secretly supported their movement. Some critics suggested that Swift's decision not to denounce those neo-Nazis was an implicit endorsement of them. Swift's team attempted to sue one such critic, which got the American Civil Liberties Union involved.
"The blog post is a mix of core political speech and critical commentary; it discusses current politics in this country, the recent rise of white supremacy, and the fact that some white supremacists have apparently embraced Ms. Swift, along with a critical interpretation of some of Ms. Swift's music, lyrics, and videos," a letter from the ACLU read.
"Criticism is never pleasant, but a celebrity has to shake it off, even if the critique may damage her reputation," wrote the ACLU. "Not even in your wildest dreams," they said, could the post's claims "constitute defamation."