Taylor Swift Fan Decorates Philadelphia With Yarn Lyric Murals in Hopes of Meeting Pop Star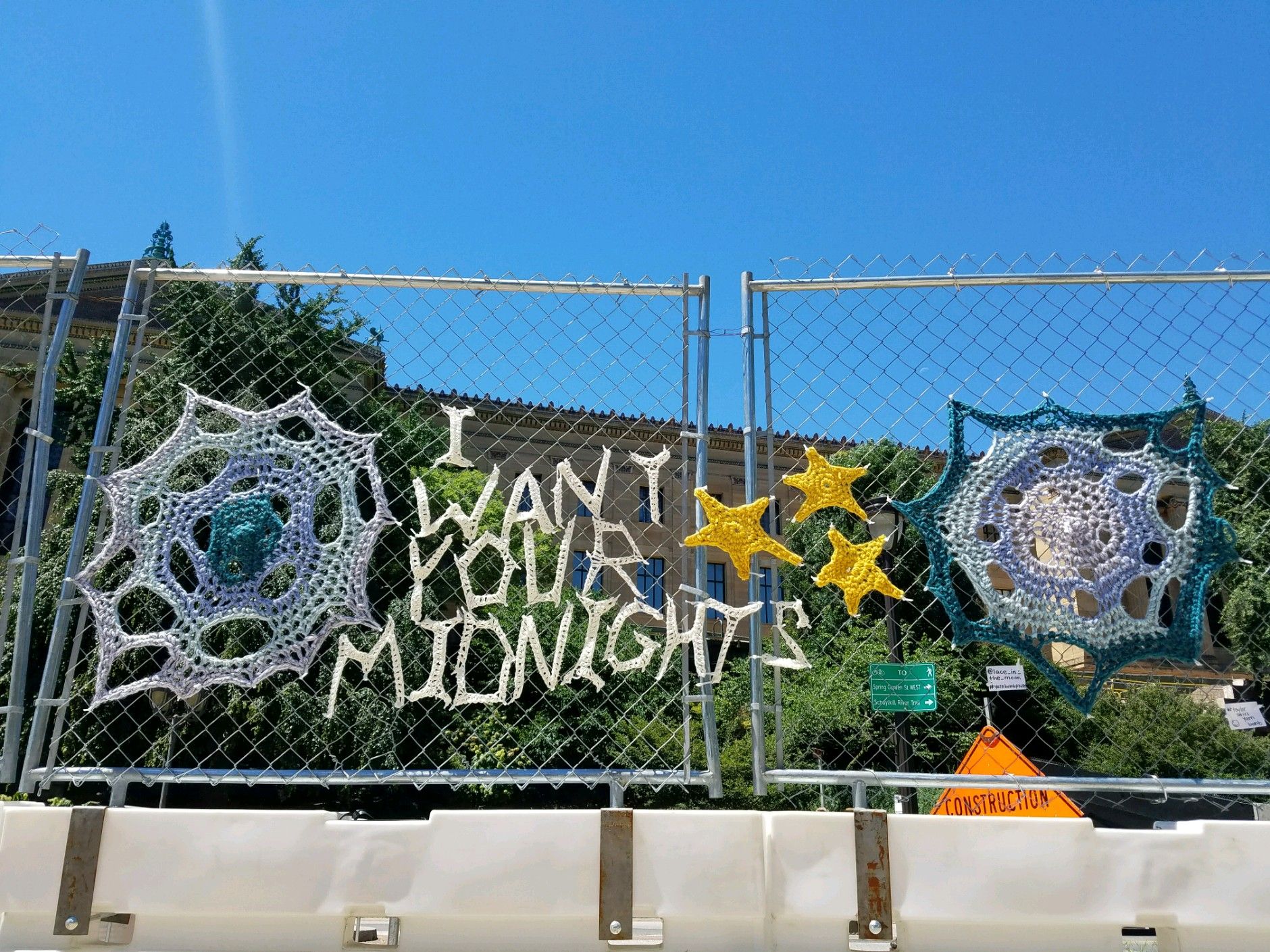 On Friday and Saturday nights at Lincoln Financial Field in Philadelphia, Taylor Swift will take the stage while a crowd of fans scream-sing along to her songs as part of her Reputation tour. Many of them, like 26-year-old Nicole Nikolich, have been fans of Swift for more than a decade, since she was an opening act for Rascal Flatts.
Outside of that same stadium, there's an art installation made of yarn that Nikolich put in place Friday morning. The installation reads, "Don't blame me, love made me crazy," Swift's lyrics.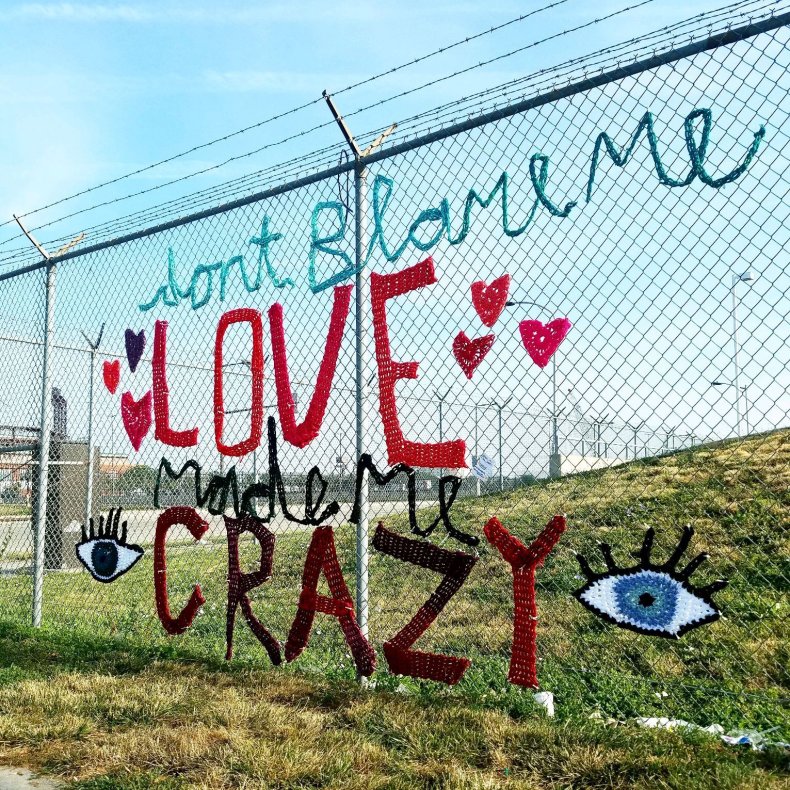 The installation is one of three Swift-themed displays Nikolich has put up around the city in the hopes of catching the pop star's eye—and maybe earning a chance to meet her.
"I wouldn't consider myself a crazy, super-stalker fan," Nikolich told Newsweek, "But she's definitely my favorite artist of all time. It's my high school friends that I go to her concerts with and sing this stuff with, so it's really nostalgic for me. And we always have a great time when we're together. So I was like, 'You know what, we've got to meet her, let's do something.'"
Nikolich is a manager at a women's clothing store in Philadelphia, but in her free time she gets crafty. "I've always loved mixed-media art," she said.
She had crocheted about 10 other bright and colorful installations to display around the city, a form of street art called "yarn bombing," before she decided to do a Taylor Swift–themed series. "I hadn't really been being that creative lately, and me and my friends love our girl Taylor Swift," she said. So she decided to yarn bomb Swift's lyrics around the city, she told Newsweek.
The first Swift-inspired installation she put up was near the Philadelphia Museum of Art and had the lyrics "I want your midnights."
"I wanted to come up with lyrics that kind of make sense with the space," said Nikolich. The midnights installation features stars and a moon-like object, somewhat inspired by Vincent van Gogh's The Starry Night. A video of her setting up the installation shows spectators and people asking her about the piece. So far, she says the response to the art has been positive. A police officer even stopped her while she was doing one of the installations and said, "This is really cool, keep up the good work," Nikolich told Newsweek.
The second installation Nikolich created featured the lyrics "You're so gorgeous," and she put it under a bridge along Kelly Drive in the city, an area where people walk, run and bike. "That one's kind of just a little more inspirational," she said.
"It's a little bit of a reminder like, 'You know what? You're doing awesome, you're out there exercising, working out, doing whatever, take a little second, and I hope it makes you smile,'" she told Newsweek.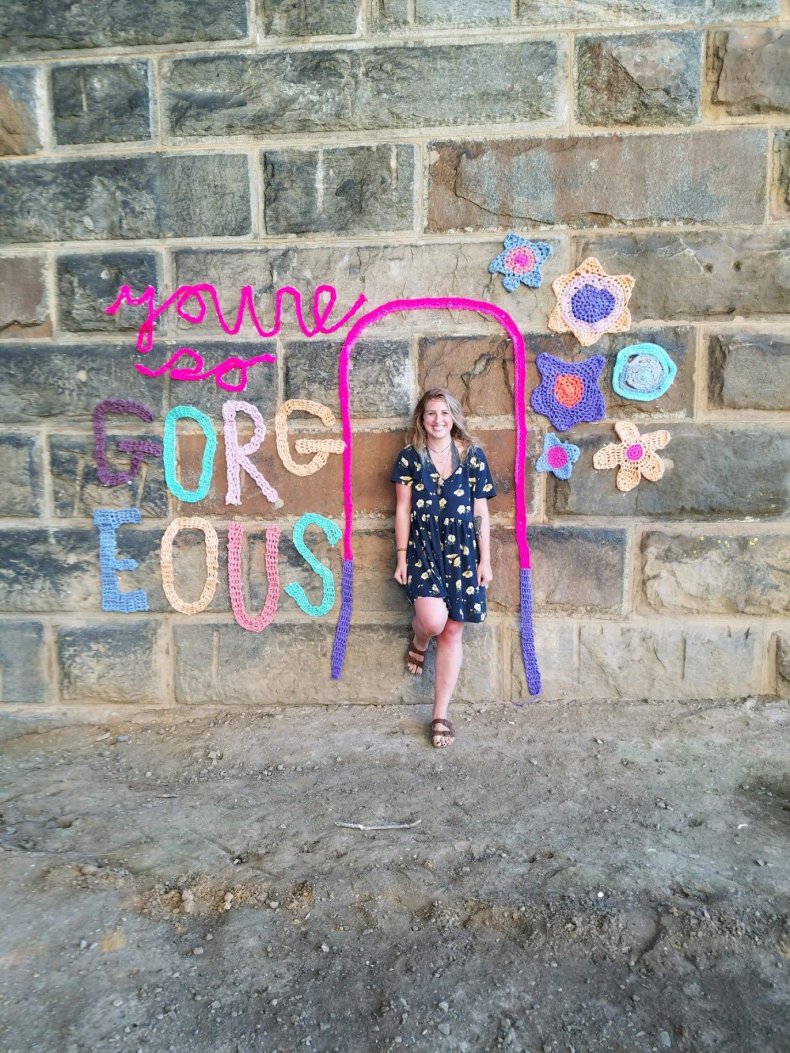 Nikolich put up the last of the three installations Friday morning ahead of Swift's Friday-night performance. "I was hoping that she would see it, but also that people could interact with it before and after the show," she said.
"It's just kind of a little bit making fun of myself for it all," she said about her choice to make the final installation outside the stadium the lyrics from "Don't Blame Me."
"I know I may be coming off like this crazy superfan, and I definitely am a crazy huge fan. But it's kind of like, 'Alright, you made me crazy. You made me do this, Taylor,'" Nikolich said with a laugh.
She'll be attending Swift's concert Saturday night and hopes that Swift might hear about or see the installations beforehand and want to meet.
The installations typically last three weeks or so, meaning any other Taylor Swift superfans who want to snap a photo of it should check them out soon.
​