Taylor Swift's Reputation Tour: See Full Setlist After Opening Night
Singer Taylor Swift revealed the full setlist for her Reputation Stadium Tour upon launching it in Glendale, Arizona, on Tuesday.
The Reputation Stadium Tour is the "Gorgeous" songstress's first lineup of concerts since The 1989 World Tour in 2015. Aside from Glendale, Swift is expected to visit Chicago, Atlanta and Pittsburgh, among other cities globally.
Swift, 28, performed 24 of her biggest tracks in Glendale on Tuesday including past songs such as "You Belong With Me" and present hits such as "End Game."
Charli XCX and Fifth Harmony alum Camila Cabello performed ahead of Swift. Her openers later joined her onstage to sing "Shake It Off." Swift additionally surprised attendees with a pre-recorded cameo featuring comedic actress Tiffany Haddish in "Look What You Made Me Do." However, before Swift sang "Long Live," audience members noticed that she seemingly made mention of her feud with Kim Kardashian from 2016.
"A couple of years ago, someone called me a 'snake' on social media, and it caught on," Swift began. "I went through some really low times for a while because of it. I went through some times when I didn't know if I was gonna get to do this anymore.
"If someone uses name-calling to bully you on social media, and even if a lot of people jump on board with it, that doesn't have to beat you. It can strengthen you instead," she added.
Swift's first-ever stadium tour is in promotion of her sixth studio album, Reputation. In March, the album—which sees Swift completely abandoning her seemingly good-girl roots—sold more than 2 million units in the United States, Forbes reported. Swift's Reputation was the first album to accomplish this since Adele's 25 in 2015. Reputation and Ed Sheeran's Divide were the only two albums to reach 1 million units in 2017.
For those preparing to see Swift during her Reputation Stadium Tour, here's a sneak peek of the full setlist: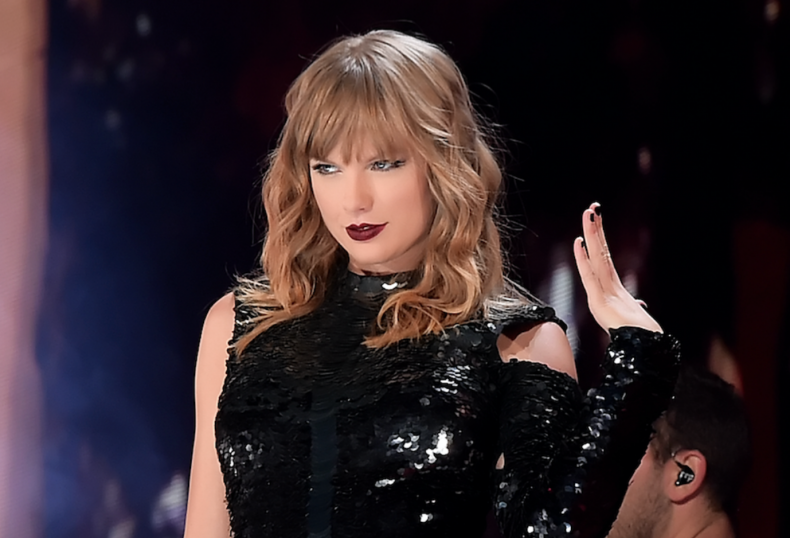 1. "…Ready For It?"
2. "I Did Something Bad"
3. "Gorgeous"
4. "Style"
5. "Love Story"
6. "You Belong With Me"
7. "Look What You Made Me Do"
8. "End Game"
9. "King Of My Heart"
10. "Delicate"
11. "Shake It Off" (with Camila Cabello and Charli XCX)
12. "Dancing With Our Hands Tied" (acoustic)
13. "All Too Well" (acoustic)
14. "Blank Space"
15. "Dress"
16. "Bad Blood"
17. "Should've Said No"
18. "Don't Blame Me"
19. "Long Live" (piano)
20. "New Year's Day" (piano)
21. "Getaway Car"
22. "Call It What You Want"
23. "We Are Never Ever Getting Back Together"
24. "This Is Why We Can't Have Nice Things"