Taylor Swift is the queen of leaving Easter eggs everywhere she goes, from advertisements, Instagram posts and, of course, lyrics. The pop star may have just confirmed a fan theory that she's engaged based on some newly-released lyrics from the title tracks of her upcoming album, Lover.
Swift shared a set of lyrics on Instagram Thursday, which echoed her cover shoot with Vogue. One of the lyrics read: "My heart's been borrowed and yours has been blue. All's well that ends well to end up with you." Some fans were quick a spot the classic wedding saying in the song, "Something borrowed, something blue."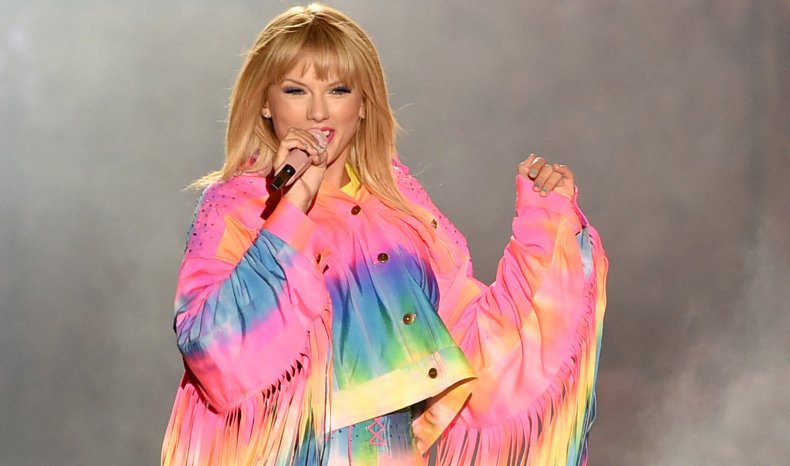 One fan shared this theory on Tumblr, and Swift responded by liking the post. The like certainly doesn't show the singer denying a wedding rumor. The post didn't explicitly say Swift may be married or engaged. Instead, it pointed out the lyric and responded "ma'am," to Swift, who did acknowledge the post.
Fans know Swift is in a long term relationship with actor Joe Alwyn, though the pair have kept a majority of their relationship secret. In the past year, they've stepped out together only a handful of times for premieres, and seem to enjoy keeping their relationship private.
Some Twitter users claimed the titled of "Lover" may be a giveaway to Swift's future. In the past, the artist has explained her album titles before the release, some shared. This time, though, the album has not had an explanation.
Swift's upcoming album, which will be released on August 23, may give a bigger glimpse into the relationship. The album may be a bit different from her classic, love and breakup records, considering the star has recently spoken up on her political stance. Swift explained why she felt it was time to speak up on her support for the LGBTQ community, and vocally oppose the President's decisions in her Vogue interview.
"MAYBE A YEAR OR TWO AGO, Todrick and I are in the car, and he asked me, What would you do if your son was gay?" she explained. "The fact that he had to ask me . . . shocked me and made me realize that I had not made my position clear enough or loud enough. If my son was gay, he'd be gay. I don't understand the question."
Swift also noted why she didn't publicly endorse Hillary Clinton for president. It came down to the insults hurled at her after Kim Kardashian West called her a snake on social media. "I just knew I wasn't going to help," she said. "Also, you know, the summer before that election, all people were saying was She's calculated. She's manipulative. She's not what she seems. She's a snake. She's a liar. These are the same exact insults people were hurling at Hillary. Would I be an endorsement or would I be a liability? Look, snakes of a feather flock together. Look, the two lying women. The two nasty women."
Twitter users seem to be on board with Swift's possible engagement. Her fan base is seemingly vocal about Swift finding lasting love, and have long shown appreciation for her relationship with Alwyn.