Did Taylor Swift Slam Republicans During AMAs Performance After Democratic Endorsements?
Taylor Swift opened up the 2018 American Music Awards Tuesday night with a dark and dramatic performance of her song "I Did Something Bad" off her 2017 album Reputation. The song, which speaks about criticism of a public figure, seemed a fitting choice after Swift received a mixed bag of hatred and praise after declaring her political beliefs on her Instagram account Sunday night.
Swift drew a backlash from Republicans after she posted a lengthy Instagram caption announcing her support for two Democratic candidates in the state of Tennessee and urged fans to vote on November 6. Her Sunday post spoke strongly against Marsha Blackburn, who is running for Tennessee Senate.
President Donald Trump was among the critics of Swift's post. "I'm sure Taylor Swift has nothing — or doesn't know anything about her [Blackburn]," Trump said. "Let's say that I like Taylor's music about 25 percent less now, OK?"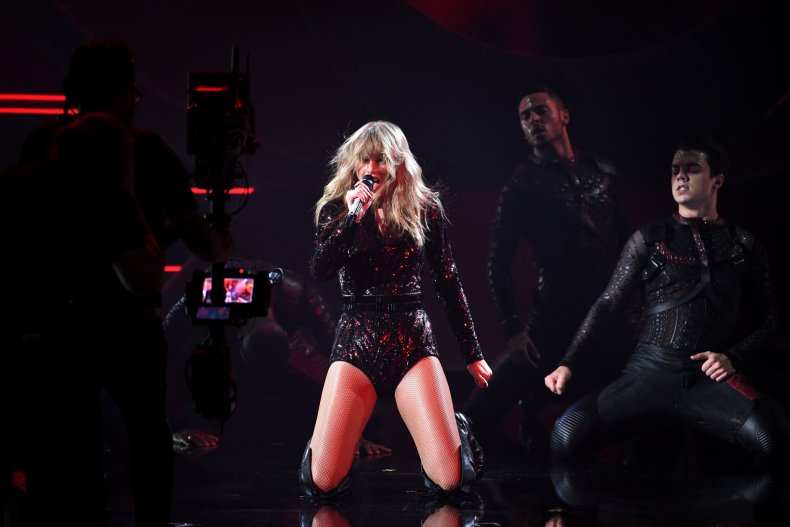 Swift's opening number at the American Music Awards was her first awards show performance in three years. The stage was set with red lighting and a giant, inflatable snake, the same as her Reputation stadium tour. In a black jumpsuit, Swift sang her track assertively and unapologetically.
"They say I did something bad, then why's it feel so good," she sang. "Most fun I've ever had, and I'd do it over and over and over again if I could."
The song, seemingly dedicated to Swift's haters, was born from her past feud with Kanye West and Kim Kardashian. Now it may have taken on new meaning. As Swift's political statement continues to make headlines, her lyrics, "Go ahead and light me up" and "If a man talks s*** then I owe him nothing," may lead fans to believe she's unaffected by negative opinions post-politics.
In the Instagram post, Swift noted she's no longer comfortable staying quiet on politics. "In the past I've been reluctant to publicly voice my political opinions, but due to several events in my life and in the world in the past two years, I feel very differently about that now," Swift wrote, adding she planned to cast her vote for supporters of LGBT and racial equality. "I always have and always will cast my vote based on which candidate will protect and fight for the human rights I believe we all deserve in this country."