If You Want to Support Taylor Swift, 10 Songs You Won't Download Because Profits Go to Big Machine
Taylor Swift's battle with her former record label Big Machine Label Group, its founder Scott Borchetta and owner Scooter Braun shows no sign of simmering down, after the singer claimed she has been blocked from performing old tracks at the American Music Awards later this month.
The drama offers a rare peek behind the curtains of the music industry and the complexities of music ownership, recording and publishing contracts, as well as the lucrative business of master recordings. The average fan might assume a performer like Swift, because she wrote and recorded a hit song like "Shake It Off," has full ownership of her work. Not quite so.
Big Machine owns the master recordings to Swift's first six albums, Taylor Swift through Reputation, which were recorded under her deal with the country music label. As such, it is within its rights to block Swift's use of her old music. Swift moved to Universal Music Group last year and has expressed disappointment about not getting control of her masters; in fact, she announced she plans to re-record all six previous albums next year when she is legally allowed to do so. Swift can do this because, although she doesn't own the recordings, she wrote all the songs and has ownership of the lyrics. This makes for an interesting scenario: In the near future, there could be two versions of all her albums pre-Lover, the first album under her new Universal deal and the first album to which she owns the master recordings. Whether it's wise is to re-record all the songs she previously made is another thing—in August, Billboard's editorial director Bill Werde called the move "odd" and another critic pointed out that Swift recorded her first three albums as a teenager and that young perspective is part of what made them work (Swift turns 30 in December).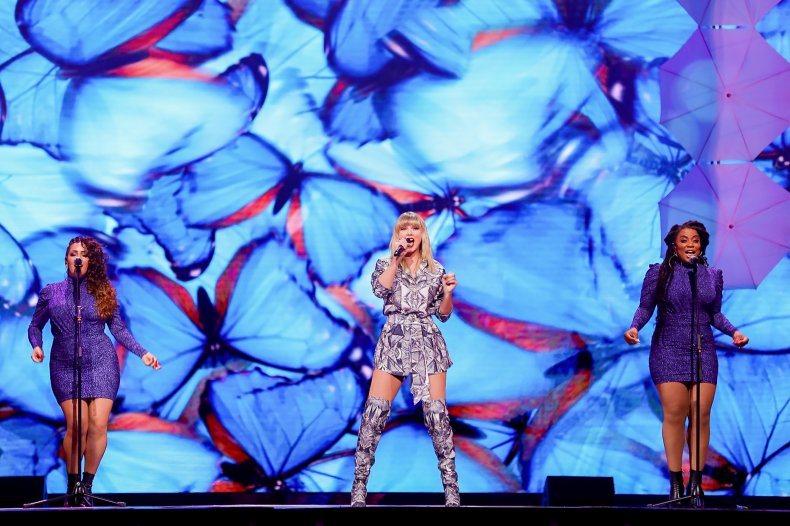 Newsweek subscription offers >
Swift said last week that Borchetta and Braun have banned her from performing songs from her first six albums—including hugely successful records Red and 1989—and won't license the rights to any of those songs for a Netflix documentary she is filming. Big Machine denied blocking her from performing at the AMAs or from filming a Netflix special. Swift previously spoke out against Big Machine in June when Braun's Ithaca Holdings bought the record label and, with it, Swift's master recordings. Swift alleged that Braun had bullied her personally in the past.
Swift has encouraged fans to let Big Machine, Borchetta and Braun know how they feel about her not being allowed to perform her old hits at the AMAs. However, there is another radical way fans are showing their dedication to Swift: boycotting her old records and supporting her current album financially.
Profits from sales of music from Swift's first six albums still go to Big Machine, and the two men Swift is at odds with. This includes revenue from physical CD sales, downloads (for example, on iTunes) and streaming.
Among the songs that continue to benefit Big Machine are:
Newsweek subscription offers >
"Teardrops On My Guitar"
"Love Story"
"You Belong With Me"
"Mine"
"We Are Never Ever Getting Back Together"
"I Knew You Were Trouble"
"Shake It Off"
"Blank Space"
"Bad Blood"
"Look What You Made Me Do"
Meanwhile, Lover, released in August, is wholly owned by Swift under her record deal with Universal. Fans on social media have encouraged others to get behind that album instead.
Swift still receives royalties from sales of her old music, but fans wanting to support their favorite star more actively might want to wait until she re-records the old albums and retains ownership of the new recordings.
"In solidarity with Taylor Swift, I am only listening to the Lover album because it is the only album that she owns and I don't want to support Scooter and Scott. When Taylor re-records all of her old music, I will only listen those," wrote one fan on Twitter.
The risk, however, is that Swift would see a decline in royalties if fans stopped supporting her old music en masse (at least until they were able to buy the re-recordings). Admittedly, Swift is worth $360 million according to Forbes, so she might not be too adversely affected.
If You Want to Support Taylor Swift, 10 Songs You Won't Download Because Profits Go to Big Machine | Culture