Taylor Swift Pastel Time 100 Gala Look, Instagram Filter Give Latest Music Clues
Taylor Swift stepped out in a pastel-hued, ultra-feminine look for the Time 100 Gala Tuesday night, and fans think her choice outfit ties in perfectly with her latest image reinvention. Twitter stans of the star were quick to point out similarities between Swift's gala look and her new Instagram aesthetic, which transformed her black and white Reputation-era image to an explosion of pastel colors and wild sparkles.
Swift began her slow color transformation in February, but started with daily, colorful teasers on April 13. She clarified an announcement will come on April 26, and though no spoilers have been released, fans assume a new single will drop to begin Swift's seventh-album cycle (better known as TS7 by fans).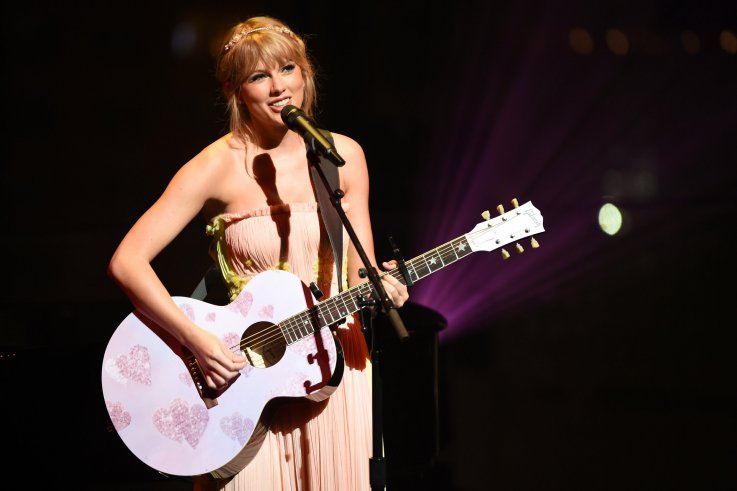 Swift's Time 100 Gala look was pink and yellow, intriguingly similar to a clue posted on Swift's Instagram April 15 featuring an image of pink tulle, seemingly from a dress.
Fans also pointed out Swift's ring was a diamond-filled heart, which looked a lot like an image of a rhinestone heart she shared with her follwers on April 13. At the gala, the pop star played a handful of songs from her repertoire, like "Delicate" and "Style." For the occasion, she brought out a new acoustic guitar, spangled with glittery hearts across its baby pink surface.
What do all these signs add up to? That's still unclear. There is, however, a noticeable buildup surrounding April 26. The singer also teased Friday's announcement on Wednesday with by releasing a new Instagram filter, which causes glitter to rain from the ceiling. The filter will change daily until the Friday release, Swift clarified on her Instagram story.
The star also posted another teaser photo on Wednesday. It features a pink wall and glass-top table with a vase of pink flowers. The photo shows what appears to be a glass of dark liquor along with a cocktail-mixing kit. Other photos Swift has teased feature a blue bike, pastel nail polish, and what looks like a series of pastel-colored business suits. She also shared an image of painted birds wearing sunglasses on Instagram, along with a lineup of other mysterious, colorful images.
Taylor Swift Pastel Time 100 Gala Look, Instagram Filter Give Latest Music Clues | Culture