Taylor Swift Accuses Trump of Dismantling Postal Service to Remain in Office: 'He's Chosen to Blatantly Cheat'
In a pair of Saturday afternoon tweets, pop star Taylor Swift said that President Donald Trump's attacks on the United States Postal Service are in an effort to stay in office. She accused him of choosing "to blatantly cheat."
In the lead-up to the election, Trump has spoken about cutting funding for the USPS ahead of the government agency delivering mail-in votes amidst the coronavirus pandemic, as previously reported. The president has also criticized the mail-in option, saying that it would take too long to process all of the votes.
The Postal Service announced Friday that it contacted 46 states and Washington, D.C., saying that there could be delays in the delivery of ballots to be counted on time.
Swift tweeted that Trump's attacks on the Postal Service signal that he knows that the mail-in votes may cost him the Oval Office in November. "Trump's calculated dismantling of USPS proves one thing clearly: He is WELL AWARE that we do not want him as our president," she wrote.
She also said that by forcing more Americans to go to the polls rather than fund mail-in voting, Trump will "put millions of Americans' lives at risk in an effort to hold on to power."
Swift took further aim at the president's handling of the COVID-19 pandemic. "Donald Trump's ineffective leadership gravely worsened the crisis that we are in and he is now taking advantage of it to subvert and destroy our right to vote and vote safely," she wrote, before urging her followers to request a ballot and vote.
This isn't the first time that the Folklore singer has spoken out against Trump. On May 29, Swift vowed to vote Trump out of office in response to his handling of Black Lives Matters protests that arose in response to George Floyd's death.
"After stoking the fires of white supremacy and racism your entire presidency, you have the nerve to feign moral superiority before threatening violence? 'When the looting starts the shooting starts'??? We will vote you out in November," she tweeted.
Prior to 2018, Swift had been a largely apolitical figure in the pop music world. In an October 2018 Instagram post, Swift urged her followers to vote and endorsed Congressman Jim Cooper in his run for the Senate against Senator Marsha Blackburn. Swift documented her decision to become politically involved in her Netflix documentary Miss Americana, which was released in January.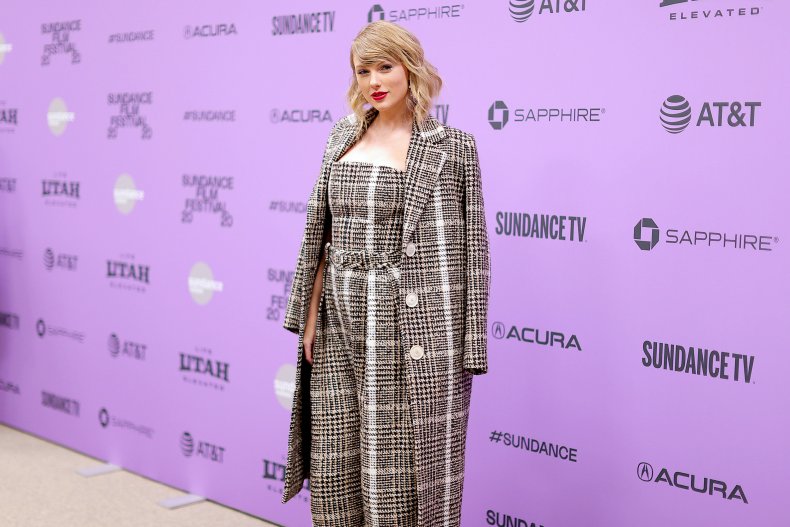 Swift's publicist did not respond to Newsweek's emailed request for comment; a press contact for the White House also did not respond to Newsweek's query prior to publication.