Taylor Swift Retweets Clip Calling Out Senators on Gun Control After Uvalde
Taylor Swift has said she is filled with "rage and grief" over the Uvalde school shooting following the deaths of 19 schoolchildren at Robb Elementary School in Texas.
The singer, 32, took to social media to share her frustrations at the country's gun laws and retweeted Golden State Warriors coach Steve Kerr who blasted senators about gun violence.
"Filled with rage and grief, and so broken by the murders in Uvalde," Swift tweeted late on Tuesday. "By Buffalo, Laguna Woods and so many others. By the ways in which we, as a nation, have become conditioned to unfathomable and unbearable heartbreak."
Authorities have confirmed that 21 people, 19 of whom were reportedly students, have died following the shooting at the school, located 80 miles west of San Antonio.
One victim had been identified as of Tuesday evening—fourth-grade teacher Eva Mireles.
The 18-year-old suspected gunman, identified as Salvador Ramos, was killed by police, Texas Governor Greg Abbott said.
Kerr delivered a passionate speech on Tuesday evening before his team's playoff loss to the Dallas Mavericks and refused to discuss basketball in light of what had just occurred.
"When are we going to do something?" Kerr pleaded at the pre-game press conference. "I'm tired. I am so tired of getting up here and offering condolences to the devastated families that are out there. I am so tired of the, excuse me, I am sorry, I am tired of the moments of silence. Enough!"
He then addressed Senate minority leader Mitch McConnell and implored him to take action.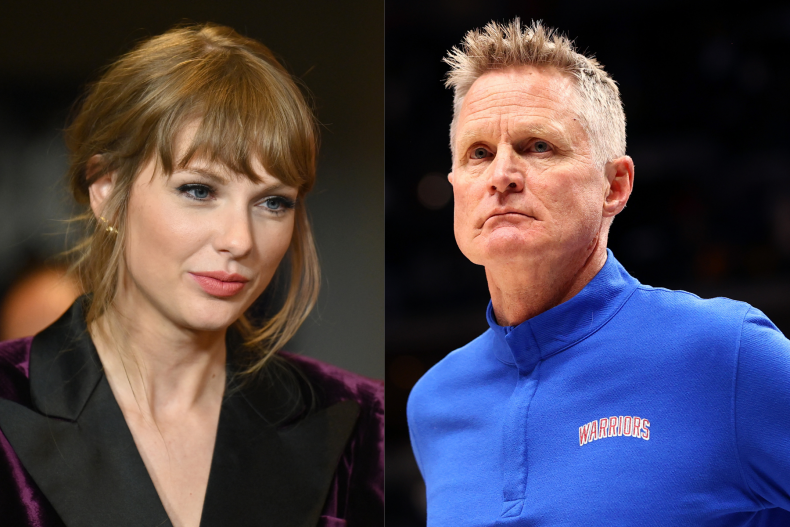 "I ask you, Mitch McConnell, I ask all of you senators who refuse to do anything about the violence and school shootings and supermarket shootings. I ask you: Are you going to put your own desire for power ahead of the lives of our children and our elderly and our churchgoers? Because that's what it looks like," he said. "It's what we do every week."
McConnell, who has had a history of opposing new restrictions on gun ownership, said on Twitter: "Horrified and heartbroken by reports of the disgusting violence directed at innocent schoolkids in Uvalde, Texas. The entire country is praying for the children, families, teachers, and staff and the first responders on the scene."
Swift said on Twitter that "Steve's words ring so true and cut so deep."
Matthew McConaughey, who is from Uvalde, also issued a statement on the shooting on Tuesday night.
"Once again, we have tragically proven that we are failing to be responsible for the rights our freedoms grant us," he said on Instagram.
"The true call to action now is for every American to take a longer and deeper look in the mirror, and ask ourselves, 'What is it that we truly value? How do we repair the problem? What small sacrifices can we individually take today, to preserve a healthier and safer nation, state, and neighborhood tomorrow?'" the actor continued.
"We cannot exhale once again, make excuses and accept these tragic realities as the status quo."
The Uvalde shooting comes less than two weeks since the Buffalo mass shooting in which 10 people were killed at a supermarket in New York state.
Updates article on 05/25/2022 at 10.27 a.m. ET with additional material