Taylor Swift's Boyfriend Joe Alwyn Isn't Featured On 'Lover,' But Idris Elba Is
Twitter users celebrated the launch of Taylor Swift's album Lover on Friday morning, and some assumed they got a personal look into Swift's love life, past the lyrics. More than a handful of Swifties commented on Joe Alwyn's involvement in the album, specifically an introduction on the song 'London Boy,' but it turns out that it's not him. It's Idris Elba.
The eleventh track on the album, which is Swift's ode to London, begins with a talking track by a male voice. "We go driving in, on my scooter, you know, just riding along," the voice says. An upbeat, synthetic keyboard follows it.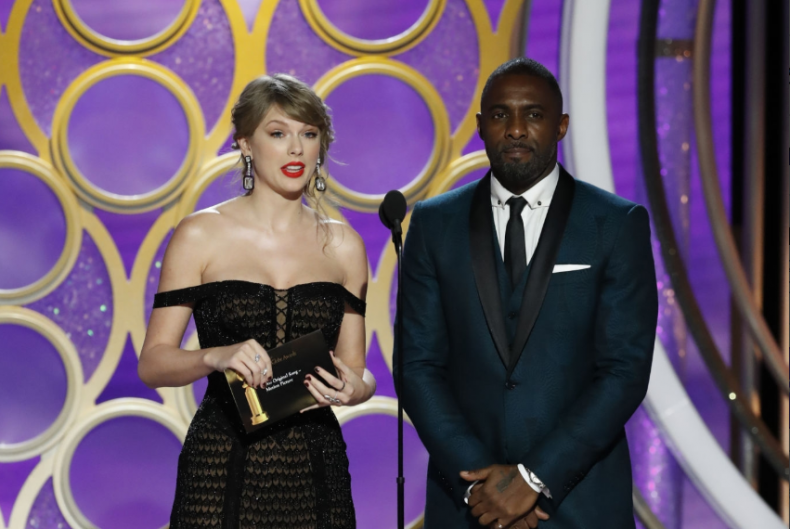 Swift and Alwyn have been in a super-private relationship, that has no confirmed start date. Fans assume the pair met sometime in 2016, according to Cosmopolitan. Because of the private air around their coupling, some fans rejoiced at the thought of hearing his voice on a Swift track.
Others were quick to pick up on the fact that Elba is the featured voice at the start of the song, which is a direct sample from an Elba interview with James Cordon in March 2017, according to CNN. Though the sample was not Alwyn speaking, those who realized Elba's involvement didn't seem to mind. In fact, they appreciated the Easter Egg from Swift's upcoming Cats costar.
The track, "London Boy," is one of the most-spoken-about off Swift's Lover, not because of Elba's involvement, but because of its talk about London. Some Londoners aren't convinced Swift's story is accurate, according to Twitter, because in it, she speaks of traveling from Shoreditch to Brixton to Highgate. Some don't believe that any human would willingly travel between them in one day.
The rest of Swift's Lover is receiving praise from fans, who are comparing it to the artist's 2014 album release, 1989. The album is a fan favorite for its upbeat atmosphere and full dive into pop music after Swift's country upbringing. The comparison skips Swift's 2017 album, Reputation, which spun Swift into hip-hop beats of redemption after public ridicule from her feud with Kim Kardashian West and Kanye West.