Is Taylor Swift's 'Dorothea' About Selena Gomez? This Viral Thread Says Yes
Taylor Swift is known for writing songs about famous friends and relationships, and the tunes on her latest album, evermore, might be no exception. The surprise followup to folklore includes a song titled "Dorothea" that some folks think is about Selena Gomez (you might have heard of her). Twitter user Léa DL shared a thread on Friday morning that quickly went viral, breaking down why the song could be about the Rare pop star.
"The song 'dorothea' by [T]aylor [S]wift is about Selena Gomez: a thread," she wrote in the initial tweet, kicking off her amateur detective investigation. Léa DL then listed several coincidences (or, depending on your perspective, clues) that are present in the lyrics of "Dorothea," and, we have to admit, it's an intriguing case. The thread has already received over 13k Likes and 2k Retweets.
The first reason Léa DL listed is that Gomez revealed in 2017 over Twitter that her favorite non-Disney childhood movie is The Wizard of Oz, whose main character is named Dorothy. You know, like "Dorothea."
Another possible hint is the lyric, "A tiny screen's the only place I see you now," which could be a reference to FaceTime calls between Swift and Gomez amid the pandemic and their busy schedules. Swift also made a cameo on Gomez's cooking show Selena + Chef, via video call.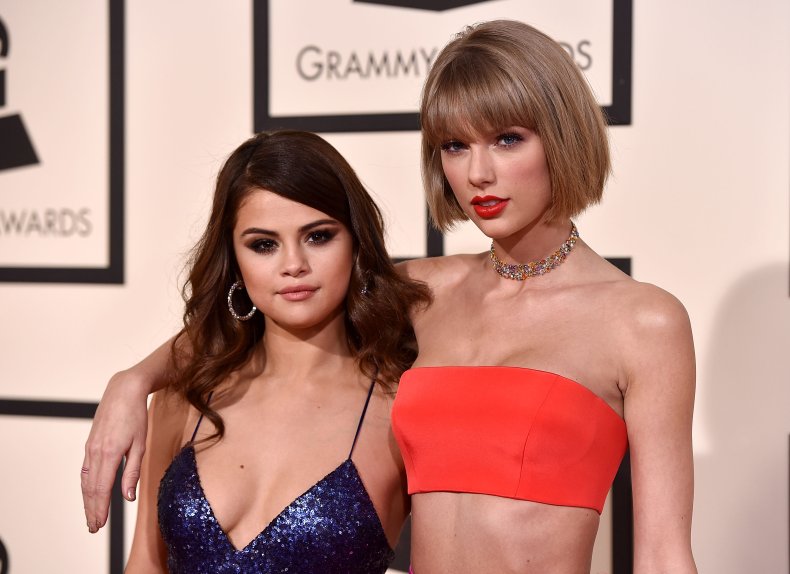 The song also might allude to Gomez's infamous relationship with Justin Bieber. There's the line "making a lark of misery," which could be a nod to her famously fraught relationship with Bieber. Plus, there's the lyric, "And if you're ever tired of being known for who you know," which could be a callback to how Gomez was known, for a time, for dating Bieber, which could understandably be irritating.
The thread also notes that Gomez's latest beauty endeavors might have scored a shoutout in the song. "You're a queen selling dreams, makeup and magazines," Swift sings, possibly a reference to Gomez's makeup line "Rare Beauty." And as for the magazine mention, Swift could be acknowledging Gomez's appearances on the covers of Allure, Wall Street Journal, Interview and Vogue, among other publications.
And there's a line about beauty pageants that could be read as a nod to when Gomez used to participate in them as a child. Now, it's very possible that this song could be about Swift herself, or another celebrity she may or may not know. It could even be about a totally fictional character! But these clues, along with several other references made in the thread, have this writer sold.
Léa also told Newsweek more about this theory via Twitter. "I think this thread went viral mostly because Selena and Taylor's friendship is something both fandoms cherish. They're always supportive of each other and their friendship is so genuine it makes all of us very happy that they have that sort of friend to rely on," Léa wrote.
"This theory also was inspired by the 4th point of the thread, and then I read the lyrics and picked up almost instantly on the connections," Léa added. "Some fans will say this is a reach but Taylor said she's been inspired by imaginary situations and also by her friends' stories (for example, 'The 1' from Folklore could be about Justin and Selena), so I think it's really possible that Selena was the inspiration for this beautiful song!"
Whether "Dorothea" really is about Swift's friendship with Gomez, of course, remains to be confirmed, but it's fun to consider.