Why Isn't Taylor Swift's 'Reputation' Nominated For a Grammy?
Fans of Jay-Z, Bruno Mars and Kendrick Lamar are celebrating the 2018 Grammy nominations, but for Swifties there is little to talk about.
Taylor Swift earned two minor nods in songwriting categories this year: Little Big Town's "Better Man" for Country Song and Fifty Shades Darker's "I Don't Wanna Live Forever" for Song Written for Visual Media. But her name doesn't appear in any of the blockbuster categories—Album of the Year, Record of the Year or Song of the Year—despite Reputation burning up the charts. True, "Look What You Made Me Do" was pretty bad, but "Getaway Car" was arguably a Grammy-worthy banger.
So what gives? Before anyone blasts the Grammys Twitter account, the lack of Taylor (old or new) on the nomination list is not actually a snub. It's just the rules of the Grammys.
The date range for eligibility changes every year, and for 2018's 60th Grammy Awards, albums must be released between October 1, 2016, and September 30, 2017. Reputation dropped on November 10, 2017, missing the deadline by more than a month. This will be the second straight year Swift doesn't have an album up for Grammys consideration since 1989 nabbed album of the year in 2016.
Newsweek subscription offers >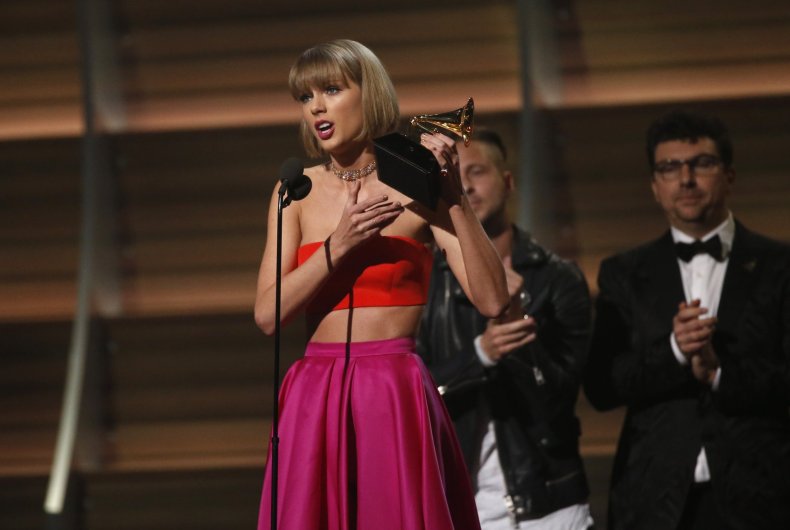 One of Swift's singles did make the cut for eligibility, though. "Look What You Made Me Do" debuted on August 24, 2017. The lack of nominations for the tracks, though, makes it seem like the Recording Academy prefers the old, dead Taylor who can't come to the phone.
But don't cry for Reputation just yet. The album will be eligible at the 2019 Grammys and it will likely be all over the nominations. Need proof? Bruno Mars and Donald Glover both missed last year's deadline with their 2016 albums, but both cleaned up handily in the 2017 nominations. And don't forget: 1989 actually came out at the end of 2014, but didn't collect its Album of the Year award until 2016.
Swift will probably still be at the awards ceremony; she does have two nominations, after all. And she could very well add another Grammy to her trophy case—award shows love to put her on stage. But don't expect your annual dose of the Kanye-Tay melodrama. West has no new music eligible for any nominations and he has a notorious dislike of the Grammys, so he could be a no-show at the show.
Newsweek subscription offers >
The 60th annual Grammy Awards will air January 28 on CBS.
Why Isn't Taylor Swift's 'Reputation' Nominated For a Grammy? | Culture