Taylor Testimony Marks Trump's Worst Day in Office, Former Reagan Speechwriter Says: 'I Don't Know That It Could Be Any More Negative'
One of President Ronald Reagan's former speechwriters has said closed-door congressional testimony from Bill Taylor—a top U.S. diplomat to Ukraine—detailed "absolutely" impeachable behavior by President Donald Trump.
Taylor's 15-page written testimony was part of the ongoing impeachment investigation into Trump. The probe seeks to establish whether the president abused his position to push for a Ukrainian investigation into debunked allegations of corruption involving 2020 rival Joe Biden and his son Hunter.
At the time, Trump was withholding hundreds of millions of dollars of military aid. He is accused of implying its release in a quid pro quo arrangement if Zelenskiy opened an investigation into the Bidens and alleged Ukraine-based efforts to sway the 2016 presidential election against Trump—a conspiracy theory for which there is no evidence.
Speaking with MCNBC's Ari Melber, John Podhoretz said Tuesday represented "the worst day for the Trump presidency" thanks to Taylor's testimony, in which the diplomat described his concern that U.S.-Ukrainian relations were "being fundamentally undermined by an irregular, informal channel of U.S. policy-making" led by Trump attorney Rudy Giuliani.
Taylor also alleged that U.S. Ambassador to the European Union Gordon Sondland explicitly described the desired quid pro quo between Trump and Ukrainian President Volodymyr Zelenskiy.
"Ambassador Sondland told me that President Trump had told him that he wants President Zelenskiy to state publicly that Ukraine will investigate Burisma and alleged Ukrainian interference in the 2016 U.S. election," Taylor wrote.
Asked by Melber if he thought Tuesday was a "negative day" for the Trump White House, Podhoretz burst into laughter before replying, "Was it negative? I don't know that it could be any more negative."
Trump and his allies have denied the quid pro quo and attacked the validity of the investigation. But Podhoretz said Tuesday that Taylor's testimony is indisputable. Referring to Sondland, he said, "It is literally a statement by someone close to Trump that Trump said, 'We're cutting off money.'"
Taylor's testimony also claimed that Trump "did insist that President Zelenskiy go to a microphone and say he is opening investigations of Biden and 2016 election interference, and that President Zelenskiy should want to do this himself."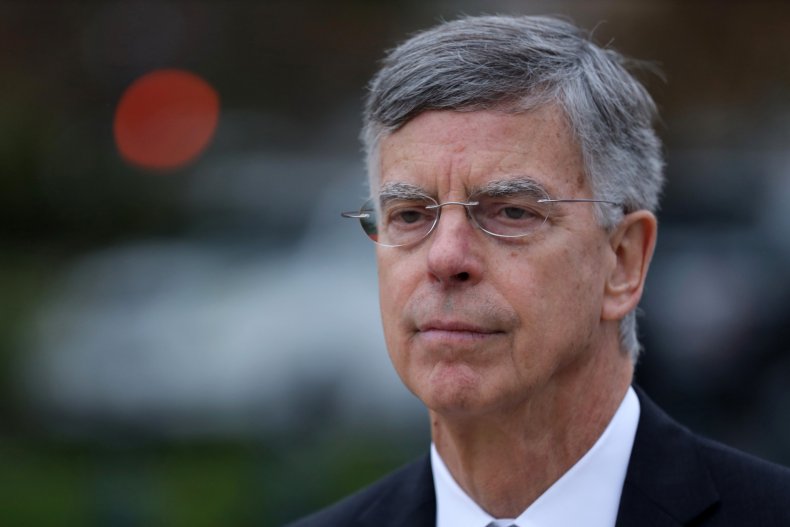 Podhoretz suggested Trump's involvement in the scandal is "absolutely" impeachable.
Republican Senator Lindsey Graham—one of Trump's staunchest allies—argued Tuesday that the investigation's closed-door testimonies are "un-American and, quite frankly, dangerous."
Graham also decried the anonymous whistleblower who first flagged Trump's call with Zelenskiy, suggesting their anonymity made the entire investigation invalid.
But Podhoretz dismissed Graham's argument, noting the probe no longer rests on the whistleblower's account of the call. "The whistleblower doesn't matter anymore," he told Melber. "Forget the whistleblower. We have names. We have Taylor, we have Sondland, we have [acting Chief of Staff Mick] Mulvaney and we have Trump."
"They can mention the whistleblower from here until next century, but we're way beyond that now," he added.
"It's the worst day for the Trump presidency," Podhoretz concluded, suggesting that only the day of the violent Unite the Right rally in Charlottesville in August 2017 was comparable for the damage done to the administration.