Tayshia Adams' 'Bachelorette' Finale Spoilers Just Changed Dramatically
Tayshia Adams may or may not be engaged after The Bachelorette, and there's truly no telling who she'll end up with. Spoiler blogger Reality Steve recanted his previous spoilers for Adams' season on Monday, when his sources changed the narrative.
Throughout the season, Reality Steve has been preaching that Adams would end up with Zac C., but that the pair wouldn't get engaged. This reportedly happened after Brendan Morais' family refused to show up for the "Hometown" dates, and Morais eventually left the show on his own.
Now, though, there are major questions about the validity of that theory, given that Morais apparently didn't leave when Reality Steve expected. Here's the full rundown of what has changed.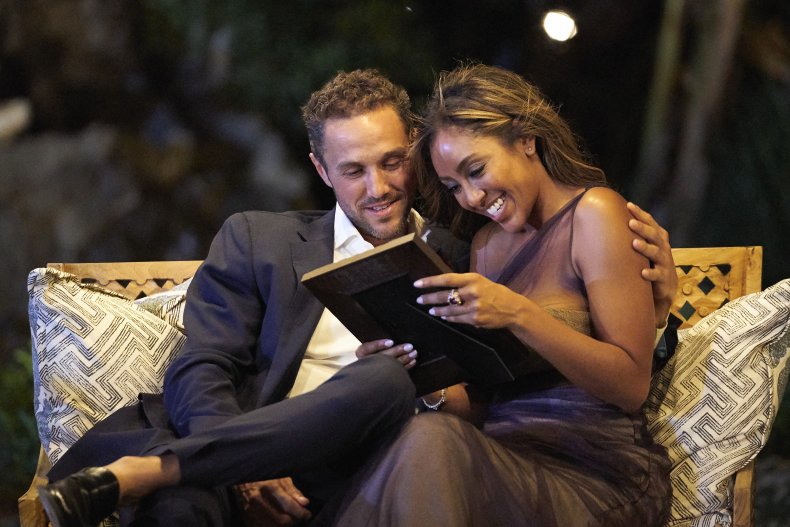 Ben Will Go Home
Reality Steve first claimed that Ben and Zac C. were Adams' final two men. Now, though, he's certain Ben will be the first of the Final Four to be eliminated. Adams will supposedly meet Ben's family, but it doesn't seem that he'll make it to the fantasy suites this season.
Brendan's Sibling Show Up
Brendan won't be completely alone on Tuesday night's "Hometown" dates. Reality Steve first reported that his family didn't show up; it turns out, though, that only Brendan's parents will be missing from "Hometown" week. Earlier spoilers also stated that Brendan would leave the show on his own. This is also in question now, and it appears that Brendan may have a chance at winning Adams' final rose after all.
The Final Rose
Originally, Reality Steve reported that Zac C. and Tayshia ended the show in a relationship, but not engaged. It appears that he's now skeptical of that information. His blog post on Monday explained the switch. "As for Brendan self eliminating, I don't know. Maybe it happens. I just don't know with any confidence at this point if it does," he wrote.
"There's a lot to go over in terms of where we go from here but give me tonight to get everything together, gather the info that I do have, and I will tell you tomorrow what I have going forward. But as for the end result this season, at this point, it's anybody's guess. I do not know for sure what happens as of now."
It seems that Reality Steve will have more finale updates soon, but as viewers enter the final episodes, the season seems more exciting than ever now that the outcome is truly anyone's guess—even that of our widely renowned Bachelor Nation expert.
The Bachelorette will air both Monday and Tuesday this week and next to end the season. Matt James' season of The Bachelor will begin January 4 on ABC.