Tayshia Adams' Ex-Husband Slams Her Relationship 'Mistakes' and 'Bachelorette' Comments
Tayshia Adams' ex-husband Josh Bourelle isn't happy with the way the Bachelorette has spoken about their divorce on national television. In a podcast conversation with Reality Steve, released Thursday, Bourelle didn't hold back on criticisms about Adams' behavior in their relationship. In addition, he revealed shocking details about their marriage that haven't been featured on The Bachelorette.
Bourelle slammed Adams for airing their personal issues on screen. "Her going out and saying that I cheated on her and that was the reason for our divorce on national TV, I felt like, kind of crossed the line a little bit," he explained. "I feel like she was using that as her sob story to make her look better. It was hurtful to me. We're humans. She made just as many mistakes—maybe even more mistakes than I did over the course of our relationship. "
To recap, Adams has talked a bit about her divorce on The Bachelorette. In a one-on-one date early in the season, Adams revealed Bourelle engaged in infidelity, while she claimed she did not. Over the course of the season, Adams has bonded with a handful of men about divorce and finding new love after heartbreak.
But Bourelle shared similar relationship gripes, even in depth—some that Adams never mentioned. In his comments, he confessed to cheating on Adams. "The point that I was at when I made that mistake—and I came clean about that mistake too—was I was not happy with our relationship," Bourelle said.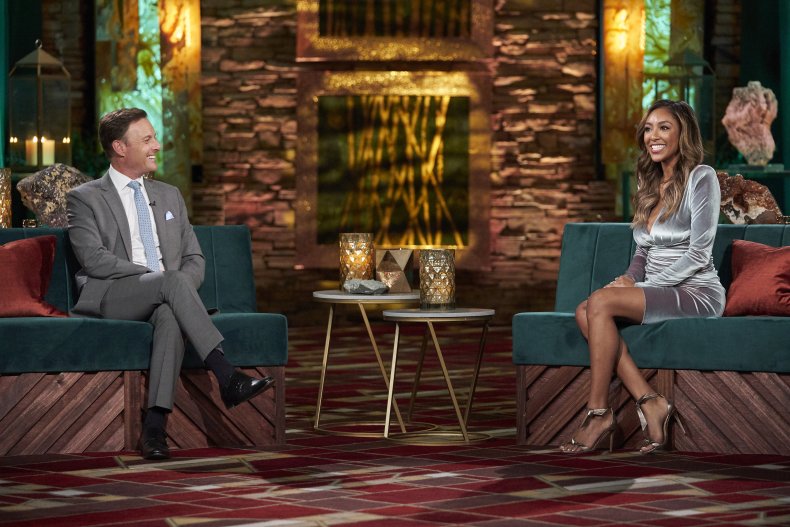 "I didn't feel like I had a partner," he continued. "I also look for somebody that I want to raise kids with. And honestly, I came to the conclusion that I didn't want to raise kids with her. And then the third thing is—a major thing that defines a relationship from a friendship—and that is intimacy. And that was something that was seriously lacking in our relationship."
Bourelle's comments continued to clarify he didn't want Adams to speak of him in future relationships, on-screen or off. "I don't think there needs to be a negative connotation about our relationship in the past," he said. "I mean I know that it failed, yes, but I think we're both in a position now that's a hell of a lot better…than we were when we were together."
He also claimed he was the one who wanted to try to work things out. "I was the one who was like, 'Let's go to therapy, let's figure out a way to make our relationship better because right now I am not happy.' I kind of felt like she was just coasting, and she wasn't really willing to make a change for the better," Bourelle said.
Adams is about to enter the Hometown dates week on The Bachelorette. She'll narrow her group down to four men. She has even admitted to falling in love with some. Despite the past, Adams appears to have moved on and may even find her future husband. For spoilers on how her season ends, you can click here.