Tayshia's Ex-Husband May Crash 'The Bachelorette' According to a Promo Slip-Up
Taysha Adams has an ex-husband, and there's a pretty good chance viewers will see him on this season of The Bachelorette. Though Adams divorced Josh Bourelle in 2017, there's reason to think he's going to try to win Adams back—or create other drama—thanks to a TikTok and a Bachelorette promo slip-up.
TikToker @bigmoodbb was the first to notice Bourelle is actually named in Adams's season promo, which was uploaded to the Bachelorette Twitter account on November 10. With subtitles turned on, it becomes clear that "Josh Bourelle" is speaking about Adams. Immediately after the dialogue, which doesn't feature the man's face, Adams breaks down in tears.
"It's only a matter of time before she realizes the truth," the voice says.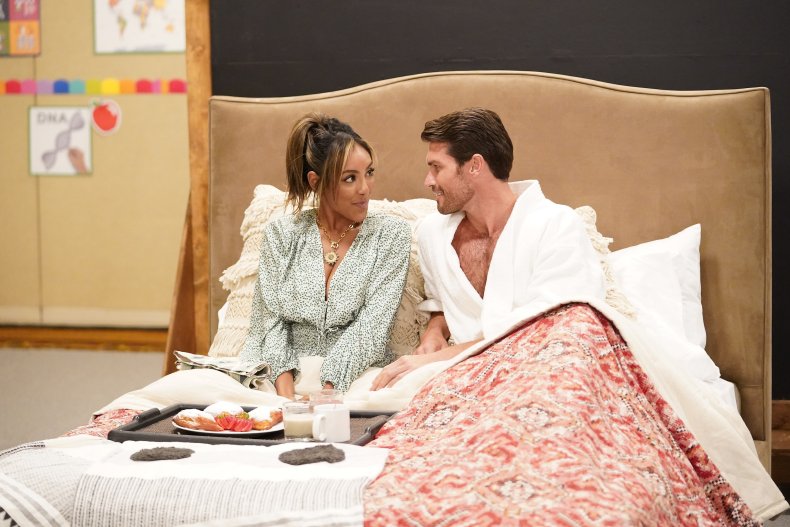 Fans were let into the downfall of Adams's first marriage on Tuesday night. On her first one-on-one date with Brandon, Adams opened up about the split. She said she was married young and there was infidelity on Bourelle's part. While she spoke from a place of strength, Adams admitted she lost parts of herself in the relationship that she only discovered again when single.
After the divorce, Adams was seen on Colton Underwood's season of The Bachelor, as well as a season of Bachelor In Paradise, where she fell for fan-favorite John Paul Jones. Now, in replacing Clare Crawley as Bachelorette, it seems Adams has a good group of men and tons of potential to find love. So will Bourelle really try to mess it up?
From his social media presence, it looks like Bourelle currently has a girlfriend who is not Adams. Bourelle's own Instagram account is private, but he issued an interesting statement on November 10, the day Adams debuted her Bachelorette reign, via his roofing company's Instagram account. In it, he mentioned his girlfriend.
"I am personally thankful that 2020 has for the most part been very good to me," he wrote. "In both my personal life and career I can truly say that I have found happiness and contentment. I have some amazing friends, a very supportive family, and most of all a girlfriend that has made me a better person, and has stood by my side and supported me through thick and thin. I love you Steph and I am truly blessed to have you as my life partner. I love you very much, and I can't wait for what the future has in store for both of us."
Bourelle didn't mention how long the pair have been together. Adams filmed her Bachelorette season over the summer, so it's possible Bourelle was single at the time.