Tayyip Erdogan Accuses Joe Biden of 'Bloody Hands' After Report of $735M Weapons Sale to Israel
Turkish President Recep Tayyip Erdogan accused President Joe Biden of "writing history with his bloody hands" after a report of a $735 million dollar weapons sale from the United States to Israel.
Following a meeting with his Cabinet, Erdogan issued a rebuke to the U.S. president saying, "Now, unfortunately, you (Biden) are writing history with your bloody hands with this event (in which) Gaza is being attacked with seriously disproportionate force causing the martyrdom of thousands of people. You have forced us to say this."
The Turkish leader also scolded Austria after reports emerged that the country is flying Israel's flag from a government building. In his comments, Erdogan said Austria is attempting to have Muslims "pay the price of their own genocide against the Jews."
For more reporting from the Associated Press, see below.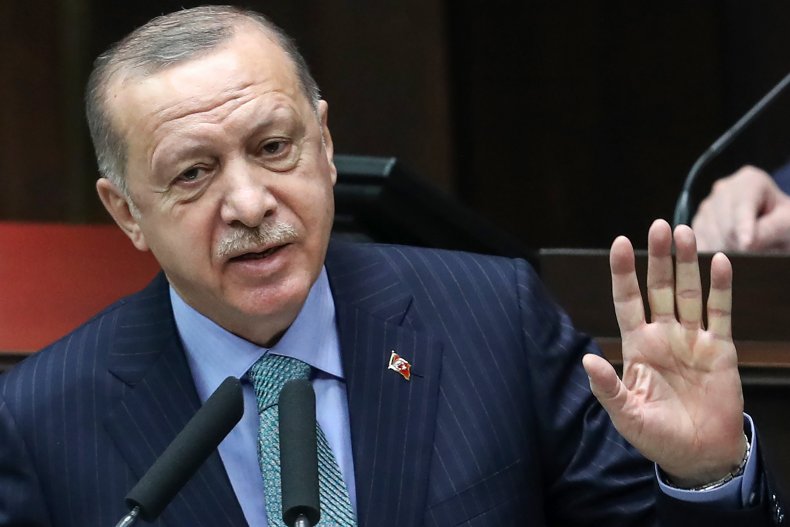 Meanwhile, Palestinian witnesses say at least two people were killed in an Israeli airstrike at the upper floor of an apartment building in Gaza City.
The witnesses say the bodies of a man and a girl were brought to the Shifa hospital in the city. There was no immediate comment from the Health Ministry.
The latest airstrike occurred Monday in the same neighborhood at Wahda street where a series of conservative air raids had flattened three buildings and killed as many as 42 Palestinians early Sunday.
The airstrike occurred shortly after the United States again blocked a proposed U.N. Security Council statement calling for an end to "the crisis related to Gaza" and the protection of civilians, especially children.
Council diplomats said there was a 12 p.m. EDT (1600 GMT) deadline Monday for countries to comment on the statement and Washington objected to it.
At a high-level emergency council meeting on Sunday, there were near-unanimous calls for an end to the week-long conflict.
The proposed council press statement by China, Norway and Tunisia, obtained by The Associated Press, didn't name Israel or Gaza's Hamas rulers, instead expressing "grave concern" at the Gaza crisis and the loss of civilian lives and casualties.
The U.S. says it's "engaging in intense diplomatic efforts at the highest levels to try to bring an end to this conflict."
Also on Monday, the Palestinian Islamic Jihad group's leader has made a rare public appearance in Beirut where he vowed that his group will keep fighting Israel, which he described as "weaker than a spider's web."
Ziad Nakhaleh told hundreds of supporters during a rally organized by Lebanon's militant Hezbollah group Monday evening that Israel is "targeting civilians and avoiding direct confrontation with holy warriors."
The group's military wing, the Quds Brigades, along with the military wing of Hamas have fired hundreds of rockets and missiles toward Israeli towns and cities since the latest round of fighting began last Monday.
Nakhaleh, who thanked Iran for its help, said the latest round of fighting "is a new page in defending Jerusalem and al-Aqsa mosque."