Tea Party Opposition to Senate's $1 Trillion Stimulus Package Causes Trouble for McConnell
As the Senate discusses another round of economic stimulus, Senate Majority Leader Mitch McConnell, a Kentucky Republican, is facing opposition from fiscal conservatives within his party who rose to prominence through the Tea Party movement during the Great Recession.
The White House and McConnell have touted a $1 trillion price tag for the next round of economic stimulus, as the novel coronavirus pandemic continues to surge across the country. But some GOP senators have raised concerns and criticism, particularly because Congress has already approved enough spending to increase the deficit by an estimated $3.8 trillion for 2020.
"Just came from Progressive Democrat, whoops, I'm mean Republican caucus," Senator Rand Paul, a Kentucky Republican, tweeted sarcastically Tuesday. Paul rose to prominence in 2009 during the Great Recession, as the Tea Party movement protested government spending and called for lower taxes.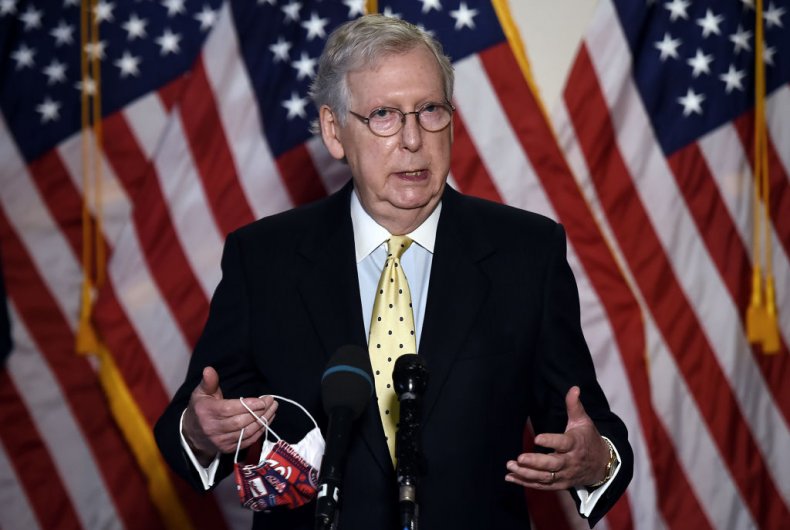 "The majority of Republicans are now no different than socialist Democrats when it comes to debt. They simply don't care about debt and are preparing to add at least another trillion dollars in debt this month, combined with the trillions from earlier this summer," he wrote.
Newsweek reached out to McConnell and the White House for comment, but did not receive a response by the time of publication.
Senator Ted Cruz, a Texas Republican, raised similar concerns to those of Paul.
"Right now, our main priority needs to be overcoming these unprecedented public health and economic crises. We don't need to add trillions of $$$ to our national debt," Cruz tweeted Wednesday. "We need to reopen the economy and get people safely back to work."
GOP Senator Ron Johnson of Wisconsin, who also rose to prominence with the Tea Party, told The Hill that Congress should not approve "a dime more" until after they've "thoroughly taken a look at the $2.9 trillion we've already authorized" to understand how much of the funds have actually been spent.
"When we were in the minority, we were able to put a brake on Obama's desires," Johnson said, suggesting that the Republican party has stopped being fiscally conservative now that it's in the majority.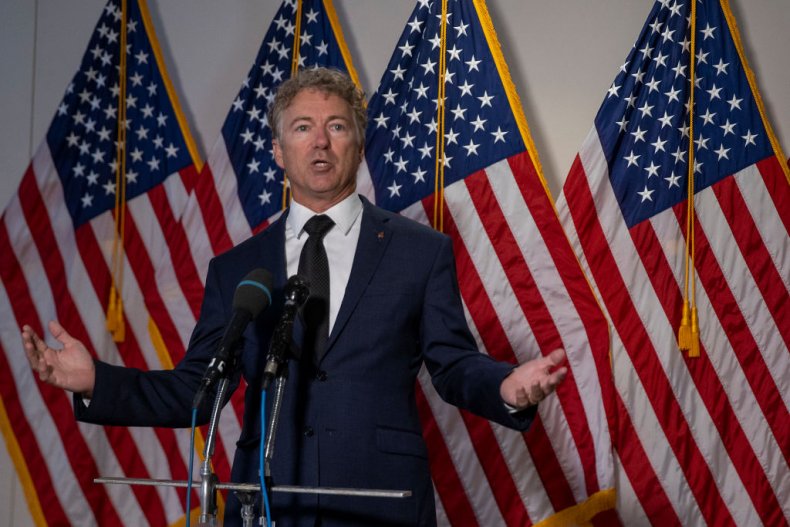 Despite the opposition, McConnell is planning to release a $1 trillion economic stimulus proposal Thursday, which he has described as a "starting point." The Democrat-controlled House of Representatives in May passed a $3 trillion economic stimulus plan, which Republicans dismissed as a non-starter. But some Republicans are concerned that a compromise between the two parties will result in a significantly higher price tag than $1 trillion.
Meanwhile millions of Americans remain jobless, as the unemployment rate has risen to double digits. Some Democrats have suggested that the tensions within the Republican party are now delaying economic relief to struggling Americans.
"We are just days away from a housing crisis that could be prevented," Senator Elizabeth Warren, a Massachusetts Democrat, said, the Associated Press reported.