Tea Party Pressuring Senate Republicans to Ban Earmarks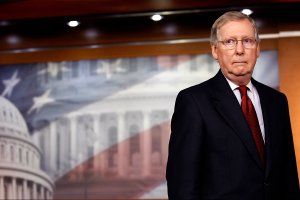 Tea Party Patriots (TPP), a national umbrella organization of local Tea Party groups, is asking its members to call Republican senators and demand that they agree in a caucus vote next Tuesday to forgo all earmarks in the upcoming Congress. In an e-mail to their 134,000 online members headlined, "Our first battle with the newly empowered GOP," the group's national coordinators single out for phone calls the two highest-ranking Republicans in the Senate, among others.
The earmark ban is being introduced in the House of Representatives by Minority Leader John Boehner (R-Ohio) and in the Senate by Sen. Jim DeMint (R-S.C.), who is widely admired in the Tea Party movement. The ban will presumably pass the House caucus, since it is being introduced by the leadership. In the Senate, the leadership is split, with Minority Leader Mitch McConnell (R-Ky.) opposed to the measure. As Politico reported on Tuesday, McConnell is meeting one on one with Republican senators and urging them to vote against the amendment.
DeMint has 10 cosponsors, including incoming Tea Party favorites Marco Rubio (Fla.), Mike Lee (Utah), and Rand Paul (Ky.). The two cosponsors in the Senate Republican leadership are John Cornyn (Texas), who chaired the National Republican Senatorial Committee for the 2010 election cycle, and Policy Committee Chairman John Ensign (Nev.).
McConnell and his veteran allies, such as Sen. James Inhofe (Okla.), are reluctant to give up the perquisites of their seniority and the hundreds of millions of dollars they annually send to their home states for pet projects. The Tea Party Patriots' call to action asks members to call their home-state senator if he or she is a Republican who has not committed to supporting DeMint's amendment. In addition to McConnell and Inhofe, it lists five other senators to call, of whom three are in the Republican Senate leadership: Minority Whip John Kyl (Ariz.), GOP Conference Chair Lamar Alexander (Tenn.), and Conference Vice Chair John Thune (S.D.). The other two senators on the hit list are Lindsey Graham (S.C.) and John Barrasso (Wy.).
The Tea Party Patriots have also broadcast their call to action on social media such as their Facebook page, which has 517,638 fans, and it also is being posted online by some local Tea Party groups.
McConnell and others who oppose an earmark ban argue that earmark spending is a minimal component of the federal deficit. The Tea Party Patriots urge their members to acknowledge that fact when calling their senator but to maintain that it is important nonetheless. They also ask their famously strong-willed members to "be polite, but firm," noting that some of these senators have supported Tea Party priorities in the past.
One thing that will complicate Tea Party efforts to hold senators to account on this issue is that vote counts within the Republican conference are secret. TPP national coordinator Mark Meckler told The Washington Independent that their approach will be to assume anyone who has not publicly announced his support for the amendment voted against it.
As NEWSWEEK reported Tuesday, the Tea Party is already fighting the prospect of diminishing influence on many fronts. Candidates such as Paul and Rubio began moderating their rhetoric in the general election. The Republican House leadership will not contain many members of the Tea Party caucus. Rep. Michele Bachmann (R-Minn.), the House's answer to DeMint, just dropped her bid for GOP House Conference chair. But, House Republican leaders Boehner and Eric Cantor (R-Va.) salved the Tea Party's wound by announcing that they would create a seat at the leadership table for a freshman member.
The inevitable tension between the Republican Party establishment and the neophyte activists who helped bring them to power is shaping up to be the biggest fault line in Republican politics.