Tea Party's First Legislative Victory: McConnell Backs Earmark Ban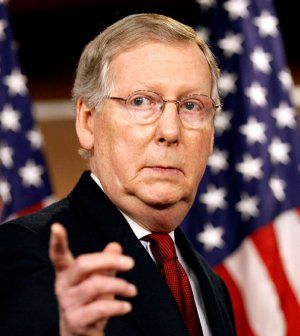 Tea Party activists made a Republican pledge to ban earmarks (a.k.a. pork-barrel spending) in the 112th Congress their first cause since the election, and it seems that they have won. On Monday afternoon Senate Minority Leader Mitch McConnell (R-Ky.) announced that he was supporting the amendment when the Senate Republican caucus votes on Tuesday.
In a speech subtitled "The People Have Spoken—I'm Listening," McConnell wrote, "I will join the Republican Leadership in the House in support of a moratorium on earmarks in the 112th Congress." His surprisingly long statement was filled, though, with defensiveness and backhanded references to prior opposition. He defended his past earmarks, saying, "I know the good that has come from the projects I have helped support throughout my state. I don't apologize for them." And he called the ban "small but important symbolic step," a reference to his earlier position that that banning earmarks is irrelevant because it accounts for so much less than the total federal debt.
Republican House leaders such as Rep. John Boehner (R-Ohio) had already signaled their support for the amendment, but last week McConnell was rounding up opposition to it within his caucus.
McConnell is a longstanding opponent of procedural reform. He worked hard to defeat the McCain-Feingold campaign-finance reform, and he is an accomplished earmarker.
But the Tea Party was committed to forcing him to reverse his position. Last week the Tea Party Patriots, a national umbrella organization blasted its members with an e-mail asking them to call McConnell and other leading opponents of the earmark ban. McConnell's reversal suggests that the pressure he felt from within the newly energized activist base of the GOP.
Update: In an e-mailed statement, Mark Meckler, national co-coordinator of the Tea Party Patriots, said:
"While many pundits have questioned out [sic] post-election status, our agenda-setting demand for the elimination of earmarks is a clear indication of our intent to carry-out the will of the 2010 election results immediately and for many years to come."