Teacher Appreciation Week 2019: Freebies, Competitions and Gift Ideas for America's Educators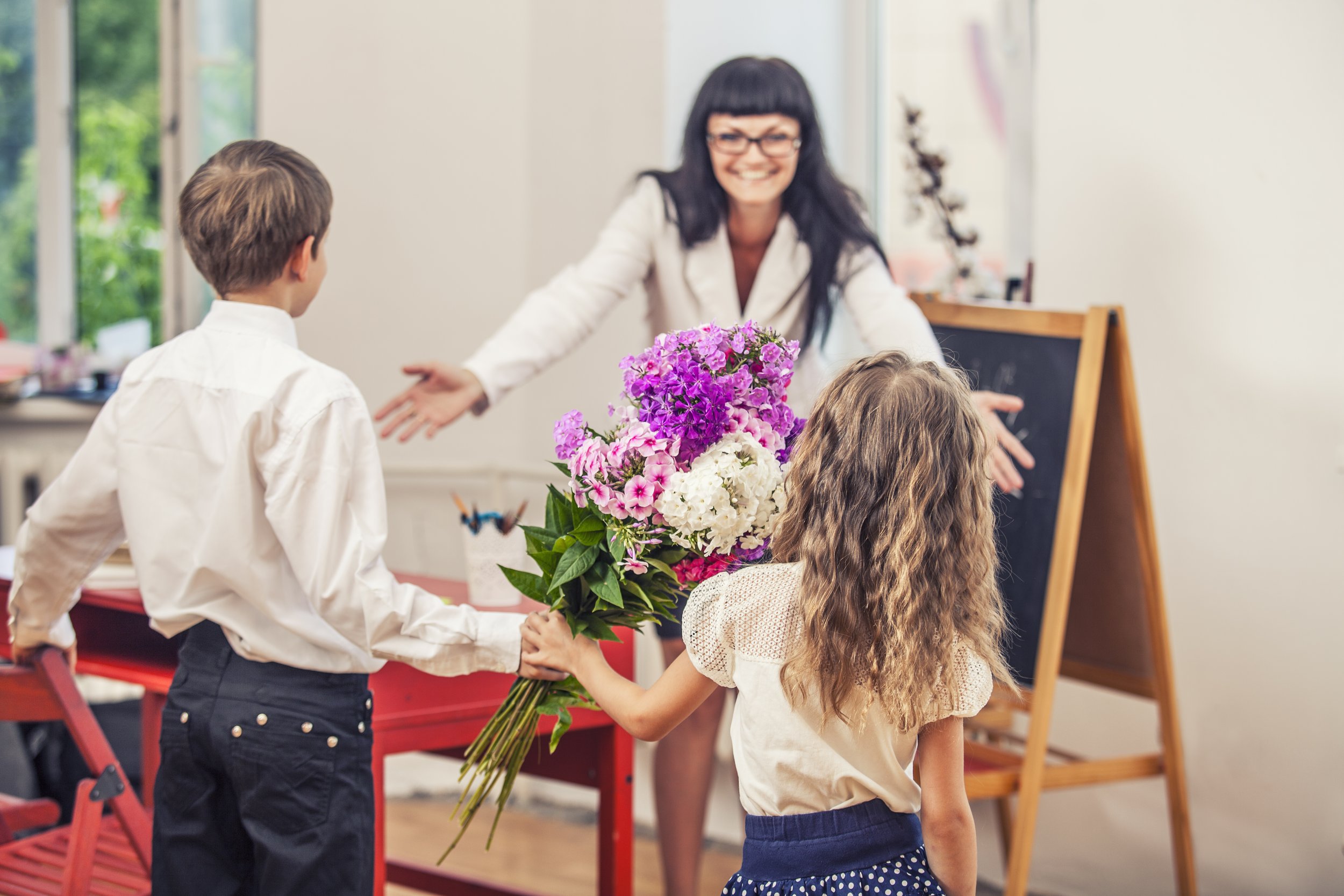 From May 6 until May 10, 2019, companies across America will be honoring teachers during Teacher Appreicaton Week. Newsweek has found freebies, competitions and gift ideas to help you celebrate your teacher this year.
Teacher Appreciation Week Freebies
Raising Cane's Chicken Fingers: On May 7th from 6:00 p.m., teachers and faculty receive one free Box Combo when you present your current school I.D.
Chipotle: The Mexican food chain will be offering a buy-one-get-one free deal to educators on Tuesday, May 7, it told Newsweek. Eligible educators and school staff can receive a free burrito, burrito bowl, salad or order of tacos with the purchase of another menu item of equal or greater value. The promotion is valid at all U.S. Chipotle locations from 3:00 p.m. until close.
Salata: Teachers can get a a-buy-one-get-one free offer on May 10. Teachers who show their valid school ID will receive a salad or wrap of equal or lesser value for free when they purchase a full priced salad or wrap.
Cicis: Offers vary from store to store, Cicis told Newsweek. Check with your local manager whether you can make the most of Teacher Appreciation Week.
Teacher Appreciation Week Competitions
Robo: Showing children the latest in technology is only a dream for some teachers, and that's why Robo has launched a comptition to help make that a reality. Students or their teachers have a chance to win by filling out the competition form and saying why the teacher would deserve it. The prize includes:
Brand new Robo E3 3D printer for your classroom;
MyStemKits Classroom License - unlimited printing!;
Extended 2 year warranty;
2 hours Online Training; and
Extra parts pack - includes 1 flex bed,1 extra nozzle and 1 extra HEPA filter.
Cheap Carribbean: Teachers will have the chance to win a free flight if they sign up to Beach4Teach Club, Cheap Carribean's club exlusively for teachers. Educators can get deals, upgrades and special packages when they join.
Teachers need to join by midnight CT on May 9, 2019. The offer applies to the first 50 bookings at select resorts in Mexico (so would be great for anyone wanting to celebrate Cinco de Mayo a little later than their U.S. colleagues).
Classcraft: The gamification company is getting students to nominate their favorite teacher so they can win their own "exclusive Gamemaster avatar." Nominations have to be in by May 3, 2019. All students need to do is fill out a form.
Students can also join in on social media, by including #ThankATeacher and @classcraftgame in their posts.
Virginia PTA: Teachers in Virginia are a lucky bunch. The Virigina PTA has been encouraging students to send "thank you notes" to their teachers. However, not only do the teachers get recognition from their students, they are also entered into a competition to win a holiday in Virginia.
Find out where to end your "thank you notes."
National Council of Teachers of English (NCTE): Are you an English teacher based in the U.S.? The NCTE is doing a giveaway every day of Teacher Appreciation Week, starting on May 6, 2019.
Here's a sneak peak of the giveaways:
Monday, May 6 - A set of NCTE Journal articles, or a collection of journal articles on the topic of the winner's choice;
Tuesday, May 7 - A set of the 2019 Charlotte Huck and Orbis Pictus award-winning titles and a copy of the NCTE's The Power of Picture Books;
Wednesday, May 8 - Five professional development books from NCTE, including a copy of this year's NCTE Reads book;
Thursday, May 9 - A year of NCTE membership to a current nonmember; and
Friday, May 10 - NCTE Convention Registration if someone who hasn't attended before.
Each day's giveaway will begin at 6:00 a.m. ET. Enter the NCTE giveaway on the website.
Teacher Appreciation Week Gift Ideas
From chocolates through to unique crafts, here are some ways to celebrate your teachers this year.
First Aid for Teacher Burnout: Written by TED speaker, Dr. Jenny Grant Rankin Ph.D, each chapter explores a different common cause of teacher burnout and provides takeaway strategies and realistic tips. Perfect for over-worked teachers who need some extra support.
SoHookd Gift Card: With a gift card, recipients can choose from over 150 luxe wellness experiences ranging from fresh food delivery service and athletic apparel to fitness and spa experiences; it is perfect for anyone who craves well-being and choice. Gift cards start at $15.
Sustainable Greeting Card: Fancy getting your teacher a card made from elephant dung? Made in Sri Lanka, these cards from Passion Lilie use the free resource, which after cleaning and processing, makes for excellent textured paper. Proceeds will go towards saving elephants in the country.
Donate to a classroom project: Teachers across the U.S. are using Donors Choose to gain support for their classroom projects. Founded in 2000 by a high school teacher in the Bronx, Donors Choose helps teachers in your area get the much needed materials they need to bring education to life. Instead of buying a present, donate instead.
Stationary: Teachers often have to buy their own suppliers, so it might be worth buying them some colorful and thoughtful stationary. Ooly has a 'Modern Desk Writing Super Set" which comes with "Modern Script Fountain Pens & Journal," "Modern Metallic color pencils," "Glamtastics glitter journals," "Deco stickers," "Modern graphite pencils" and a "Mighty pencil sharpener."
Teacher Appreciation Week 2019: Freebies, Competitions and Gift Ideas for America's Educators | U.S.