Teacher Asking for Students Preferred Pronouns Claims State Senator 'Doxxed' Him
A middle school teacher in Vermont said Sunday that a state senator gave out his contact information on social media because he had asked students their preferred pronouns.
Sam Carbonetti, who teaches students at Irasburg Village School, tweeted on Sunday: "I got doxxed by a VT State Senator for giving my students the OPTION to introduce themselves to me and the class w/ their preferred name, pronouns, favorite subject, and hobbies."
"Doxxed" refers to publishing information online that is private or can identify a person without the person's consent.
His message was met with a large response from teachers, teacher groups and LGBTQIA+ advocates, who offered their support of his gesture of inclusivity. His tweet had more than 1,000 likes, 137 messages and 195 retweets by Monday morning.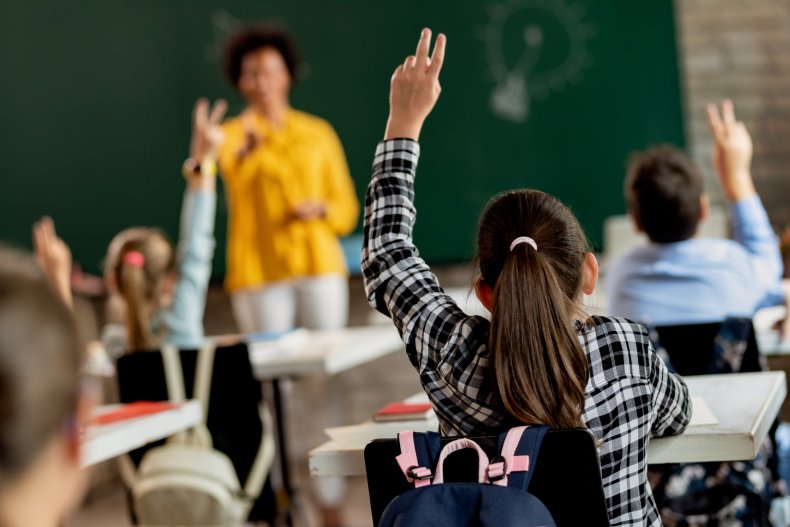 One person said, "If you need letters of support sent to your administrator or School Board let us know. We can flood them with support."
Another Twitter user who described themselves as "a mental health professional specializing in LGBTQIA+ mental health, teens & young adults, and #trauma," said that, "what you did SAVES LIVES. Please keep going, and how can we support you?"
The website VTDigger reported that the politician Carbonetti referred to was Republican State Senator Russell Ingalls.
The site found that on August 26, Ingalls had reposted a message on Facebook from a person claiming to be a parent of a child in Carbonetti's class.
Ingalls' post also shared Carbonetti's email address.
In a response to a message in his comments section, Ingalls wrote: "I'm glad that your daughter didn't feel uncomfortable. Others did from what we are hearing. Can that be a possibility that some did feel pressured and uncomfortable?"
Some comments in Ingalls' post criticized Carbonetti while others called on the teacher to be fired.
When asked by VTDigger about sharing the post that contained the teacher's email address in it, Ingalls said Carbonetti had no right to ask his students the question.
"It is personal, privileged information that someone shouldn't be forced to be part of in a classroom setting," Ingalls told the outlet.
Meanwhile, Carbonetti received support on Twitter from Vermont teachers' unions and two Democratic state senators from Vermont, Becca Balint and Kesha Ram Hinsdale.
Carbonetti, who goes by "Mr. C," thanked people who had given him words of encouragement. In a follow-up tweet, he wrote, "Thank you to everyone for your support. I am overwhelmed by it. You all are the reminder I needed that this profession is made up of some of the best dang people on this earth. I'll continue to be me and do my best for my students, with you all guiding me there."
The school district has indicated Carbonetti will not be reprimanded or disciplined for his actions.
Newsweek contacted Ingalls and Carbonetti for comment but did not hear back in time for publication.