A minor is among nine people who have been arrested in connection with the beheading of a teacher near Paris in an attack that has left France in shock.
Witnesses described how the suspect, who has been named by French media as 18-year-old Abdullah Anzorov, wielded a large knife and shouted "Allahu Akbar" or "God is Great," as he attacked the teacher in the street in the town of Conflans-Sainte-Honorine, about 20 miles northwest of Paris on Friday afternoon.
Police have identified the victim as 47-year-old Samuel Paty, who taught history and geography.
He had received unspecified threats after he had taken a class about freedom of expression and reportedly showed the cartoons of the Prophet Muhammad which led to a terrorist attack on the magazine Charlie Hebdo in 2015.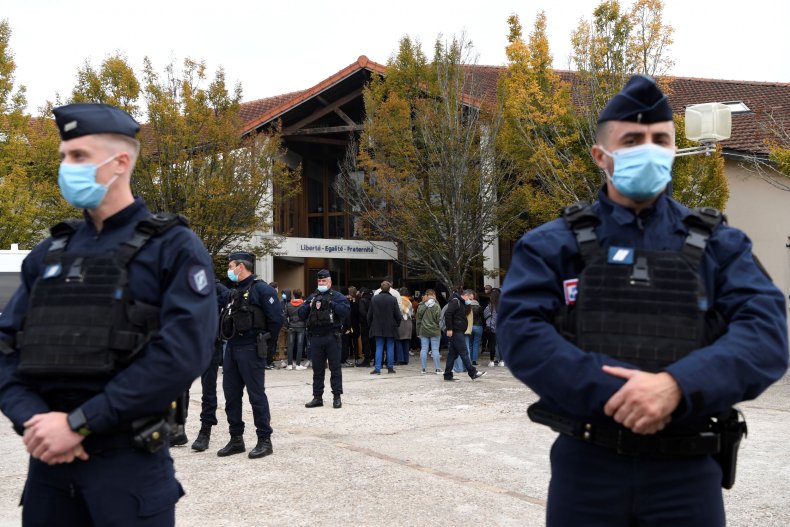 This angered a number of Muslim parents. Muslims believe that any depiction of the Prophet is blasphemous.
French police say the suspect ran off after the attack and was shot dead around 600 yards from the murder scene after he did not put down his weapons when told to by officers.
France's anti-terrorism prosecutor's office said the grandparents, parents and the 17-year-old brother of the attacker have been detains and a murder investigation with a suspected terrorist motive has been opened.
French President Emmanuel Macron condemned what he described as an "Islamist terrorist attack."
"One of our compatriots was murdered today because he taught the freedom of expression, the freedom to believe or not believe," Macron said.
France's education minister Jean Michael Blanquer tweeted: "Our unity and steadfastness are the only answers to the monstrosity of Islamist terrorism." In the National Assembly, France's parliament, deputies honored the teacher and condemn the "atrocious terror attack".
The suspect's Chechen origins will form a key part of the investigation. Chechnya is a predominantly Muslim Russian republic in the North Caucasus and Russia's embassy in Paris has requested the French authorities for information about the suspect, Tass reported.
The Assembly of Chechens in Europe condemned the attack "in the strongest terms," saying in a statement that it "wishes to reiterate the position of its members to condemn all forms of religious extremism and all acts of violence," BFMTV reported.
There has been a spike in Islamist violence in France. After the trial started last month into the 2015 Charlie Hebdo attack, a man attacked and wounded two people in front of the magazine's former building, the BBC reported.