Denver Teacher Gives Birth on Sidewalk Outside School: 'We Should Call 911. I Think The Baby's Coming'
A teacher in Denver mistook contractions for false labor and ended up giving birth on the sidewalk outside her school.
On September 3, Lindsay Agbalokwu woke up with cramps, but assumed they were Braxton Hicks, minor contractions that don't necessarily indicate labor is imminent. Once she got to her classroom at Conservatory Green Middle School, the pain "went from 0 to 100," she told Yahoo Lifestyle.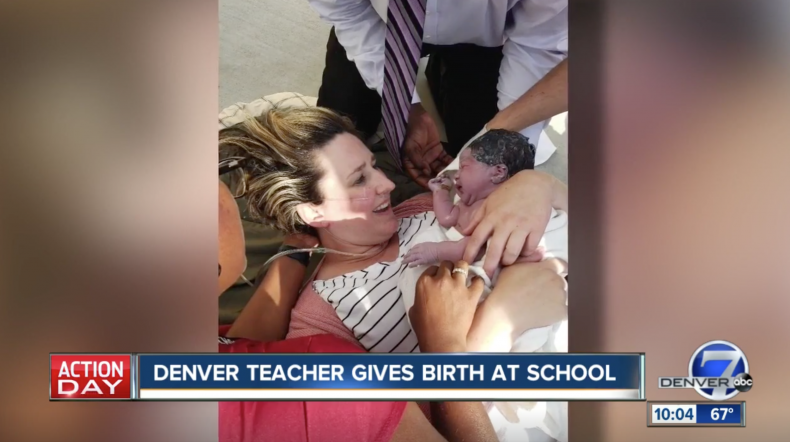 Outside the school, she told principal Natalie Lewis, "We should call 911. I think the baby is coming." But her labor intensified before EMTs could arrive, so a colleague lent her a sleeping bag and a 911 operator guided Lewis through helping Agbalokwu give birth.
"I was in so much pain, I didn't care that these people are my bosses—they are both parents," Agbalokwu told Yahoo. "They were my support people."
A nearby firetruck was able to respond and the baby, a girl named Zara, was born just before they were able to get to the hospital. Agbalokwu is now at home recuperating ing with Zara, her husband and their 17-month old son.
Not all the beginning of school excitement was so positive, though: In Queens, a middle-school teacher was charged with stealing more than $8,000 worth of school supplies and spent the first day of classes in jail.
Sherran Fields, 44, is accused of taking "science bundles," workshop and teacher materials from Intermediate School 59 in Springfield Gardens. After the New York City Department of Education filed a criminal complaint, Fields was charged with grand larceny and criminal possession of stolen property.
School officials claimed Fields never got permission to put the bundles in her car on August 21 and never returned them. But according to her lawyer, William Martin, Fields was the only teacher trained to use the materials and was "safeguarding" them from being distributed to instructors who were not certified to use them.
"She wasn't stealing anything. There was no skulduggery," Martin told The New York Daily News. "I will be calling for an investigation. All she was doing was securing the materials."
Department of Education spokesperson Danielle Filson called the alleged theft "completely unacceptable."
"We reassigned this teacher away from students when we became aware of the allegation," Filson added. "She will remain reassigned pending the outcome of the case."
According to the Daily News, Fields has worked at IS 59 since 2006 and earned earned $104,000 last year.
While in custody, she complained of pains and was briefly hospitalized. Fields appeared at an arraignment on Thursday in a wheelchair, holding a metal cane, and was released on her own recognizance.