A Massachusetts teacher will return to work after being fired last year for racist comments she allegedly made on Facebook.
Taryn Camara of Fall River was fired from her job as a special education teacher at the Matthew J. Kuss Middle School in July 2020 after the comment came to light. On Monday, however, an arbitration decision by the Massachusetts Department of Elementary and Secondary Education ordered that the school bring her back. She will be returning to her job on October 4.
"It's really sad," Camara's attorney, Mark Gagliardi, told The Herald News. "I think the only people who believe her comments were racist, just want to believe it. They have an agenda."
The school was also ordered to pay Camara a year's worth of back pay and give her a year of seniority retroactively. Camara had worked as a teacher for 22 years at the time she was let go. The exact amount that she will receive in back pay is unknown at this time.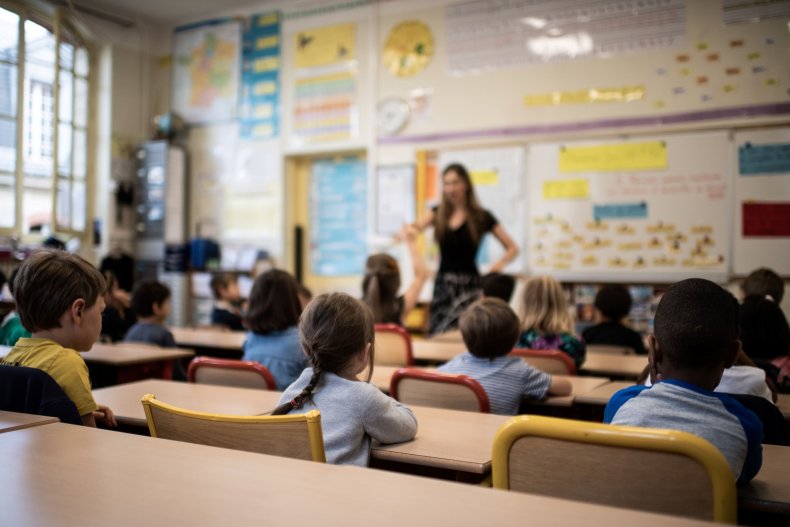 The Matthew J. Kuss Middle School had no comment about Camara's reinstatement when reached by Newsweek.
Camara posted the comment at the heart of the issue on June 5, 2020, amid the nationwide unrest following the murder of George Floyd. Facebook users began to share a screenshot of it around, ultimately resulting in her termination.
"There is one supreme race and gender and that is the white man—I also can't help but notice that race and gender were the ones leading most of the riots!" Camara's comment read. "Lastly if you look at the stats more black men have died from other black men than white men—so there lies two problems! But there are far more inequalities that will never change!"
Gagliardi claims that his client made the comment in jest and meant it as sarcasm. In support of this claim, he highlighted several other anti-racist posts that Camara had shared prior to making the comment.
"Anyone who reads it and thinks about it for 30 seconds, knows that it's just a sarcastic remark," the attorney said.
The school placed Camara on administrative leave after receiving several email complaints about her comment. She was later fired for "conduct unbecoming a teacher" after what Gagliardi referred to as an "inadequate" investigation. The attorney alleged that neither the district superintendent, Matthew Malone, nor the district's human resources department asked his client directly about the intent of the comment or about the context of her earlier posts.
"But no one knew about it because the city failed to do a proper investigation," Gagliardi said. "All they did was collect those emails and ask if she made that comment. And the union should have done that."
Camara filed a lawsuit in January against the Fall River School Department, Fall River Educators Association, and the Massachusetts Teachers Association that is still pending. Gagliardi plans to amend the suit going forward, alleging that Malone and the city infringed on Camara's First Amendment rights.
A similar incident occurred in South Carolina recently, when a history teacher was caught saying the N-word during a class while discussing ideas "rooted in racism" in a viral TikTok video. The Berkeley County School District responded to the outcry against the teacher and said that the "matter is under investigation and is being addressed in accordance with school and district policy."
Updated 9/28/2021 (9:13 a.m. ET): This story has been updated to include a response from the Matthew J. Kuss Middle School.