A California math teacher was put on administrative leave Thursday after a video circulated online showing her wearing a Native American headdress and pretending to mimic native culture by chanting.
The incident occurred at John W. North High School, part of the Riverside Unified School District in Riverside. The footage was filmed by a Native American student in the class.
The teacher, who has allegedly been identified by Yahoo! News as Candice Reed, can be seen in the video attempting to explain a trigonometry concept to her students by shouting war hoops, and at one point is seen making a 'tomahawk chop' motion with her hand.
The teacher can be heard chanting "soh-cah-toa," which is a pneumonic device designed to teach students the trigonometric functions sine, cosine, and tangent.
The video was shared on Instagram by a Native American activist, Akalei Brown, who previously told Newsweek that she posted the video "on behalf of the student's family."
Brown further told Newsweek that she shared the video so that people "could have a small glimpse into the type of abuses Native children face in U.S. schools everyday. This is not a one-off scenario ..."
"We're standing up for our children and setting a new standard for the treatment of Native people," Brown continued.
Video of the incident was also circulated on other social media platforms, including Twitter, where it was viewed over 2 million times.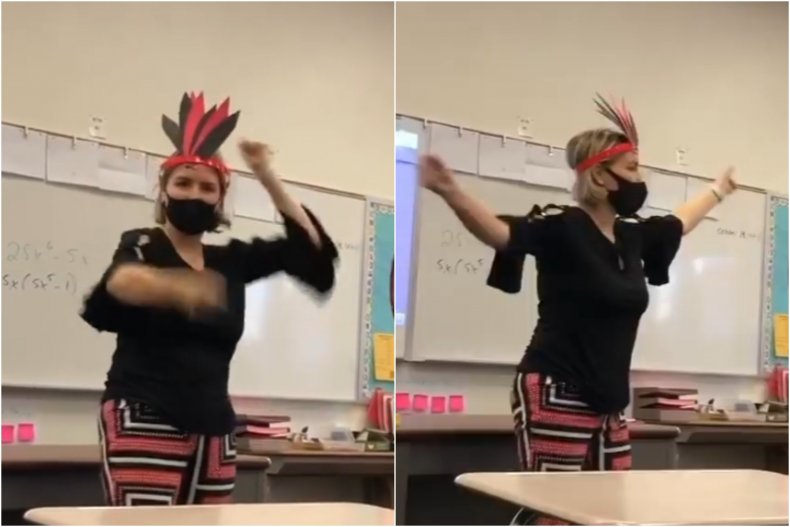 After the teacher was placed on leave, the Riverside Unified School District released a statement calling the actions "completely unacceptable."
"[This is] an offensive depiction of the vast and expansive Native American cultures and practices. Her actions do not represent the values of our district. The teacher has been placed on leave while the District conducts an investigation," the statement said.
The district also said that it was "deeply committed to implementing inclusive practices and policies that honor the rich diversity of our district and the greater region," and that it would "be working with our students, families, staff and community to regain your trust."
Members of the San Bernardino Democratic Assembly also released a statement, calling the video "disheartening."
"However, this is not an isolated incident, as such teaching practices, even in math classes, have been used across the nation. It is time that we stop this behavior," the statement continued.
This is allegedly not the first time that this teacher has mimicked Native American culture. One Twitter user, who is reportedly a former student of the teacher, posted a picture of her 2012 yearbook showing her wearing a Native headdress.
The picture's caption states that "dancing from one end of the room to the other, math teacher Candice Reed wears an Indian headdress to emphasize geometry basics."
"CLEARLY the school was fully aware of what she's been doing and fully approved of this mockery," the tweet said. "This is 2021 & we will find the truth to your lies."
A push to decrease offensive Native American iconography has been increasing, particularly among schools and sports teams. The Washington Football Team and Cleveland's baseball team are among two professional clubs that have changed their name in recent years.
(10/21/2021, 10:35 p.m. ET): This story has been updated with additional information.