Teacher Quits Over Use of George Floyd's Name in Chemistry Quiz
A high school teacher in Virginia has resigned after he referenced the death of George Floyd in a chemistry quiz, the school said.
Students at H-B Woodlawn Secondary Program in Arlington were asked to fill in the missing chemical element in a sentence describing Floyd's death as part of an assignment in November last year, The Washington Post reported.
"George Floyd couldn't breathe because a police officer put his ____ George's neck," the question said. The answer was "neon."
The teacher was "relieved of teaching duties pending an investigation" after students complained about the question, the newspaper reported.
This week, the school confirmed that the teacher had decided to resign.
"This has been a challenging year for every student taking Chemistry at H-B Woodlawn," the school said, according to ABC7.
"We will be offering an opportunity for our 10th grade students to engage in dialogue about this difficult situation through a facilitated conversation starting in late March."
A substitute teacher who has been with the school for the past few months will take over teaching the chemistry class for the rest of the school year, according to the school's statement.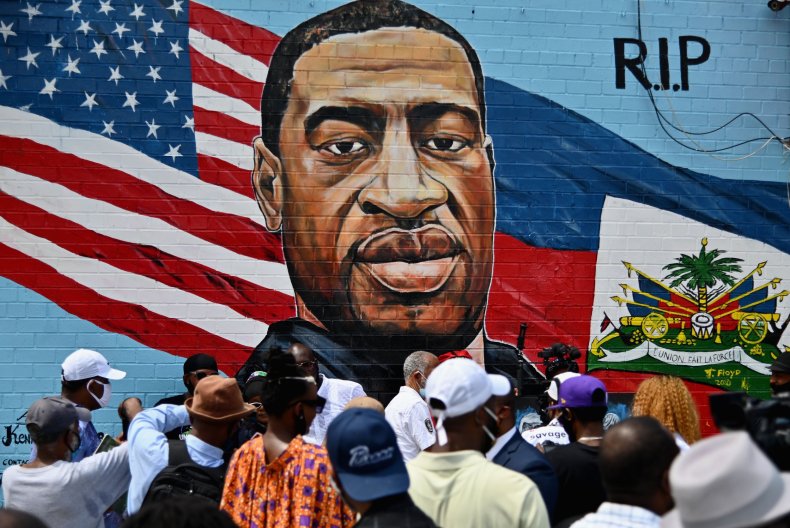 Arlington Public Schools superintendent Francisco Durán previously apologized for the incident.
"As part of a class exercise, an H-B Woodlawn teacher shared an example with students that showed significant racial insensitivity," Durán wrote in a message to staff and families in November, according to the Post.
"The content referenced the killing of George Floyd in an unacceptable and senseless way, which hurt and alarmed our students, staff, families and the community."
He added: "The reference showed extremely poor judgement and a blatant disregard for African American lives."
H-B Woodlawn Secondary and Arlington Public Schools have been contacted for additional comment.
Floyd, a 46-year-old Black man, died after a white Minneapolis police officer pressed a knee to his neck for around nine minutes, while he gasped that he couldn't breathe on May 25 last year.
His death prompted widespread protests against police brutality and racial injustice and led to a national reckoning on race.
Derek Chauvin, who was subsequently fired from the force, is charged with second-degree murder, third-degree murder and manslaughter. Jury selection in his trial is currently underway and opening statements are due to begin no earlier than March 29.
Three other former Minneapolis officers are charged with aiding and abetting second-degree murder and manslaughter. They will face a separate trial in August.