Teacher Quizzes Students on Celebrities From 2000s in Hilarious Viral Clip
A video has gone viral after a teacher told her students if they could guess the name of a few famous faces from the 2000s they would win a pizza party. While the test was one a group of millennials might pass with flying colors, for this group of middle schoolers, it resulted in a lot of laughs but not a lot of right answers.
"At least they tried, right?" @sarahulean captioned the video that has now been viewed over 5 million times.
The first person @sarahulean shows is Hilary Duff in her breakout role as Lizzie McGuire on Disney Channel.
"Lindsey Lohan," one student yells out.
"She's from a space movie, I think," says another.
"From Jessie," says another, referencing another Disney Channel show that premiered years after Lizzie McGuire went off air.
Lizzie McGuire aired for two seasons between 2001 and 2004, and in 2003, a full-length film was released titled The Lizzie McGuire Movie.
In 2019 fans of the show, who have all grown up much like Duff herself, were excited to hear news of a reboot that was set to premiere on Disney +.
Though in early 2020 it was announced that production was halted and the highly anticipated revamp would not be moving forward.
"I know the efforts and conversations have been everywhere trying to make a reboot work but, sadly & despite everyone's best efforts, it isn't going to happen," Duff wrote on Instagram at the time, according to Harper's Bazaar. "I want any reboot of Lizzie to be honest and authentic to who Lizzie would be today. It's what the character deserves."
The second person to appear on the slideshow put together by @sarahulean is a picture of Miley Cyrus as Hannah Montana, another beloved Disney Channel show that premiered in the 2000s.
"It's JoJo Siwa," one voice is heard yelling out in the background.
"Katy Perry," says another.
"Britney Spears!" yet another says.
The next image is of Ashely Tisdale as Sharpay Evans, a character in Disney's High School Musical franchise which premiered in 2006 and was followed with a second and third installment.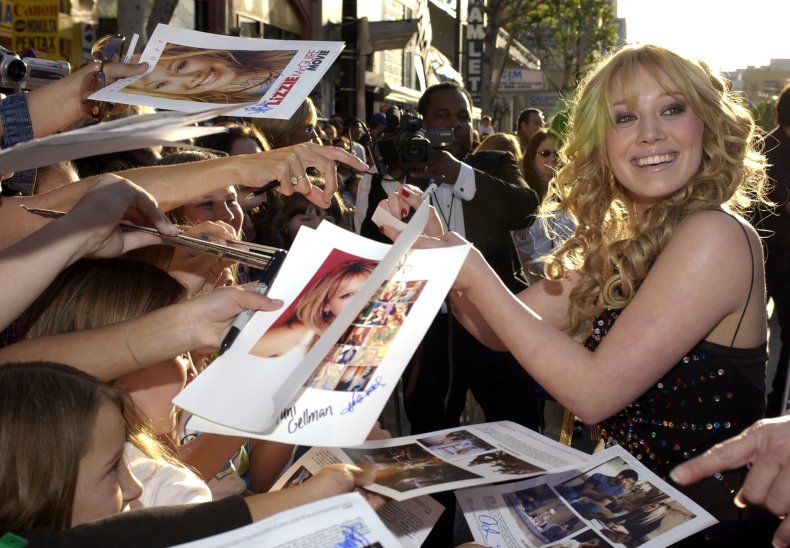 One student guessed that she was "the girl from Hannah Montana."
The final photo that she showed her class in the video is one of a young Chris Brown who students also did not recognize.
The video has received 20,000 comments in the day since it was posted.
"They actually need detention now," one commenter wrote.
"Well I'm officially an old person," said another.
The video was posted as a follow-up to another video showing a different array of famous faces that the children struggled to place.
The first video included images of Zac Efron as Troy Bolton in High School Musical, Dylan and Cole Sprouse as Zack and Cody in The Suite Life of Zack and Cody and Jesse McCartney, the pop singer.
Though the students did seem to have a better understanding of this group of people, they struggled with McCartney with one student guessing "Justin Bieber?"
Newsweek reached out to @sarahuleann for comment.