Teacher's Refusal To Tutor Students Who Went on Vacation Cheered: 'Said No'
A teacher has been backed online after refusing to help students catch up on work after their parents took them out of school for two weeks.
In a post shared on Sunday on popular discussion site Mumsnet, user PeachyM explained: "I'm a teacher and we're nearing the end of the school year—finally. Two kids from the same family but in different years disappear off for a two-week family vacation, which hasn't been authorized.
"I'm not going to particularly question their parents' decision because it's up to them, but they've come back having missed two weeks of a core subject and the parents have now requested we give up time to help them catch up."
When it comes to taking kids out of school for a family vacation, there are some potential positives. For example, travel is less expensive and destinations may be less crowded during off-peak times, with some families arguing that without taking their children out of school, they would not be able to afford a family break at all.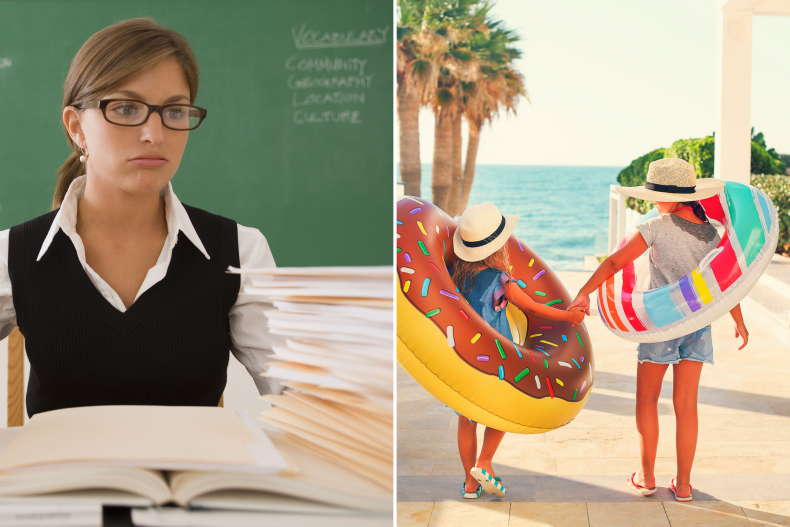 But missing class has its potential long-term impacts, and evidence shows that good attendance is key to academic success.
Across the country, there are different state and school policies around unnecessary absences. For example, until 2015, truancy was a class C misdemeanor in the state of Texas, and even since it has been decriminalized, large fines remain in place for those breaking the rules.
The teacher continued to explain on Mumsnet: "I've said no because I already have a s***-ton of end-of-year stuff to finish and I don't have the time. Parents have accused me of being unreasonable and said that I'm refusing to do my job. Who's in the wrong here?"
Replies on the Mumsnet thread overwhelmingly sided with the teacher. With more than 280 comments, answers largely agreed that it was not the teacher's job to help the children catch up.
"The parents made the decision to take them on holiday. They can now take responsibility and either tutor them over the summer holidays themselves or pay for a tutor," said one comment.
Another reply said: "This is the perfect example of feeling the consequences of your actions, so no, l wouldn't assist. Their children didn't need to go on holiday. If they can afford to go on holiday, then they can afford a tutor."
"Your job is to teach them in class," one reply said: "You were there. They weren't."
Another teacher also shared their thoughts on the viral post and wrote: "If the kids had been sick I'd put myself out to help them catch up. But not when they've been on holiday."