Teacher 'Removed' After Having Students Pledge LGBTQ Flag Over 'Uncomfortable' U.S. Flag
A California teacher has been "removed from the classroom" after posts on social media showed she encouraged students to pledge allegiance to a gay pride banner instead of a U.S. flag, which had been missing from the classroom.
The Newport-Mesa Unified School District confirmed to Newsweek the teacher is no longer instructing classes while the district continues to investigate the incident.
"We are aware that one of our teachers posted a video on their personal social media that caused alarm and concern related to saluting the American flag. Showing respect for our nation's flag is an important value that we instill in our students and an expectation of our employees," district spokeswoman Annette Franco wrote in an email.
She continued, "The teacher is no longer in the classroom. We follow due process and our investigation continues."
Although the district has refrained from identifying the teacher, reports have named her as Kristin Pitzen.
In a video shared to Twitter on Friday, Pitzen described how her students have the option to recite the Pledge of Allegiance in her English class.
"I always tell my class, stand if you feel like it, don't stand if you feel like it, say the words if you want, you don't have to say the words," Pitzen said in the viral video. "So my class decided to stand, but not say the words. Totally fine."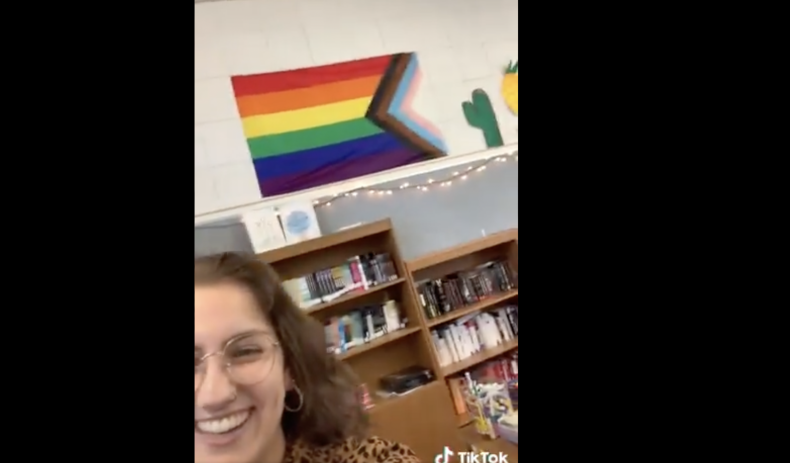 But she went on to say that one student asked what they would be pledging allegiance to since she had removed the American flag during the pandemic because it made her "feel uncomfortable."
"I packed it away and I don't know where, and I haven't found it yet," Pitzen continued. "But my kid today goes, 'Hey, um, it's kinda weird that we just stand and then, you know, we say it to nothing.' And I'm like, 'Oh well, you know, I gotta find it, like, I'm working on it, I got you.'"
She then told the student there was a flag in the classroom he could "pledge [his] allegiance to" before shifting the camera to a pride flag hanging on a wall.
The video has since been removed from her TikTok account, where one post remains as of Monday. The remaining post shows a photo of the teacher with text that reads "the American flag makes me uncomfortable."
In another now-deleted video, Pitzen showed her decorated classroom for Pride month with various flags.
"I pledge allegiance to the queers," she said in the video.
"I love you all very much—for the people who are out, who aren't out. You're appreciated. You're loved. You're enough. I support you. I got you," Pitzen added.