Teacher Sparks Debate With Detention Policy for Kids Using Bathroom
A photo that allegedly shows a teacher's bathroom policy for students was shared on the Reddit forum "Mildly Infuriating," where it quickly went viral and stirred a debate.
u/SushiMyLife posted the picture of the bathroom pass and its conditions on Thursday, and the post has since amassed nearly 50,000 votes.
"Students were abusing bathroom privileges, so the teacher did this," read the title of u/SushiMyLife's post.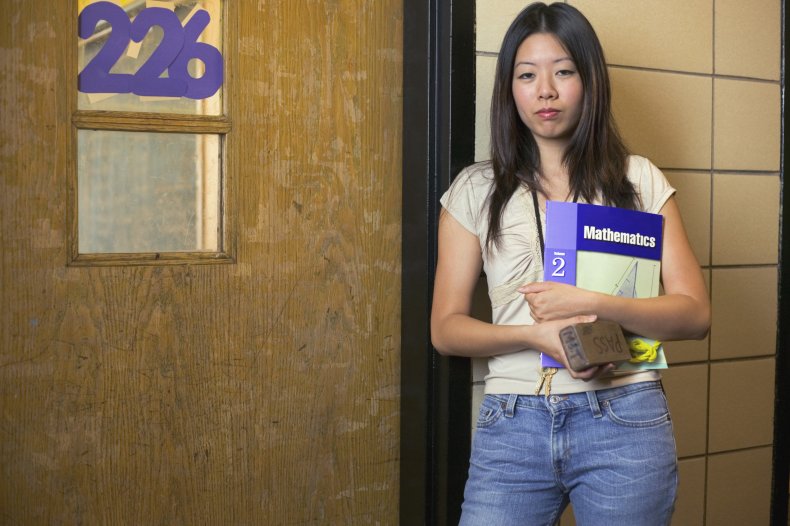 District Administration, a news outlet for school districts, discussed the effects of limiting bathroom use for students.
While these policies may be in place to ensure a student is getting the most out of a lesson or to keep them from potentially causing trouble, they may cause more harm than good.
"Treating bathroom use as a discipline issue can have serious health implications, especially when a kid needs to go, but can't," the outlet reported.
The policy shown on Reddit states that students receive three passes each semester.
"If you need to go to the bathroom and do not have any passes left, you will need to serve a 15 minute detention (before or after school, not during lunch) each time you use the restroom," the pass read. "Passes may be denied if it is not an appropriate time for students to be leaving the classroom."
Redditor u/SushiMyLife wrote to Newsweek that they understand there are students who leave class to go to the bathroom when they are "bored," but teachers should not punish all the students because of their actions.
"I think the teacher should just talk to the troublesome students individually about it, not make it everyone's punishment," the Redditor said. "There are also factors like health risks behind it that make three bathroom passes per semester just an absurd, bad idea."
Below that text was a section for a student to fill out their name and date, as well as a section meant to be completed by a teacher.
The policy prompted Reddit users to chime in and share their opinions.
Some said students have used the bathroom as an excuse to do something they were not supposed to be doing.
"People in my grade regularly used [the] bathroom as an excuse to leave earlier before lunch break to get to a McDonalds or something and come back in time," a Redditor said.
One Reddit user who said they work as a teacher suggested these policies are in place as a response to social media trends students have participated in which they destroy their school bathrooms.
"This is a worldwide issue in all schools at the moment and it is very difficult to tackle, and I understand this intervention is extreme and equally understand where people's outrage to such a policy is coming from, but I can also see what they're trying to implement and why," they said.
Another Redditor who said they work as a teacher said some of these passes are school mandated and they do not have a choice in the matter.
Others, however, were critical of the policy.
"If it's an issue, call the parent—maybe something else is happening that is probably also not their business," a Reddit user commented.
"Using the bathroom isn't a privilege," another Reddit user commented.
"Nothing pisses [me] off more than denying children the right to perform a necessary bodily function," one Redditor wrote.
Newsweek reached out to u/SushiMyLife for further comment. We could not verify the details of the case.
This is not the first time a bathroom policy has gone viral.
A mother shared a now-viral TikTok video in which she said her daughter's teacher "charges" students who wish to use the bathroom through a reward system. Another post on Reddit's "Mildly Infuriating" forum showed a teacher's policy for a student to answer a trivia question and leave their phone to use the bathroom.
One employee shared the new rules they were expected to follow, one of them being that bathroom breaks were limited to 10 minutes.
Updated 10/03/2022, 4:34 p.m. ET: This story has been updated with comments from u/SushiMyLife.