South Carolina Teacher Suspended for Asking Fifth-Graders to Justify the KKK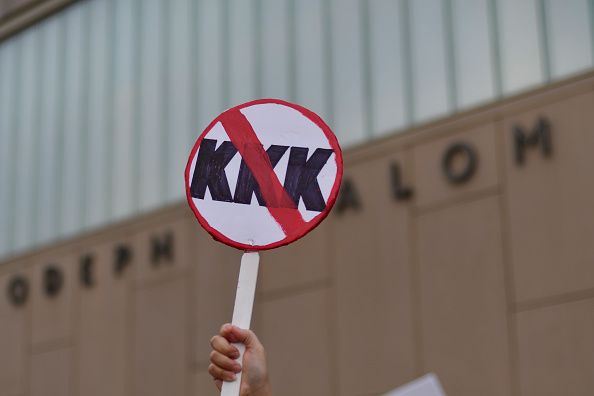 A South Carolina teacher has been suspended after instructing fifth-graders to justify the actions of Ku Klux Klan members after the Civil War.
Students at Oak Pointe Elementary School in Irmo were asked in their homework: "You are a member of the KKK. Why do you think your treatment of African Americans is justified?" and "You are a freedman. Are you satisfied with your new life? Why or why not?"
The question about the Klan left at least one 10-year-old black student in tears, said his uncle.
"Imagine a German teacher with the audacity to send a 10 year old Jewish boy home with a homework assignment that would even remotely suggest justifying Nazi actions toward Jewish people," the boy's uncle, Tremain Cooper, posted on Facebook.
He also said the assignment was akin to asking a 10-year-old girl to put herself inside the mind of a rapist.
After Cooper complained, the school placed the teacher, Kerri Roberts, on leave. The school said it had opened an investigation into the homework assignment.
Cooper later said Roberts apologized directly to his family for creating and assigning the questions, adding, "This type of thing will never happen again." The Oak Pointe principal and superintendent for School District Five have also apologized, Cooper said.
South Carolina standards for the fifth grade do include lessons on Civil War reconstruction and discriminatory groups, including the KKK. Those guidelines specify that students should be able to summarize American reconstruction, explain Southern resistance to the rights of freedmen and the agenda of the Radical Republicans.
The students are also expected to learn that the KKK was historically "a terrorist group" that used violence and intimidation to keep African-Americans from exercising their rights.
"We must teach the standard, but we are taking steps to ensure this particular assignment will never be used again in District Five schools," the school district said in a statement.
At Oak Pointe, about 67 percent of students are white and 19 percent are black.
Cooper's last post remained critical of the teacher but expressed hope that the widely criticized assignment will show the need for more diversity in the school.
"Oakpoint [sic] is a predominantly white school with mostly white faculty and staff, maybe this will lead to more black inclusion," Cooper posted on Facebook. "It's only right."