Teacher Threatens to Kick Out Student With Trump 2020 Flag in Virtual Background
A high school chemistry teacher in Colusa, California, told a student that he would be kicked out of class if he didn't remove the Trump 2020 flag from his virtual learning background.
The student, a 16-year-old at Colusa High School, has displayed the flag supporting President Donald Trump on a wall in his room since the start of the school year, his mother told the Sacramento-based television station KOVR. When her son's chemistry teacher spotted the flag during a virtual class meeting, the teacher asked him to either take it down or move his computer so that the flag would be out of view, his mother told the station. The student was given 15 seconds to comply and would be kicked out if he did not do so, the station reported.
As the teacher began counting down, a Zoom video of the class obtained by KOVR showed the student waving and exiting the virtual meeting.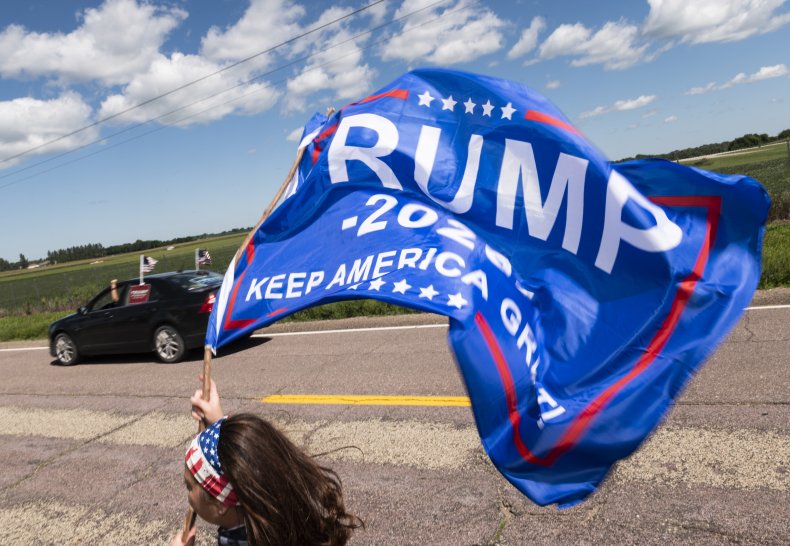 According to the student's mother, her frustration about the flag incident was primarily with the district for what she said was a lack of instruction for its teachers on how to manage their students' virtual environments.
"There hasn't really been any guidance given to her as a teacher from the school," the mother said of the chemistry teacher. She told KOVR that she addressed the issue during a meeting with the school board last week but was told they did not have an updated version of the district's code of conduct for virtual learning circumstances.
The 2020-2021 Colusa High School student handbook does not mention political messaging or specify whether displays of such messaging are banned from school proceedings.
Newsweek reached out to the district superintendent and the Colusa High School principal for comment but did not receive a response in time for publication.
Like many school districts in California and in other parts of the U.S., the Colusa Unified School District began its fall semester virtually due to continuing threats posed by the coronavirus pandemic. As of Sunday, health officials reported more than 805,000 confirmed COVID-19 cases throughout the state of California, with 532 positive cases reported in Colusa County by Monday.
As California shut down in response to the pandemic in March, Governor Gavin Newsom announced the temporary shutdown of in-person classrooms, a move that extended through the end of the spring semester as infection rates remained high in the state. While the U.S. Department of Education has encouraged schools to safely reopen, many districts have postponed the return of in-person instruction, choosing instead to remain virtual until local COVID-19 infection rates are under control.