Teacher Who Joined Trump's Facebook Lawsuit Was 'Terrified' to Use Site After Suspension
An elementary school teacher in Fenton, Michigan joined former president Donald Trump's recent lawsuit against big tech companies Facebook, Twitter and Google for wrongful censorship.
First-grade teacher Jennifer Horton noted three instances of censorship she experienced on Facebook, two involving information she had shared regarding vaccines and mask mandates, according to The Detroit News.
On April 12 of this year, Horton had shared an article that she had claimed was from the National Institutes of Health website that challenged the effectiveness of masks on very small children. The post came right before Michigan Governor Gretchen Whitmer announced children as young as two years old were required to wear masks.
However, The Detroit News pointed out that the lawsuit states that Horton's April 12 post was made in response to Whitmer's order, which would be incorrect seeing as how the Whitmer's mask order for kids over two was not announced until April 16.
The second instance, according to the lawsuit, claimed that on a separate, unspecified date, Facebook had offered Horton a warning that a post she saved about vaccines had "false information."
The third instance was on April 17, when Horton had posted on a missing persons page looking for information about her brother, who had disappeared in Tennessee.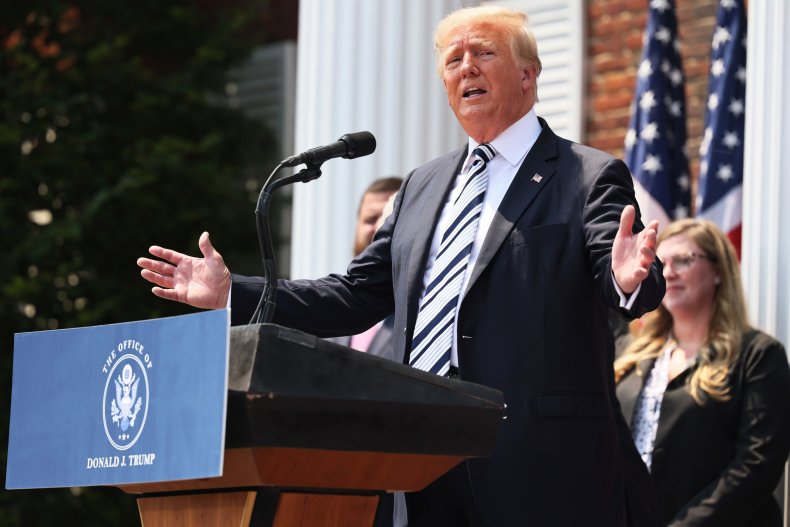 The lawsuit stated that on April 29, Horton received a notification that her account had been suspended for 24 hours "due to her post." The suit said Horton was "terrified of how to operate" within Facebook's terms of service to avoid suspension.
"At one of the most difficult times of her life, when communication with her 'network' was the most important, defendants took her voice away from her due to her post regarding masks," the lawsuit said.
Horton's brother was reportedly found dead about two months later, and the suit said she was "devastated, wondering if she could have prevented his death had she been able to communicate with her network on Facebook."
The lawsuit itself, Trump announced on Wednesday at a press conference in New Jersey, is taking shape as he and other conservatives filed the class-action lawsuit Wednesday.
"We're demanding an end to the shadow-banning, a stop to the silencing, and a stop to the blacklisting, banishing and canceling that you know so well," Trump said.
However, experts believe the chances of winning the lawsuit are slim. The 1996 Communications Decency Act allows social media platforms to moderate their platforms in "good faith" by removing posts that violate their terms of service, and othercases of this nature have yet to prove successful.
Newsweek reached out to The Social Media Law Firm for additional comments but did not hear back before publication time.