Teacher who showed Cartoon of Prophet Muhammad Fears He And His Family Will Be Killed
A teacher at the center of a blasphemy row at a school in England for showing a cartoon image of the Prophet Muhammad in class, fears for his and his family's lives, his father has said.
The educator, who has not been named, has gone into hiding for showing his pupils at Batley Grammar School, West Yorkshire, the cartoons taken from the French satirical newspaper Charlie Hebdo.
Protesters turned up at the school gates calling for him to be sacked. The school suspended him and its headteacher Gary Kibble apologized to parents for the "inappropriate" use of the cartoons.
But his father told the Mail Online that his son was following the curriculum that had "been approved by the school," which he said "should have come out fighting for him."
"He is worried that he and his family are all going to be killed," he told the outlet. "He knows that he's not going to be able to return to work or live in Batley. It's just going to be too dangerous for him and his family."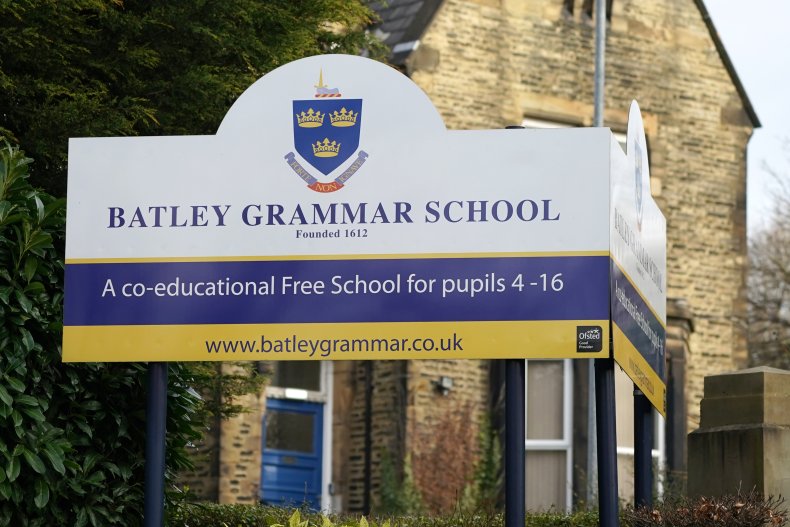 "Look what happened to the teacher in France who was killed for doing the same thing," he said, referring to Samuel Paty, a 47-year-old history and geography teacher outside of Paris who was beheaded in the street in October 2020 after he taught a lesson on freedom of expression.
"Eventually they will get my son and he knows this. His whole world has been turned upside down. He's devastated and crushed."
The teacher's mother has also gone into hiding following fears that his family members could face repercussions, the Mail Online reported.
Yunus Lunat, a spokesperson for the Batley Parents And Community Partnership, said on Sunday that the teacher did not realize the cartoon was "loaded with Islamophobic tropes."
But the case has divided the community and as of Tuesday, more than 66,000 people have signed a Change.org petition calling for the teacher's reinstatement, arguing that he was simply "trying to educate students about racism and blasphemy."
The petition, which was started by someone who said they were a student at the school, stated that the religious studies teacher had warned the classroom before showing the images. "He had the intent to educate them," adding that "he does not deserve such large repercussions," the petition said.
A Twitter account, which Yorkshire Live reported was believed to be by the same student who created the petition, said pupils fear the school "will never be the same again."
The message said that students were "wordless and distraught" and that "some mourn silently for losing such a great teacher."
Newsweek has contacted Batley Grammar School for comment.