Teachers Union Accuses Trump of Bullying Over Pressure to Reopen Schools
President Donald Trump has been accused of using bullying tactics as he vowed to pressure schools to reopen amid concerns over doing so due to the COVID-19 pandemic.
Trump yesterday insisted he would "put pressure on governors and everybody else to open the schools," stating he wants them to be up and running in the fall.
Education Secretary Betsy DeVos has also pushed for schools to fully reopen, insisting they need to do so full time.
These comments have been met with push back from groups representing educators across the United States, with National Education Association (NEA) President Lily Eskelsen García voicing concern over the Trump administration's push.
"It's just absolutely mind boggling to me to have Donald Trump have this press conference, this publicity stunt, about saying, 'I'm going to use my bully pulpit,' and he does mean bully, to pressure people to do something before it's safe," she said in an interview with CNN.
García also rejected medical guidance coming from Trump and DeVos, stating: "Please, under no circumstances take medical advice from Donald Trump or Betsy DeVos, especially when it comes to the health of your children."
She said the pair were "making a mockery" of the risks which could be posed by reopening schools to soon and, in separate comments, added: "America must listen to the health experts on when to reopen schools and to educators on how to return to in-person instruction."
The NEA alongside five other groups also representing teachers released a statement criticizing a "vacuum of leadership" in the Trump administration, criticizing its actions throughout the pandemic.
This said that while parents and school workers wish to see children back in the classroom, they wanted this to be done in "the safest way possible, not the most politically expedient way."
The statement said the White House and the U.S. Centers for Disease Control had "offered at best conflicting guidance for school reopening," while raising concerns of the danger of a return "without a comprehensive plan."
"Throughout this pandemic, the administration has failed to address the needs of students, especially those students who need the most support. They have failed to listen to families and public school educators who have been on the frontlines serving their communities. This vacuum of leadership leaves this administration with zero credibility in the minds of educators and parents when it comes to this major decision," it added, while calling for health experts to determine when schools should come back into full operation.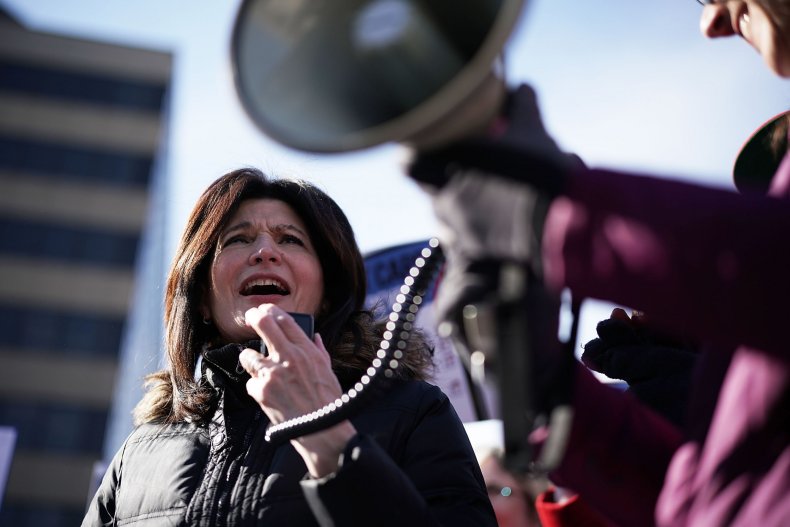 "The president should not be brazenly making these decisions," it concluded.
"As parents, educators and administrators, we want to do what is best for students, and we are fighting for what we need to reopen schools safely. This administration and Congress must do better to partner with us and lead."
Randi Weingarten, president of the American Federation of Teachers (AFT), similarly called for methodical planning for a school return.
"Reopening schools doesn't happen with an all-caps tweet. It happens with careful planning to meets our students' well-being and academic needs, methodical attention to preventing virus spread in schools, and sufficient federal resources to help us get there. Science and safety come first," Weingarten said in a statement.
Both the NEA and AFT have endorsed Democratic candidate Joe Biden for president.
Newsweek has contacted the White House, the Department of Education and the CDC for comment.
Trump, discussing plans for reopening schools on Tuesday, insisted he wants schools open by the fall.
"It's very important for our country. It's very important for the wellbeing of the student and the parents," he said. "So we're going to be putting a lot of pressure on: Open your schools in the fall."