Teacher's Anti-Abortion Graded Poster Assignment Draws Parent Outrage
A parent in Canada is upset after a teacher gave students an assignment that required them to create anti-abortion posters.
The parent, Rachelle Lynn Dixon, says her 13-year-old daughter, a student at St. Patrick Catholic Elementary School in Ontario, was told to incorporate the words "Unborn Babies Matter" in her poster, according to the Canadian Broadcasting Company (CBC), In addition to being assigned for a grade, the anti-abortion posters are also reportedly being placed in a contest run by a Right to Life group for a possible cash prize.
On their posters, the students were asked to include photos that help to illustrate the "Unborn Babies Matter" theme, the CBC reports.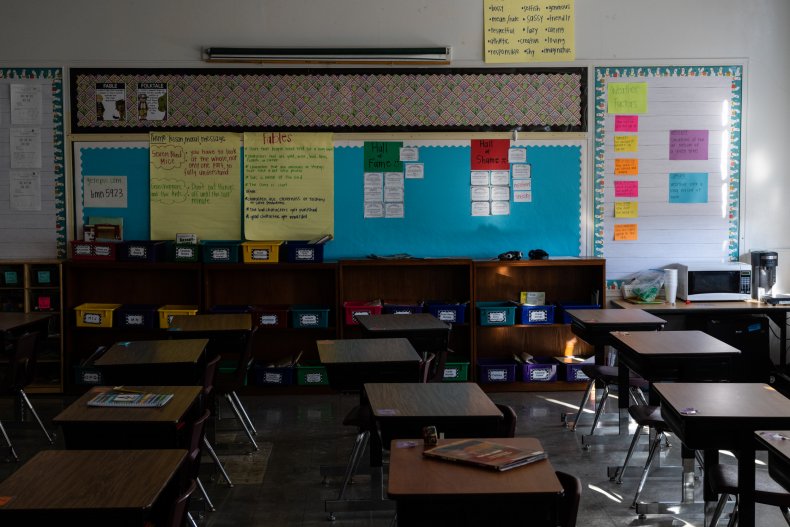 In a response to Newsweek, the London District Catholic School Board said that the assignment is "part of the Grade 8 religion curriculum, students are learning about the Catholic church's view on the sanctity of life and will be given a poster assignment to complete on the topic."
Dixon says she understands that the school is Catholic but claims that the parents were not alerted to the assignment beforehand.
"The parents weren't told about it, and they're not allowing the kids to learn about the opposite side of this issue. It's a Catholic school, but it's also funded by the public. It's an elementary school that is asking kids to Google images about abortion," Dixon told the CBC.
The school board maintains in their statement to Newsweek that "helping all students reach their potential requires an effective working relationship between homes and schools with ongoing, two-way communication. However, situations may arise that cause concern."
It goes on to say that whenever parents do have concerns about something, they "are encouraged to always contact their child's teacher first to address concerns."
The school board states efforts were made by the school to reach out to a parent "proactively" after "learning about concerns being posted on social media instead of being addressed to the school."
According to Dixon, she wants her teenage daughter to have the opportunity to make up her own mind and formulate her own opinions, and that after speaking to the school this week, her daughter will not return to the school next year, the CBC reports.
The school board states that "Knowing who to contact, and when, is important to effectively deal with a concern. Contacting multiple people at multiple levels at the same time often leads to delays, confusion and/or misunderstanding."
As far as the contest for the posters goes, the CBC says the Oxford County Right to Life is unaffiliated with the school and the Catholic Church, and Oxford County Right to Life says it has held the contest for 14 years. However, what is a first is the teacher incorporating the contest as part of the assignment.
In response to Newsweek, the Oxford County Right to Life sent the following statement:
"Oxford County Right to Life has been active for 47 years and has held an Art Contest for 14 of those years. We are very honoured to comment on our 14th Annual Art Contest which we offered to Oxford County Separate Schools and Christian Schools.
"Each year the Art Contest has a different educational theme and our theme this year is 'Unborn Babies Matter'. It is important to us that the students think about how special they are and how every human being is unique! We would like the students to know the scientific facts about human life, such as that life begins at conception and that every unborn baby's heart is beating at 18 - 21 days! Every baby has measurable brain waves and a complete nervous system by 6 weeks! All babies matter because there is nobody like them in all the world! These facts are so important and will help students to know that they are all special and have a purpose in life. We are so grateful to be able to assist young people to live a purposeful life!"
Newsweek reached out to St. Patrick Catholic Elementary School for comment.