The organizers of a controversial South Dakota fundraiser that went viral online have apologized.
The Sioux Falls Stampede hockey team and CU Mortgage Direct, the organizers of the Dash for Cash event, have issued a joint apology on the first edition of the fundraiser. "Although our intent was to provide a positive and fun experience for teachers," the statement said, "we can see how it appears to be degrading and insulting towards the participating teachers and the teaching profession as a whole."
The statement also took time to highlight how, prior to the fundraiser, participants and other teachers were given a special spotlight to honor their achievements. "Each teacher was profiled and introduced prior to the event as we highlighted their school and what the funds would be used for," the statement said, adding that both the Stampede and CU Mortgage Direct "take [their] role in the community seriously and work hard to support area non-profit groups in a variety of ways."
The Dash for Cash took place in between periods of the Stampede's game against Nebraska's Tri-City Storm on December 11. Ten local teachers had five minutes to collect as many $1 bills out of $5,000 as they could on a carpet placed at center ice. According to Stampede president Jim Olander, each participant walked away with at least $500 that they can use to pay for class projects.
However, video footage of the event quickly went viral--not for its fun way of raising money, but for allegedly humiliating and demeaning teachers. A video of the fundraiser saw participants scrambling on the floor to grab the money while spectators watched and cheered, drawing intense criticism both online and from teachers' groups.
"As a state, we shouldn't be forcing teachers to crawl around on an ice rink to get the money they need to fund their classrooms," said Loren Paul, who serves as the president of the South Dakota Education Association.
As a response to the backlash, the Stampede and CU Mortgage Direct pledged to donate $15,500 directly to local teachers. Along with their current total, the participants will receive an additional $500 and the 21 who were not selected will also receive $500.
Local newspaper The Argus Leader also published a list on how to donate to teachers, schools and education funds involved in the event directly.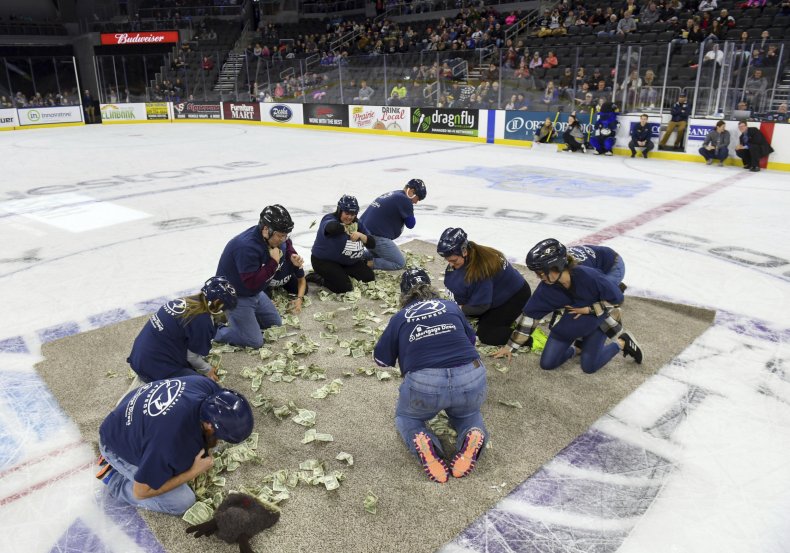 Critics on social media called the event demeaning. Paul said it showed that the state needs to do better for its teachers and students when it comes to funding education.
"While the Dash for the Cash may have been well-intentioned, it only underscores the fact that educators don't have the resources necessary to meet the needs of their students," Paul said.
The Associated Press contributed to this report.